Hi Everyone,
I'm so excited to be sharing my travel guide to Western Australia with you to celebrate the release of my new Australia collection. In all my years of traveling to this amazing country, this past Fall was my first time exploring the western coast. And let me just tell you, if you're already making the long trip to the Land Down Under, the western coast is not to be missed. Today's guide is focusing on the beautiful city of Perth and also highlights a one in a lifetime adventure to the Ningaloo Reef. Get ready to start planning your next getaway with these recs...
Photo via COMO the Treasury Hotel
Where to Stay:
If there's one place you stay when visiting Perth, let it be COMO the Treasury Hotel. COMO is located on a stunning historic property from the mid-19th century and boasts bright and beautiful rooms that are luxurious but still make you feel right at home. The pool is stunning and the wellness center is the perfect spot for you to get a little R&R. I mean what's a vacation without that? A stay at COMO is the ultimate in luxury. If you're looking for something with a little bit more of a boutique feel, Alex Hotel, located in the suburb of Northridge delivers. The hotel features charming decor and beautiful balconies that are practically built for watching the sunset.
Where to Eat:
Should you choose to take my recommendation to stay at COMO, then dining at Wildflower is a must. The menu is seasonal, so while I can't make any specific recommendations, I can tell you that every dish is as delicious as it is beautifully presented. One of the beauties of Australia is its diverse food scene, which is influenced by nearby Southeast Asia as well as its British roots. If you're in the mood for Thai food, look no further than Long Chim from Michelin star chef David Thompson. The most popular item on the menu is the mashed prawn curry. For more traditional fare, Rockpool Bar & Grill from celebrity chef Neil Perry is the spot. Rockpool is really just a fancy steakhouse, but it's totally worth the hype. Each dish is amazing, but they're Australian beef and seafood dishes are to die for. Oh, and don't forget the sides. To enjoy sprawling views of the coast, make sure to dine at Barchetta in Cottesloe, which is relaxed, but still upscale. You can enjoy wood-fired pizzas and tapas-style dishes while watching the sunset along the water.
Where to Drink:
There are plenty of places to grab a drink all over the city, but for a unique and memorable experience, you want something that's different from the rest. Hula Bula is the place for that! Grab your favorite tropical drink and grab a table at this tiki bar inspired by Hawaii in the 1960's.
Where to Sunbathe:
Did you know that Australia has nearly 11,000 beaches? Yep, you read that right. Fun fact, if you visited a different beach every day, it would take you nearly 29 years to see every beach in the country. Australia has no shortage of beaches and Perth is no exception. City beach is just a few miles outside the center of Perth and is the best local beach for swimming. It's family-friendly and perfect for sunbathing all day long. For an adults-only beach day, a great spot in Cottesloe is Swanbourne, where clothing is optional. Time to get cheeky!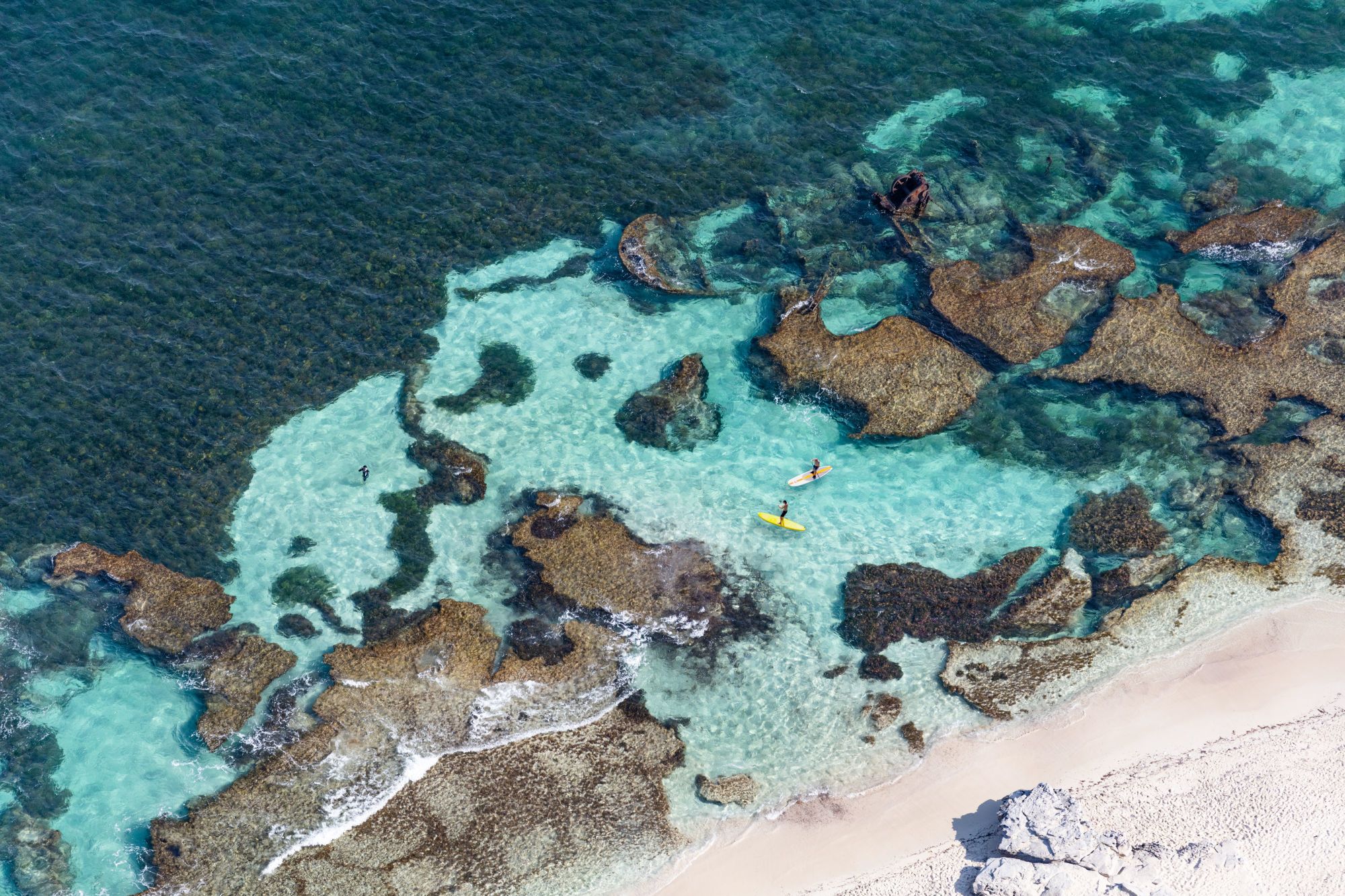 Where to Day Trip:
Just a short ferry ride away is beautiful Rottnest Island—the perfect day trip when you want a break from the city. On the tiny island, you can rent bikes to explore and snorkel gear to see all the exotic sea life. There are also plenty of beaches where you just relax and splash around in the water. While exploring keep your eyes out for a quokka, a relative of the kangaroo and the island's most famous animal resident (just don't touch them). If you visit between September and December, you may even be lucky enough to see some migrating whales from the shore.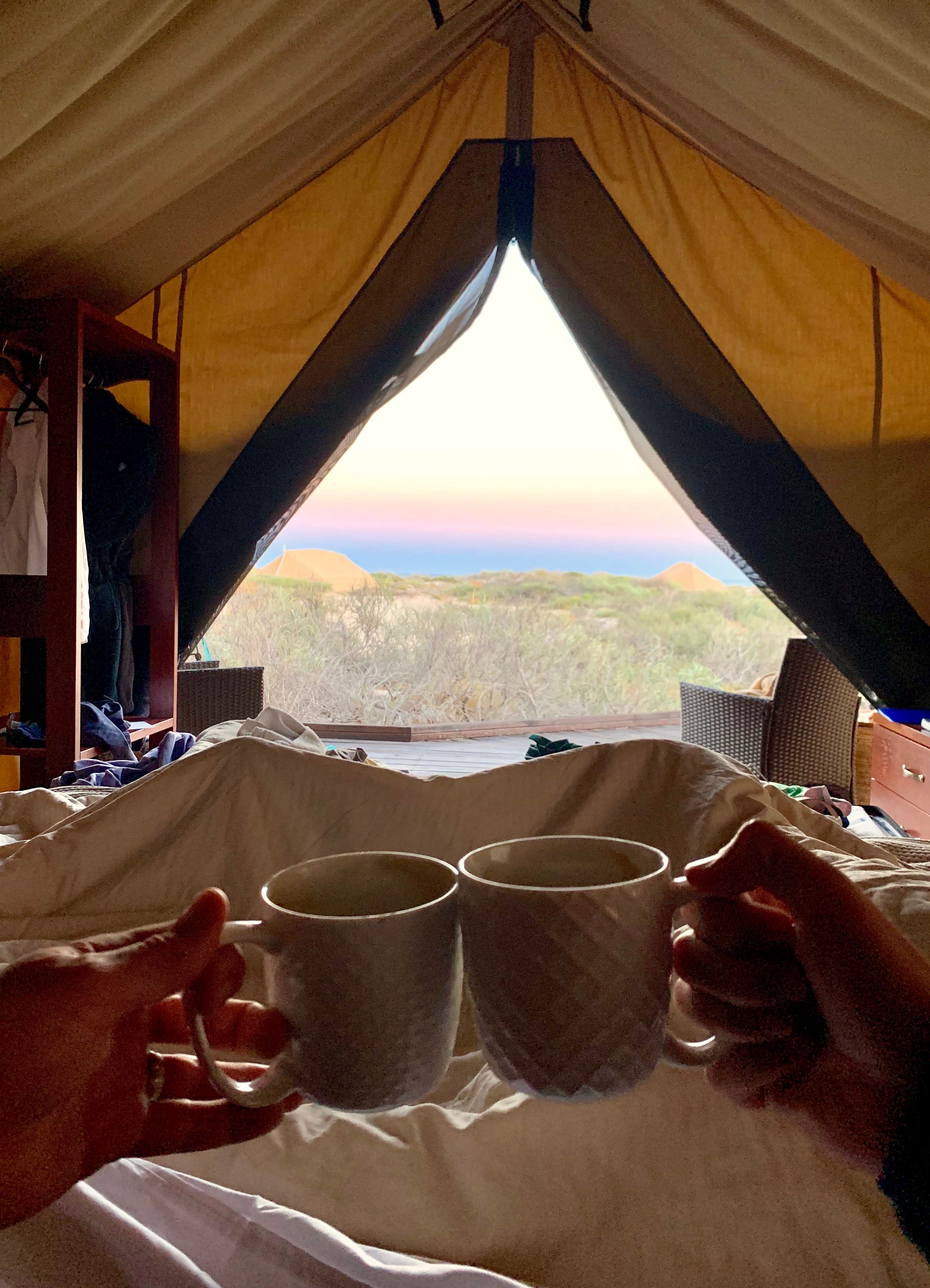 Where to Adventure:
Okay hear me out, I know that getting to the Ningaloo Reef isn't exactly easy, but I promise you the adventure is 100% worth it. From Perth, all you need to do is hop on a 2-hour flight north and catch a car or shuttle to Exmouth and you will be transported to a heavenly destination of crystal blue waters and exotic sea life. A trip to Ningaloo is truly a once in a lifetime experience where you go on spectacular hikes with breathtaking views in the morning and swim with humpback whales in the afternoon. My mind was completely blown away by the beauty of Ningaloo. When we visited, we stayed at the Sal Salis, which is a luxurious tented camp. You wake up with the sunrise to views of the surrounding bush and the sparkling Indian Ocean. There's no shortage of activities to enjoy on your stay there including swimming with Whale Sharks, which isn't actually a shark at all, but the world's biggest fish. Talk about unbelievable.
So, who's ready for a trip to Perth? Just looking back at all these images is making me ache to go back. I feel like I barely scratched the surface of all the beauty there is to explore there. If you're feeling that wanderlust too, take a look at my new Australia images and bring a little piece of Australia home.
Cheers!
Xx
Gray