Hi Everyone,
Have you seen my latest release of fall aerial images from New York City? New York is such a fun and vibrant city and it's always a fun adventure trying to capture that energy in my art. To celebrate the launch of these fun fall photos, not only am I sharing my favorite spots around the city, but we're also hosting a giveaway in collaboration with Kiwi Collection and Coveteur. What are we giving away you ask? An NYC Getaway! In addition to a medium, framed NYC print from my collection, the winner will also receive a $1500 giftcard to Kiwi Collection to stay at any of their luxury properties in NYC, a Coveteur book, a Coveteur x Fleur du Mal Robe, AND a $1000 travel credit. Pretty crazy, right? You can get more details and enter the giveaway here.
Ready to start planning your trip already? Read below for all of my city recs!
Where to Stay:
My favorite hotel whenever I visit the city is The New York EDITION because of its prime location on Madison Avenue right near Madison Square Park and its elegant design. They have amazing service for their guests and every stay there is better than the last. When planning travel, it can sometimes be a challenge finding the right hotel, but Kiwi Collection makes it so easy by rating the hotels for you, providing detailed information about the amenities, and showing you exactly where it is on a map. They feature so many iconic hotels like The Plaza Hotel and the Lotte New York Palace, there is really no wrong way to go. You can see the full selection of Kiwi Approved NYC hotels here.
Image via Kelly Wearstler
Image via Levain Bakery
Image via The Plaza Hotel
Where to Eat:
There is certainly no shortage of dining options in New York City. I'm pretty sure you could live there your whole life and not even begin to scratch the surface of the food scene. If there's one restaurant I recommend you try, it's The Polo Bar, Ralph Lauren's NYC restaurant. The interior is dimly lit and the decor matches Ralph's signature style. Order the burger, you won't regret it. Another favorite spot of mine is Gramercy Tavern. The food here is delicious the service is absolutely unparalleled. There's nothing like it. It's truly one of those places I find myself returning to time and time again. When you're looking to break up your shopping day, stop for lunch at BG Restaurant on the 7th floor of Bergdorf Goodman. The restaurant, which was designed by Kelly Wearstler is stunning and out the window is a beautiful view of central park and The Plaza. Everything here is great, but if you're feeling indulgent, try the lobster mac and cheese. If you want a quick lunch, It's always fun to stop by the Plaza Food Hall on the lower level of The Plaza hotel where you can find food stands offering a variety of dishes. The Palm Court at The Plaza is also a great spot to enjoy afternoon tea. This is the perfect activity for when the weather outside is less than desirable or when you just want to treat yourself. When it comes to brunch, Sarabeth's is a New York staple and has multiple locations in the city. Their brunch menu is extensive, but the lemon ricotta pancakes are to die for. To satisfy your sweet tooth, look no further than Levain Bakery for the best chocolate chip cookie you'll ever have. Expect to wait in line, but I promise it's totally worth it.
Where to Grab Your Morning Coffee:
In my opinion, Partner's Coffee, formerly known as Toby's Estate is one of the best coffee shops in the city. They have a few locations throughout the city making it easy to grab your coffee wherever you are. Another great option is Maman, a chic coffee shop and bakery that's so beautiful and warm, you'll want to move in. Last but not least is Sant Ambroeus. Stop there for brunch, or just to pick up your coffee in one of their iconic pink cups.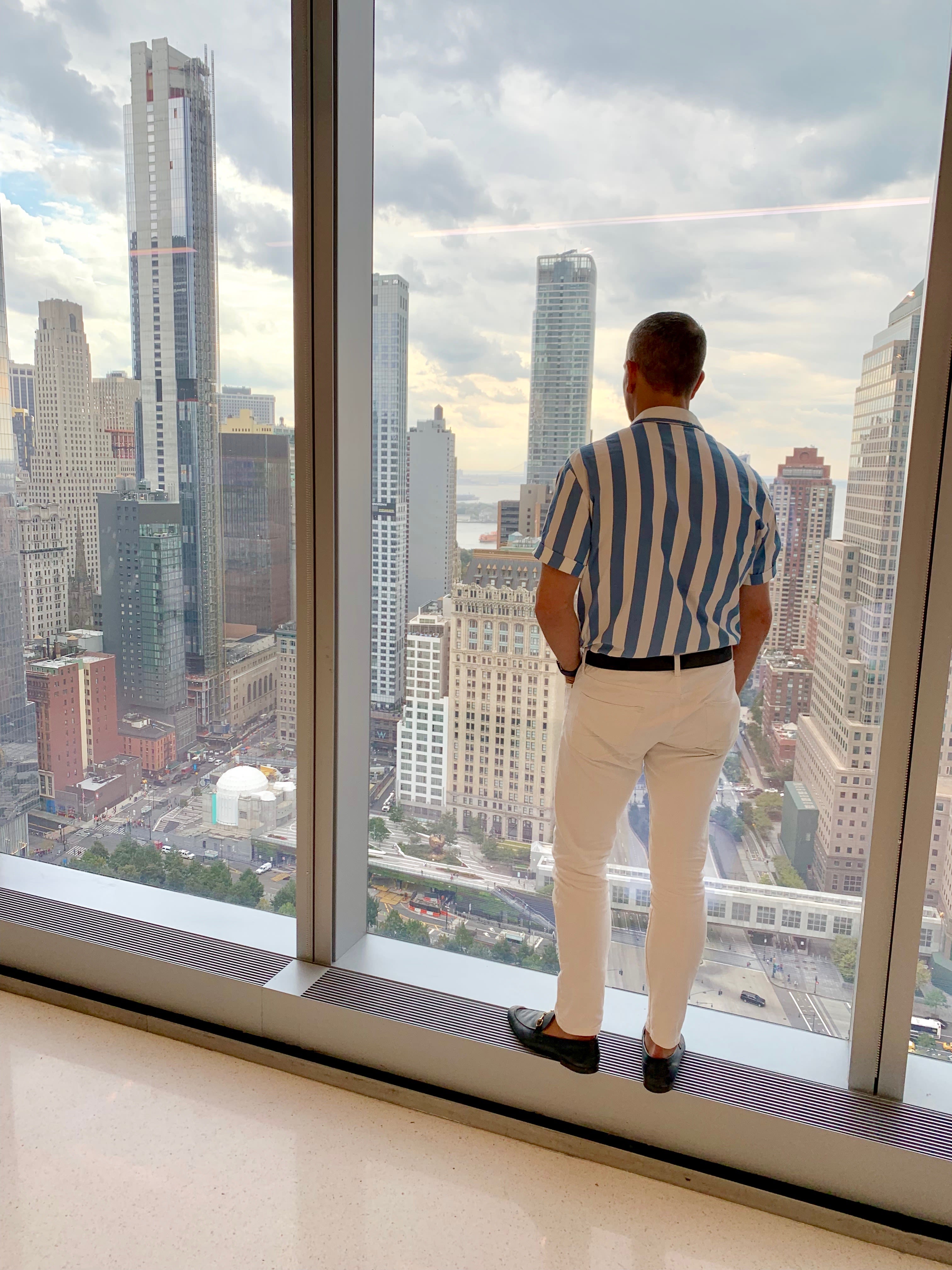 Where to Workout:
My favorite workout by far is Barry's Bootcamp. Not only is the workout great, but since they have so many different locations, it makes it easier for me to fit my workouts seamlessly into my travel. New York Pilates is arguably the best spot for pilates in the city. If that's your preferred workout, it's a must-try. Dancebody is a dance-based cardio class that really works you to the bone, but allows you to have fun while doing it!
Where to Shop:
I'm convinced New York City is where the phrase "shop till you drop" was conceived. There's a reason why movies and shows like Confessions of a Shopaholic, Gossip Girl, and Sex and the City all take place there. A trip to Bergdorf Goodman is a must. It's definitely a luxury retail experience, but something everyone should experience. Hudson Yards is one of the newer shopping experiences in the city and has so many stores to offer in a wide range of price points. Even if shopping isn't your thing, The Oculus at the World Trade Center is worth a visit just to see its impressive unique design. You can read more about the intentional design of it and its tribute to 9/11 here.
What to Do and See:
As much as some of New York City's most iconic spots can seem like tourist traps, most of them are still 100% worth the visit. Central Park is one of the most beautiful parts of the city. Because of its size, you're likely not going to be able to explore the entire thing, but it's definitely worth taking a leisurely walk through and maybe making your way to Bethesda Fountain. The Metropolitan Museum of Art is also a New York Staple. Depending on when you're in the city, you may be lucky enough to see The Costume Institute's Annual Exhibit. If you're into theater, then a Broadway Show is a must. There are always fun shows being held in NYC, so you're bound to find one you like. The High Line is a city-owned public park that is on a restored freight rail elevated above the streets of NYC. It's an amazing spot to watch the sunset, and meet with friends. There's also a variety of food and drink options for you to enjoy while you're there. Rockefeller Center is definitely worth the visit, especially if you visit during winter and are able to ice skate, and see the Rockefeller Center Christmas Tree. Last but not least, you can make your way Greenwich Village to visit the historic Washington Square Park by NYU. it's fun to people watch and walk around and take in the New York City energy.
So, are you ready to take a trip to New York yet? There are so many amazing places to explore, but this guide is definitely a good place to start. If you're not taking a trip, but still want to feed your wanderlust, you can check out my new New Yorck City aerials here.
Don't forget to enter the giveaway for the ultimate New Yorck City Getaway here!
Cheers!
Xx
Gray