Hi Everyone,
As if frozen in the glamorous 1960's, the colorful beaches of the Italian coast will forever warm my soul to the perfect degree. In honor of our La Dolce Vita series, I'm listing out my favorite beach spots - up and down the coast of Italy. In no particular order, I'm ready to begin with...
MONTEROSSO
One of the five towns of the famed, Cinque Terre, Monterosso is home to one of my favorite beach clubs in the world, Bagni Eden. The vividly striped umbrellas get me everytime, not to mention sipping a glass of prosecco or two atop these sands will put you in a dream state.
SANREMO
This coastal city in northwestern Italy is a lesser known favorite of mine. Sanremo is off the beaten path, evoking the charm of the south of France, with long promenades along the beach, but is quintessentially Italian.
PORTOFINO
Famous for its picturesque harbour and historical association with celebrity and artistic visitors, Portofino's colorful port is a dazzling vision. Although the strip of beach is small, the surrounding town more than makes up for the lack of real estate atop the sand.
CAMOGLI
This particular beach is the kind of destination one discovers when they road trip throughout Italy. Unlike the heavily trafficked route through Cinque Terre, you'll be virtually alone.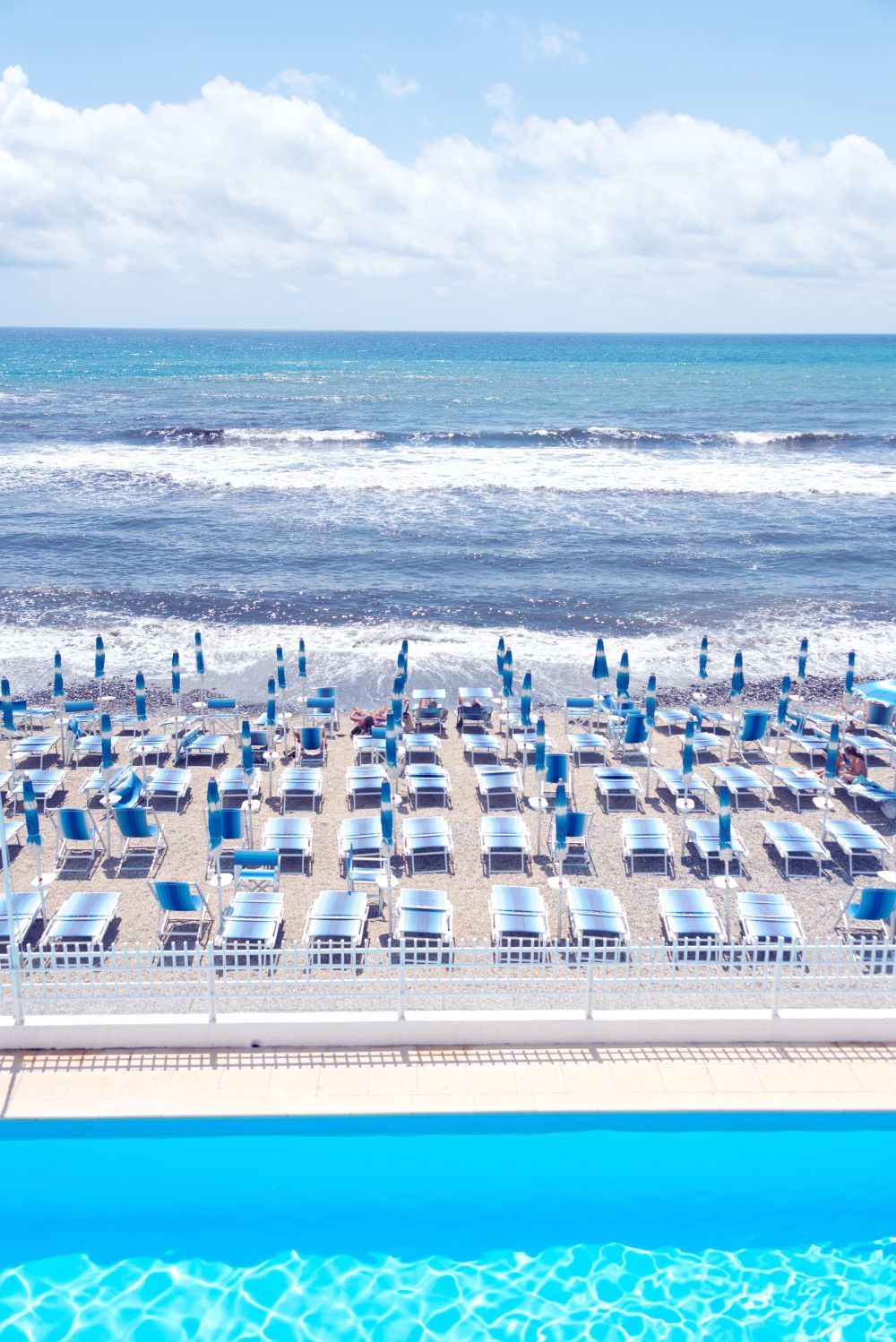 LIDO DE VENEZIA
The Lido or Venice Lido is a long sandbar in Venice. I don't know about you, but I never really thought about Venice for its beaches until I visited for the first time last year. Yes, of course, we enjoyed plenty of time exploring the canals in a gondola, but I was also pleasantly surprised by the chic beaches that Venice offers, too. The Venice Lido is particularly famous for the cabanas with poles that are used to tie awnings for shade.
VIAREGGIO
Located on the coast of Tuscany, Viareggio and it's neighboring beach towns like Forte de Marmi are where Italians go for a beach getaway.
POLIGNANO A MARE
Located on the Adriatic Sea, Polignano a Mare's white pebble beaches are Instagram ready, to say the least. The beach is a wonderful sight and with its crystal clear water, one cannot help but simply dive right into the blue and cool off, amidst the beautiful cliffs. This southeastern part has certainly been influenced by Grecian architecture.
CAPRI
No list of mine would be complete without mention of the beautiful Isle of Capri...offering sunny spots atop the rocky edges as well as sandy shores.
What do you think? Did your favorite make the list? I know I'm barely scratching the surface here from both my personal favorites as well as the numerous beaches that Italy has to offer. Let's be honest, one can't really go wrong when enjoying the beaches of La Dolce Vita.
Cheers,
xx
Gray
Header: Lido Capo di Conca
{"slides":[{"label":"The Making of Gray Malin at the Mauna Kea ","url":"/lifestyle/the-making-of-gray-malin-at-the-mauna-kea","image":"https://res.cloudinary.com/gray-malin/image/upload/c_scale,w_1000,q_50,f_auto/gray-malin/blog_posts/hero_images/000/001/830/original/0-Mauna_Kea_BTS-3.jpg?updated=1611793554"},{"label":"The Making of Dogs of Aspen","url":"/lifestyle/the-making-of-dogs-of-aspen","image":"https://res.cloudinary.com/gray-malin/image/upload/c_scale,w_1000,q_50,f_auto/gray-malin/blog_posts/hero_images/000/001/982/original/0.jpg?updated=1641943774"},{"label":"10 Prints to Refresh Your Home for 2022","url":"/lifestyle/10-prints-to-refresh-your-home-for-2022","image":"https://res.cloudinary.com/gray-malin/image/upload/c_scale,w_1000,q_50,f_auto/gray-malin/blog_posts/hero_images/000/001/819/original/0-Central_Park__New_York_City_copy.jpg?updated=1608674852"},{"label":"10 Prints About to Sell Out","url":"/lifestyle/10-prints-about-to-sell-out","image":"https://res.cloudinary.com/gray-malin/image/upload/c_scale,w_1000,q_50,f_auto/gray-malin/blog_posts/hero_images/000/001/946/original/7.jpg?updated=1637713351"},{"label":"Introducing Gray Malin Curated Gift Boxes in Partnership with Casamia","url":"/lifestyle/brand-new-introducing-gray-malin-curated-gift-boxes-in-partnership-with-casamia","image":"https://res.cloudinary.com/gray-malin/image/upload/c_scale,w_1000,q_50,f_auto/gray-malin/blog_posts/hero_images/000/001/944/original/0_copy.jpg?updated=1634750067"},{"label":"Escape to NYC Giveaway","url":"/lifestyle/escape-to-nyc-giveaway","image":"https://res.cloudinary.com/gray-malin/image/upload/c_scale,w_1000,q_50,f_auto/gray-malin/blog_posts/hero_images/000/001/942/original/Welcome_to_the_Plaza_Hotel.jpg?updated=1632948785"},{"label":"The Making of Dogs of New York City ","url":"/lifestyle/the-making-of-dogs-of-new-york-city","image":"https://res.cloudinary.com/gray-malin/image/upload/c_scale,w_1000,q_50,f_auto/gray-malin/blog_posts/hero_images/000/001/941/original/Spotted_at_Bergdorf_Goodman_BTS.jpg?updated=1633019874"},{"label":"Gray Malin The Essential Collection Book Tour","url":"/lifestyle/you-re-invited-gray-malin-the-essential-collection-book-tour","image":"https://res.cloudinary.com/gray-malin/image/upload/c_scale,w_1000,q_50,f_auto/gray-malin/blog_posts/hero_images/000/001/940/original/0.png?updated=1631746757"}],"label":"Have You Seen?"}
{"id":null,"number":null,"item_total":"0.0","total":"0.0","ship_total":"0.0","state":"cart","adjustment_total":"0.0","user_id":null,"created_at":null,"updated_at":null,"completed_at":null,"payment_total":"0.0","shipment_state":null,"payment_state":null,"email":null,"special_instructions":null,"channel":"spree","included_tax_total":"0.0","additional_tax_total":"0.0","display_included_tax_total":"$0.00","display_additional_tax_total":"$0.00","tax_total":"0.0","currency":"USD","considered_risky":false,"canceler_id":null,"display_item_total":"$0.00","total_quantity":0,"display_total":"$0.00","display_ship_total":"$0.00","display_tax_total":"$0.00","display_adjustment_total":"$0.00","token":null,"checkout_steps":["address","delivery","complete"],"bill_address":null,"ship_address":null,"line_items":[],"payments":[],"shipments":[],"adjustments":[],"credit_cards":[],"promotions":[],"total_shipment_cost":"$0.00","permissions":{"can_update":false},"use_shipping_for_billing":true,"use_new_ship_address":true,"use_new_bill_address":false,"selected_ship_address":null,"selected_bill_address":null,"display_completed_at":null,"item_count":0,"subtotal_minus_promos":"$0.00","coupon_codes":[],"includes_framed_items":false,"contains_subscription":false}
This site uses cookies to allow better navigation. By closing this banner, scrolling this page or clicking any of its elements, you are giving consent to all cookies. To learn more and to change your preferences please see our Cookies Policy.