Hi Everyone,
By far the questions I get asked the most often is what my favorite beach is in the world. I've been so lucky to have been able to travel the globe exploring and photographing more beaches than I can even count. While it's nearly impossible for me to pick just one favorite, I've narrowed it down to a handful of favorites that should be on everyone's must-see list. If you need a little inspiration for your next beach getaway or looking to bring home some art from a stunning sandy destination, I've created a new shop page on our website that you can explore here. Keep reading for a breakdown of my favorite spots.
Famous for its never-ending beaches, endless surf, and year-round sun, San Diego is a spot that can't be missed. The small surf neighborhoods scattered up and down the coast and the locals-only feel deliver the "California cool" vacation of your dreams. You can check out my complete guide to San Diego's beaches here.
It's no secret that Capri is one of my muses. Since my first visit, it has quickly become one of my favorite spots to inspire my work and relax. I encourage everyone to visit and experience the magic of the Isle of Capri. Enjoy an Aperol Spritz while sunbathing along the sparkling blue waters of the Mediterranean Sea. Discover more of the beauty of the island here.
When I think of The Hamptons, I think of walking along the beach at sunset with chilled rosé in hand. One of the things I love the most about the Hamptons is the variety of options there are. Experience life as a local in Montauk, or head to East Hampton for a day of shopping and fine-dining. There's no shortage of options. From its breezy beaches and grass-covered sand dunes to its iconic shingle architecture, the nine villages of The Hamptons are a must-see. Plan your next trip to The Hamptons with my travel guide.
Rhode Island may be the smallest state in the country, but it boasts some of the prettiest beaches I've ever seen. With its dark blue waters and rocky cliffs, a trip to Rhode Island is the perfect nautical seaside getaway. Grab a lobster roll while walking along the white sand beaches, join your friends for a traditional clam bake, or enjoy a cocktail while watching the sunset. Explore my favorite Rhode Island spots here.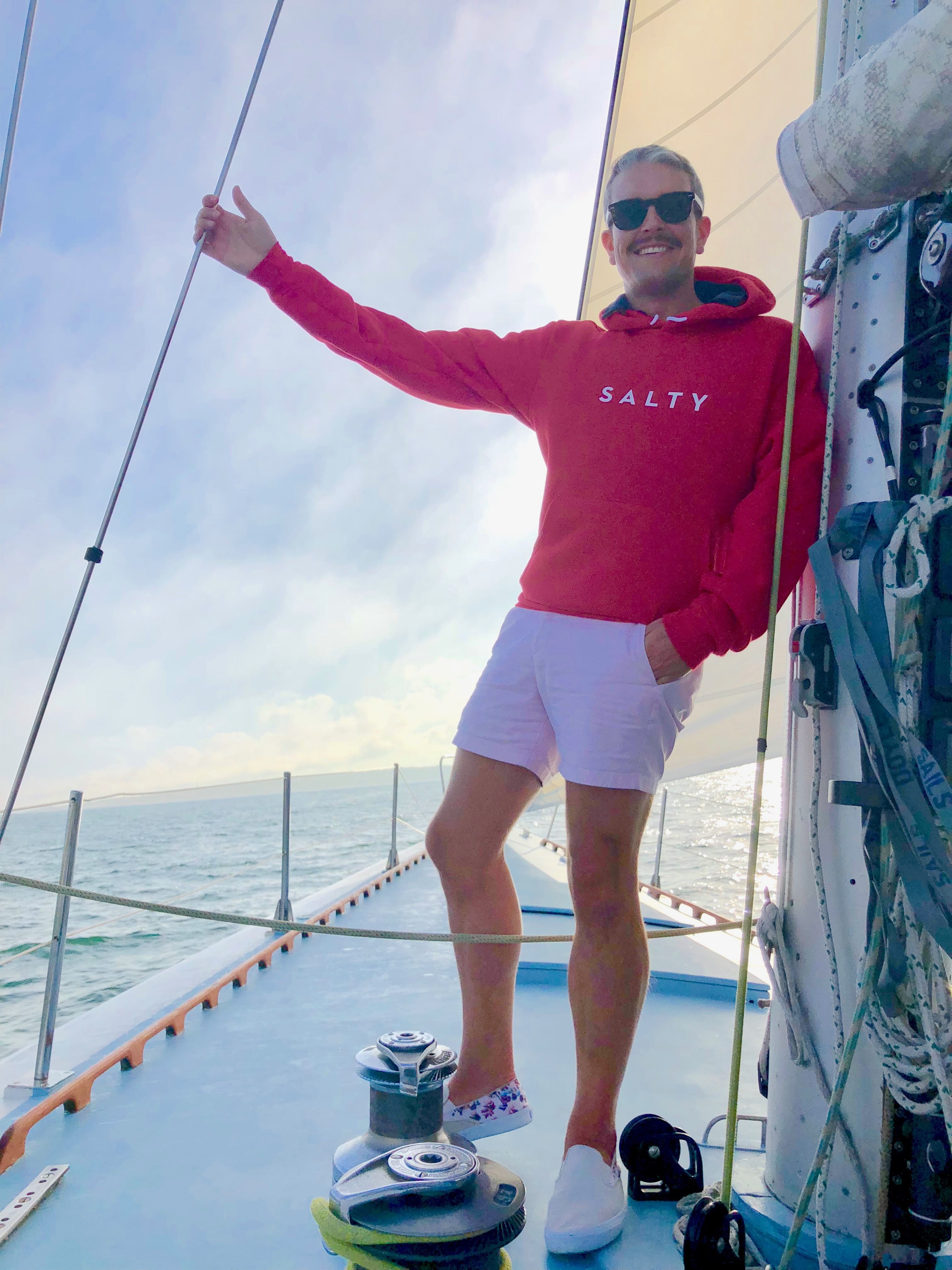 *SHOP ID THE SAILBOAT*
If you've read this post, then you already know what Australia (and Sydney) means to me. My trips to Sydney have been some of my most memorable, so it's no surprise that it's made it on this list. Take a trip to the Land Down Under. Sunbathe along the miles of warm sand and catch a few waves on Sydney's infamous easter beaches. Discover more of the beautiful beaches of Sydney here.
I love St. Barths for its beauty and serenity. This is my favorite destination when I want a peaceful beach getaway. Sunbathe in the warm white sand along its fourteen beaches, which are quiet and relaxing no matter the season. Shop all work from St. Barths here.
Discover the beauty and natural wonders of Maui. From its black sand beaches and crystal clear waters to its legendary surf spots, this island is a tropical paradise. Don't miss the magical hikes where you'll find hidden waterfalls and amazing wildlife. Explore all my favorite spots on Maui (and the other Hawaiian Islands) here.
Do you have a favorite beach? Is it one I've shot before? Here's to all of us enjoying the sun all summer long…
Check out work from my favorite beaches here.
Cheers!
Xx
Gray
{"slides":[{"label":"Gray's Guide to Northern Michigan","url":"/lifestyle/gray-s-guide-to-northern-michigan","image":"https://res.cloudinary.com/gray-malin/image/upload/c_scale,w_1000,q_50,f_auto/gray-malin/blog_posts/hero_images/000/001/932/original/0.jpg?updated=1624311160"},{"label":"Our Favorite Wintery Destinations","url":"/lifestyle/our-favorite-wintery-destinations","image":"https://res.cloudinary.com/gray-malin/image/upload/c_scale,w_1000,q_50,f_auto/gray-malin/blog_posts/hero_images/000/001/814/original/0-the-field_copy.jpg?updated=1608319096"},{"label":"Our 10 Destinations We Can't Wait to Get Back to","url":"/lifestyle/our-10-destinations-we-can-t-wait-to-get-back-to","image":"https://res.cloudinary.com/gray-malin/image/upload/c_scale,w_1000,q_50,f_auto/gray-malin/blog_posts/hero_images/000/001/802/original/0-Lake_Como_by_Boat.jpg?updated=1606505257"},{"label":"Gray's Guide to Maine","url":"/lifestyle/gray-s-guide-to-maine","image":"https://res.cloudinary.com/gray-malin/image/upload/c_scale,w_1000,q_50,f_auto/gray-malin/blog_posts/hero_images/000/001/692/original/0-Old_Orchard_Beach_Pier__Maine.jpg?updated=1596571592"},{"label":"Gray's Favorite Beaches in the USA","url":"/lifestyle/gray-s-favorite-beaches-in-the-usa","image":"https://res.cloudinary.com/gray-malin/image/upload/c_scale,w_1000,q_50,f_auto/gray-malin/blog_posts/hero_images/000/001/680/original/9-surfside-beach-nantucket.jpg?updated=1593559394"},{"label":"Gray's Favorite Beaches Around the World","url":"/lifestyle/gray-s-favorite-beaches-around-the-world","image":"https://res.cloudinary.com/gray-malin/image/upload/c_scale,w_1000,q_50,f_auto/gray-malin/blog_posts/hero_images/000/001/645/original/16-Second_Beach_Sunbathers__Newport.jpg?updated=1593041015"},{"label":"Gray's Guide to New Zealand","url":"/lifestyle/gray-s-guide-to-new-zealand","image":"https://res.cloudinary.com/gray-malin/image/upload/c_scale,w_1000,q_50,f_auto/gray-malin/blog_posts/hero_images/000/001/633/original/0-IMG_0991_copy_2.jpg?updated=1591833993"},{"label":"Gray's Guide to Capri","url":"/lifestyle/city-guide-capri","image":"https://res.cloudinary.com/gray-malin/image/upload/c_scale,w_1000,q_50,f_auto/gray-malin/blog_posts/hero_images/000/000/109/original/two-umbrellas-laa-fontalina-capri.jpg?updated=1493143453"}],"label":"Have You Seen?"}
{"id":null,"number":null,"item_total":"0.0","total":"0.0","ship_total":"0.0","state":"cart","adjustment_total":"0.0","user_id":null,"created_at":null,"updated_at":null,"completed_at":null,"payment_total":"0.0","shipment_state":null,"payment_state":null,"email":null,"special_instructions":null,"channel":"spree","included_tax_total":"0.0","additional_tax_total":"0.0","display_included_tax_total":"$0.00","display_additional_tax_total":"$0.00","tax_total":"0.0","currency":"USD","considered_risky":false,"canceler_id":null,"display_item_total":"$0.00","total_quantity":0,"display_total":"$0.00","display_ship_total":"$0.00","display_tax_total":"$0.00","display_adjustment_total":"$0.00","token":null,"checkout_steps":["address","delivery","complete"],"bill_address":null,"ship_address":null,"line_items":[],"payments":[],"shipments":[],"adjustments":[],"credit_cards":[],"promotions":[],"total_shipment_cost":"$0.00","permissions":{"can_update":false},"use_shipping_for_billing":true,"use_new_ship_address":true,"use_new_bill_address":false,"selected_ship_address":null,"selected_bill_address":null,"display_completed_at":null,"item_count":0,"subtotal_minus_promos":"$0.00","coupon_codes":[],"includes_framed_items":false,"contains_subscription":false}
This site uses cookies to allow better navigation. By closing this banner, scrolling this page or clicking any of its elements, you are giving consent to all cookies. To learn more and to change your preferences please see our Cookies Policy.