Hi Everyone,
Hope you're having a wonderful weekend! I'm taking a moment today to reflect on my last weekend, where I spent Saturday afternoon signing copies of my books and meeting all of the smiling faces at Hive Palm Beach. If you were one of them, thanks for coming out! And, of course, a very big thanks to the team at Hive Palm Beach for making me feel extra special!
If you live in Palm Beach or plan on visiting anytime soon, I highly recommend visiting this beautiful home design store. It's one of those specialty boutiques that you can just get lost in. I arrived a little early for the signing, and I was greeted with my name in mylar ballons! It was such a sweet surprise! Then, once inside, I loved seeing how they had decorated with their big variety of Gray Malin products. Needless to say, I was feeling very humbled and appeciative of all of their efforts.
After taking it all in, it was time to get to signing! The crowd was so nice, and as always, I loved hearing all of their stories about why a particular print or book was special to them.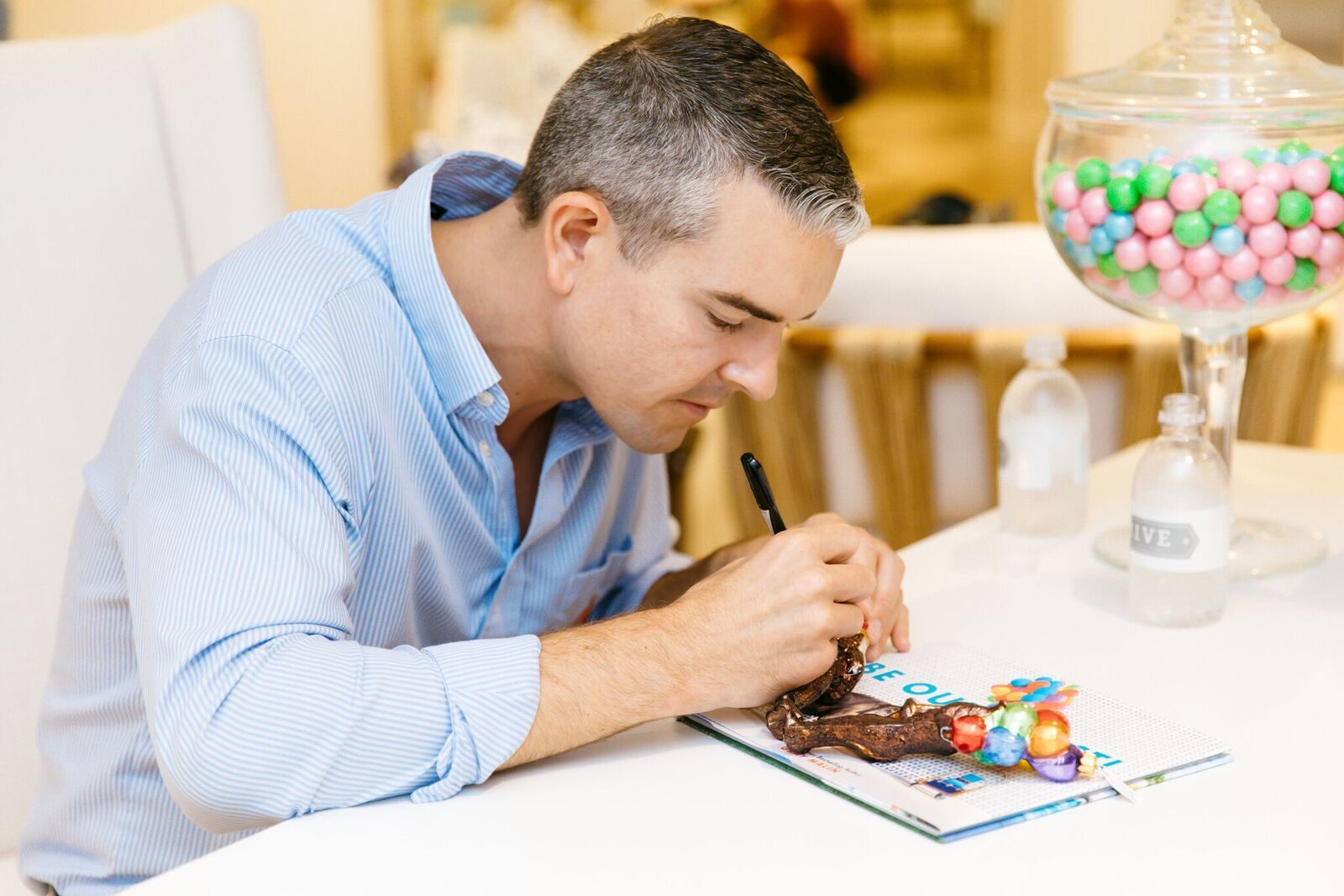 In case you're wondering...yes, I did sign our new Maurice the Monkey holiday ornament! It's definitely his year, and I couldn't be happier about it. Thank you so much to everyone who came out to see me, thank you Hive Palm Beach and as always, thank you all for following along with me.
Cheers
xx GM
special thanks to Christina Cernik Photography for capturing the day!
{"slides":[{"label":"10 Prints About to Sell Out","url":"/lifestyle/10-prints-about-to-sell-out","image":"https://res.cloudinary.com/gray-malin/image/upload/c_scale,w_1000,q_50,f_auto/gray-malin/blog_posts/hero_images/000/001/946/original/7.jpg?updated=1637713351"},{"label":"Introducing Gray Malin Curated Gift Boxes in Partnership with Casamia","url":"/lifestyle/brand-new-introducing-gray-malin-curated-gift-boxes-in-partnership-with-casamia","image":"https://res.cloudinary.com/gray-malin/image/upload/c_scale,w_1000,q_50,f_auto/gray-malin/blog_posts/hero_images/000/001/944/original/0_copy.jpg?updated=1634750067"},{"label":"Escape to NYC Giveaway","url":"/lifestyle/escape-to-nyc-giveaway","image":"https://res.cloudinary.com/gray-malin/image/upload/c_scale,w_1000,q_50,f_auto/gray-malin/blog_posts/hero_images/000/001/942/original/Welcome_to_the_Plaza_Hotel.jpg?updated=1632948785"},{"label":"The Making of Dogs of New York City (+ a Giveaway!)","url":"/lifestyle/the-making-of-dogs-of-new-york-city","image":"https://res.cloudinary.com/gray-malin/image/upload/c_scale,w_1000,q_50,f_auto/gray-malin/blog_posts/hero_images/000/001/941/original/Spotted_at_Bergdorf_Goodman_BTS.jpg?updated=1633019874"},{"label":"Gray Malin The Essential Collection Book Tour","url":"/lifestyle/you-re-invited-gray-malin-the-essential-collection-book-tour","image":"https://res.cloudinary.com/gray-malin/image/upload/c_scale,w_1000,q_50,f_auto/gray-malin/blog_posts/hero_images/000/001/940/original/0.png?updated=1631746757"},{"label":"Join Me At The Gray Malin Beach Club at The Mauna Kea Beach Hotel","url":"/lifestyle/join-me-at-the-gray-malin-beach-club-at-mauna-kea-beach-hotel","image":"https://res.cloudinary.com/gray-malin/image/upload/c_scale,w_1000,q_50,f_auto/gray-malin/blog_posts/hero_images/000/001/934/original/Gray_Malin_Beach_Club-2_(1).jpg?updated=1627932434"},{"label":"Introducing NEST New York x Gray Malin ","url":"/lifestyle/introducing-nest-new-york-x-gray-malin","image":"https://res.cloudinary.com/gray-malin/image/upload/c_scale,w_1000,q_50,f_auto/gray-malin/blog_posts/hero_images/000/001/927/original/Nest-Lifestyle-22-banner3.jpg?updated=1621308226"},{"label":"New Beach Totes","url":"/lifestyle/new-beach-totes","image":"https://res.cloudinary.com/gray-malin/image/upload/c_scale,w_1000,q_50,f_auto/gray-malin/blog_posts/hero_images/000/001/926/original/0_-_Tote_Bag.jpg?updated=1620882995"}],"label":"Have You Seen?"}
{"id":null,"number":null,"item_total":"0.0","total":"0.0","ship_total":"0.0","state":"cart","adjustment_total":"0.0","user_id":null,"created_at":null,"updated_at":null,"completed_at":null,"payment_total":"0.0","shipment_state":null,"payment_state":null,"email":null,"special_instructions":null,"channel":"spree","included_tax_total":"0.0","additional_tax_total":"0.0","display_included_tax_total":"$0.00","display_additional_tax_total":"$0.00","tax_total":"0.0","currency":"USD","considered_risky":false,"canceler_id":null,"display_item_total":"$0.00","total_quantity":0,"display_total":"$0.00","display_ship_total":"$0.00","display_tax_total":"$0.00","display_adjustment_total":"$0.00","token":null,"checkout_steps":["address","delivery","complete"],"bill_address":null,"ship_address":null,"line_items":[],"payments":[],"shipments":[],"adjustments":[],"credit_cards":[],"promotions":[],"total_shipment_cost":"$0.00","permissions":{"can_update":false},"use_shipping_for_billing":true,"use_new_ship_address":true,"use_new_bill_address":false,"selected_ship_address":null,"selected_bill_address":null,"display_completed_at":null,"item_count":0,"subtotal_minus_promos":"$0.00","coupon_codes":[],"includes_framed_items":false,"contains_subscription":false}
This site uses cookies to allow better navigation. By closing this banner, scrolling this page or clicking any of its elements, you are giving consent to all cookies. To learn more and to change your preferences please see our Cookies Policy.