Hi Everyone,
Anyone taken advantage of sitewide free framing yet? I wouldn't wait, if I were you! Some of my favorite prints are selling out fast (especially in medium and large sizes), so better to scoop up any prints you're eyeing sooner than later. If you're still deciding exactly which one to add to your life, I hope I can help ease your decision a little bit by sharing a few of my favorite fine art photography prints of all time. I've collected old and new prints alike and I'm sharing them all with you below, so keep scrolling to see why I loved these 10 prints from day one and why they continue to be some of my favorites…
1. La Jolla Cove
I recently took a trip down the coast to San Diego to capture some images from the air, and it did not disappoint. La Jolla is known for its plentiful surfing and I think this series of photos captures that exact laidback vibe present there.
2. Two Cowboys
This print is a fan favorite, and a personal favorite, as well! I had the idea to play up the juxtaposition between high fashion and the desolate desert landscape of Marfa, TX years ago. I was so pleased with this image when I initially shot it, and I'm still in love with it today. You can find more backstory on this series here.
3. The Beverly Hills Hotel
I couldn't help but include one of my most recent favorites from my series photographed at the iconic Beverly Hills Hotel. I have always been inspired by this property and it had been a long-time dream of mine to shoot at this location. I'm still pinching myself about this opportunity, but you can click here to dive into more of the details.
4. Kua Bay Umbrellas
Who doesn't love a little bit of the Hawaiian islands hanging on their walls? In fact, this print is hanging in our bedroom at home, and it immediately takes me away every time I look at it. It's impossible not to feel relaxed when this catches your eye! If you're in the mood for a little island hopping, don't miss my travel guide to the area.
5. Torrey Pines Beach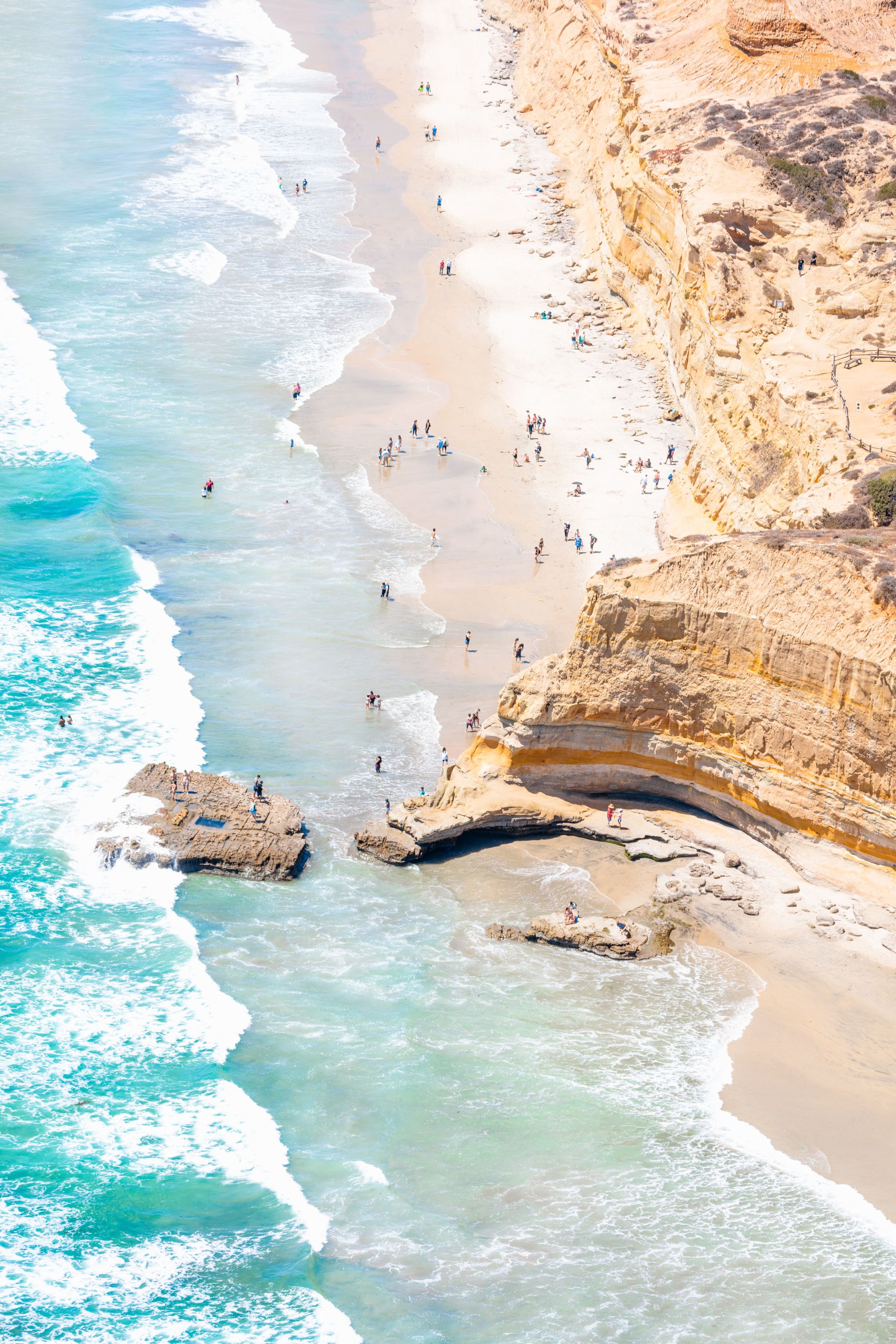 A place so nice it made the list twice! This is one of my favorite images of La Jolla. Those cliffside beaches and aqua blue waves… what's not to love?
6. Two Llamas with Pink Balloons II
My first iteration of these llamas with black and white balloons sold out in the blink of an eye. But so many people loved this idea, I couldn't resist bringing it back with pink balloons. My original Two Llamas with Pink Balloons is almost sold out too, but I love this variation above, and it is available in all sizes.
7. Positano Beach Vertical
I've frequented Positano and the Amalfi Coast a number of times now, but it never gets old. I'm obsessed with the lifestyle they live there, and this charming town is almost as good in a photograph as it is in real life. (It's selling out quickly, so don't hesitate to grab a print for yourself if you love it as much as I do.)
8. Starmint Umbrellas, Italy
You'll find beaches all over the world that are scattered with mismatched umbrellas and hundreds of people, but the perfect symmetry of the beaches in my Italian Geometric series pulls at my heart. These beaches were so stunning they had me doing a double take from the helicopter. I loved this print so much that I went 3D with it - The Startmint Umbrella Tray.
9. Party at the Parker
If you ask me, it's impossible not to smile looking at this image. Tai the elephant was such a gentle giant, I couldn't believe it. Photographing her as part of my series Gray Malin at the Parker was such an amazing experience, and this print quickly became a favorite of mine. I'm not alone either, as both Medium & Large is sold out but don't dispair, as you've got a great alternative in Party at the Parker II.
10. The Sailboat, Newport Harbor
Last, but not least, this print stole a special place in my heart when I photographed the beaches of Rhode Island earlier this year. I try to get out on the water for a little sailing anywhere it allows, and viewing this destination by boat was such a treat.
Which prints are you going to pick up during free framing?
I hope you choose a print that truly resonates with you and your style, but if you're still undecided, I hope some of these suggestions helped.
Cheers!
xx
Gray
Photos: Gray Malin