Hi Everyone,
I hope you're enjoying my newest series, Côte d'Azur. It was shot last July, which means I've been waiting forever to share all of these amazing tips! First and foremost, let's start with the how - rent a car. This is the easiest way to make your way up the coast as well as the best way to maximize your time in each destination along the way. Now that we've got that squared away, let's begin!
ST. TROPEZ
Where to Stay:
Hotel Pastis - This arts-focused hotel has a boutique vibe with a beautifully landscaped courtyard and a deep green swimming pool. Our room had a private terrace, which was perfect for a morning coffee. If you stay here, I highly recommend our room – number 4. *Insider Tip* Stay at a hotel as close to town as possible, the beaches are fun but a little far from the action at night.
A Day's Agenda:
After breakfast, hop in your rental and drive to the famous beach club area named Plage de Pampelonne, which is about 20 minutes from St. Tropez. This wide spread beach is nearly 3 miles long and has around 40 private beach clubs and numerous public beaches, along with a distinctly noticeable nude beach.
*Insider's Tip* Bring cash! It's cash only when it comes to parking, and there isn't anywhere to park that won't cost you money. The beaches are all located along Pampelonne, so I recommend parking at the northern end of the long beach. Then, it's an easy taxi ride to Tahiti Beach, one of the Riviera's famous beach clubs. Adorned with bright orange and white-striped umbrellas and a private dock, this is where your adventure will begin. Enjoy the people watching as guests arrive on foot but also via the sea.
Tahiti Beach Club is a great option for lunch, or walk along the beach and see if another spot catches your eye. You'll want to be comfortably seated by 2 PM, though as that's when the clubs generally get going with live music and a dancing staff, eager to pour you drinks and serve you lobster. Once you're properly satiated and lubricated, head south and walk past some of the famous clubs like Moorea Beach Club, Tiki Club, Eden Plage, and Plage Pago Pago; the most famous of all, however, is Club 55.
If you're in St. Tropez for more than a day, this is another fun option for lunch. If you're only there for one day, then I'd go with this spot over anywhere else but...*Insider Tip* you'll need to make a reservation, in advance. The restaurant is picture perfect for lunch with light blue table clothes, fresh flowers, and even large baskets of vegetables. The food is tremendous and the scene reminded me of lunch at La Fontelina beach club in Capri… which is one of my favorites ever!
Wherever you end up for lunch, the day's goal will be to walk to the end of Pampelonne, which takes about 1 hour. You'll stroll past the famous Bagatelle Beach, which will envitably have loud music playing and a fun scene. I snapped this picture of a woman wearing a sunhat and a one-piece black bathing suit that simply said FENDI across her chest. I feel that it perfectly sums up the essence of this over-the-top beach scene.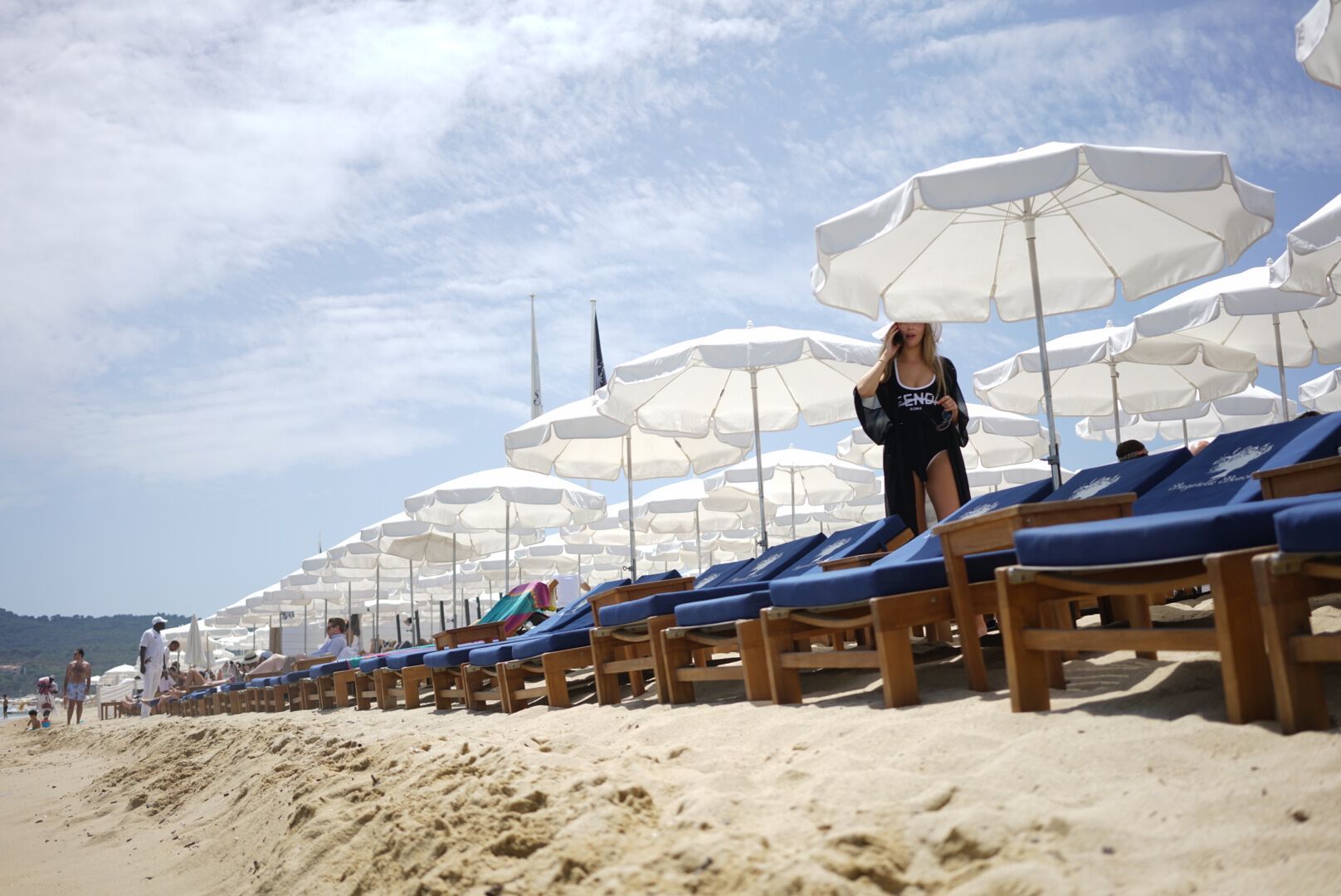 Once you get to the end, I'd suggest stopping off at Nikki Beach. It's the perfect spot to replenish yourself, then grab a taxi back to the car.
After a rest back at the hotel, it's time to head into town to explore old St. Tropez at night. First stop, dinner at Le Girelier, which is a hot spot right in the main port of St. Tropez . It is perfect to enjoy some fresh seafood and a nice view of the mega yacht scene that St. Tropez is renowned for. Afterwards be sure to walk along Quai Jean Jaurès, the yachts come alive after dark and the sounds of adults behaving badly begin to fill the air.
Cannes/Cap D'Antibes
From St. Tropez, it's time to head north towards Cannes. We opted to stay in Cap D'Antibes, a small cape nestled between Cannes and Nice, but more on that in a minute. Although we did not stay in Cannes, we were quite taken with our view of The Carlton as we strolled the beaches.
Beach Day in Cannes
Whether you stay in Cannes or near by in Antibes, you'll want to spend time taking in the beach club scene of Cannes. The beach clubs are tightly packed from start to finish, so it's quite easy to make a day of it. We stopped by La Plage 45, L'Ondine, Plage Royal, the Z Plage, but there are many more, so my suggestion is to simply stop at the ones that catch your attention.
If you've ever been to Italian beach clubs, you'll notice two key differences in France. The first is that French beach clubs have beautiful docks that go out into the water. It's the perfect way to spend A Day in Cannes. Then, the second is that the umbrellas are much more subdued in color and the loungers are quite luxe with styled cushioned chairs, often with meticulously patterned stripes, whereas the Italian beach clubs mostly are not upholstered.
Heading to Antibes
Similar to Cannes, the sandy shores in Antibes are scattered with beach clubs such as Bijou Plage, La Garoupe, La Plage Belle Rives, and many more....all with umbrellas of subdued design.
As mentioned, we opted to stay Cap D'Antibes. The reason? It was to stay at Hôtel du Cap-Eden-Roc.
Where to Stay:
Hôtel du Cap-Eden-Roc - This iconic hotel is best known for this famous shot of its pool by none other than Slim Aarons in 1976. Considering he's a huge inspiration to me, I could not miss the opportunity to stay at this hotel. Personal reasons aside, though this hotel is a MUST see for ANY reason, such as for: sips of rosé by the pool, a casual lunch at Eden-Roc Grill, a luxe dining experience at the Eden-Roc Restaurant, sun-downer sips from the Eden-Roc Champagne Lounge, overlooking the sea...or all of the above!
*Insider Tip* If you'd like to stay here, reserve your room as early as one year prior to your arrival date.
Dinner:
Head into the town of Antibes and grab dinner at the famous Tetou. This iconic seafood place is right out of the 1960's, and there you will enjoy some of the most spectacular seafood in all of France, in particular the bouillabaisse! *Insider Tip* They only take cash OR you have the option of billing to your room if you are staying at Hôtel du Cap - so no credit cards!
Daytime Activity:
If you are staying Antibes, I definitely recommend getting a boat with a captain for the day. You can float along the coast from Cannes, to Antibes, to Nice, Cap-Ferrat, and all the way to Monte Carlo all within one afternoon, whereas if you drove it would take all day!
NICE
Where to Stay:
It's only about an hour drive to Nice from Antibes, so we stayed put at the glorious Hôtel du Cap-Eden-Roc. However if we were stay anywhere, it would ideally be Grand Hotel Du-Cap-Ferrat, the other famous hotel of the region. Similar to Du Cap, there were gardens that sloped down a meticulously manicured hillside toward the sea. I couldn't help but get a few pictures of myself underneath the giant lettered sign for the hotel on the backside (which you can read from the sea as we had the day before).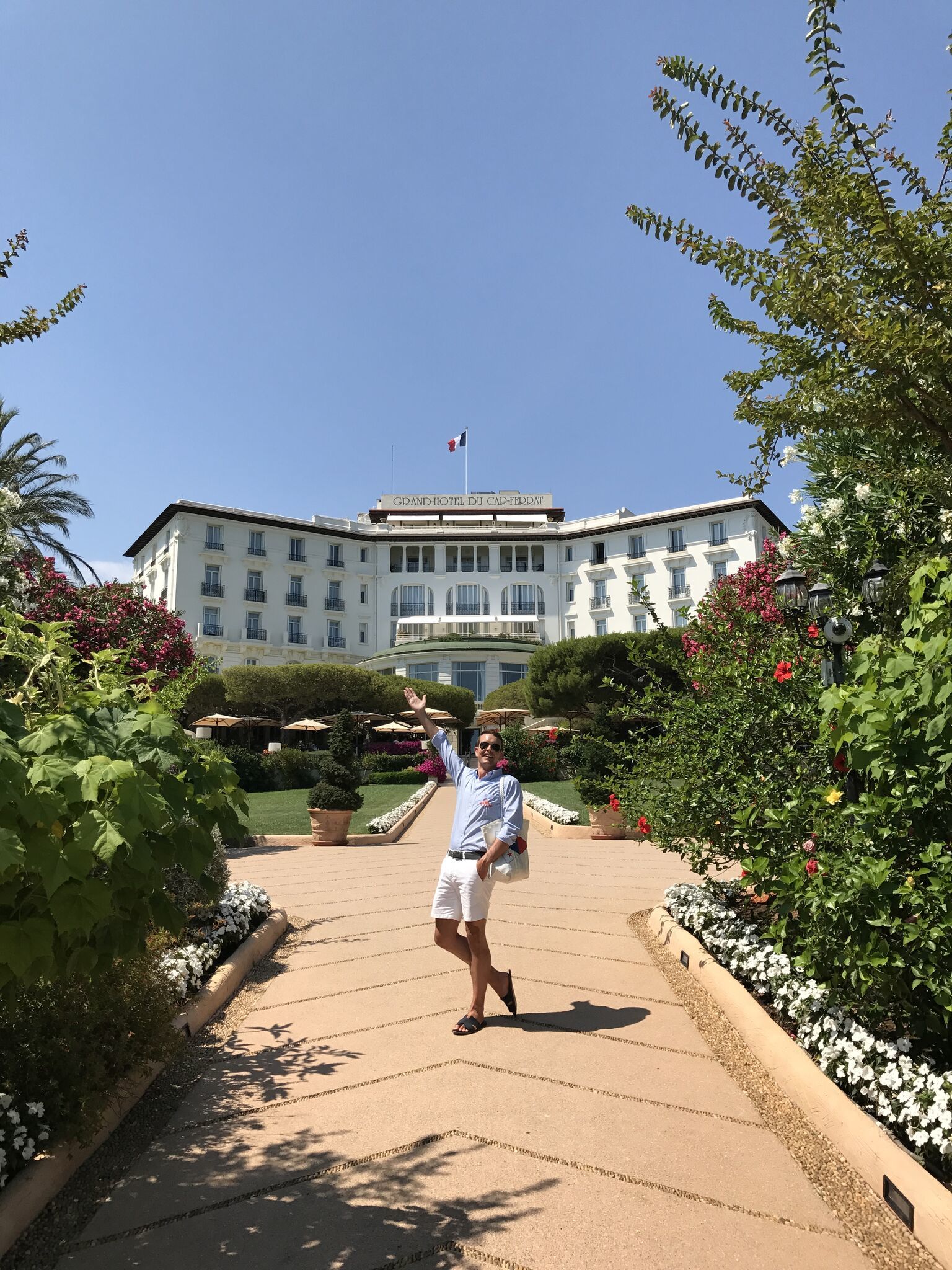 Lunch
You can make reservations for lunch by the famous pool here at the Club Dauphin. Perched high on the hills of Cap-Ferrat, the hotel juts out into the sea with spectacular 270-degree views of the Mediterranean below. Upon arrival you can walk down the whimsical flower-lined paths of the garden to the lunch deck by the pool. After some sips, I recommend heading back up to the hotel via the famous funicular, while grabbing some breathtaking sites.
Taking in the Scene
Most of the west side of the beach is public beach, so it's best to head to the middle where most of the beach clubs are through to the east end. Walk along the Promenade des Anglais, the most famous stretch of seafront in Nice – if not France. The Promenade is full of little beach clubs and eateries you can pop into for the day. If you want to go swimming, I recommend bringing beach shoes as there are parts of the beach that are quite a bit pebble-filled.
One could walk for hours along this stretch of the French Riviera, and enjoy taking in the many classic beach clubs like Blue Beach, Riviera Beach Club, Opera Plage, the Miami Beach club, and the Ruhl with its gorgeous navy and white umbrellas.
And, there you have it! I hope you enjoyed all of these tips and even more so, I hope it has inspired you to go experience it all for yourself! Côte d'Azur is not to be missed!
Cheers,
xx
Gray