Hi Everyone,
When I traveled to Bolivia to shoot the second installment of my series, Far Far Away, I was adamant about journaling, as I knew this trip would be one for the memories vault! Needless to say, I wasn't wrong and today, I'm excited to take you back to April 2017, Bolivia ...
The past three months I have been conceptualizing the second installment of Far Far Away in Salar de Uyuni, Bolivia. I focused this shoot around color theory and how it interacts with the stark landscape of the salt flats. I worked with local craftsman to construct installations that bring this color theory to life.
DAY 1
My colleagues and I landed in the city of La Paz, Bolivia in the early morning and traveled down the winding roads to the Hotel Atix, a new hotel in the area. Gaston Ugalde, the Bolivian photographer and my mentor on my first shoot in the salt flats, was extremely involved in the design of it. He went on a country-wide sabbatical to source inspiration for the project. As referenced on the hotel's website, "Designed to be a live-in art gallery, Atix exhibits photography and art in the corridors, rooms and common areas by distinguished Bolivian artist, Gastón Ugalde, also know as the "Andy Warhol of the Andes."
That's right, the Andy Warhol of the Andes! Gaston certainly is a one of a kind, and I'm forever thankful for the opportunity to know him and his family. Speaking of his family, after a light breakfast at the hotel, we met up with Gaston's daughter, who showed us around La Paz.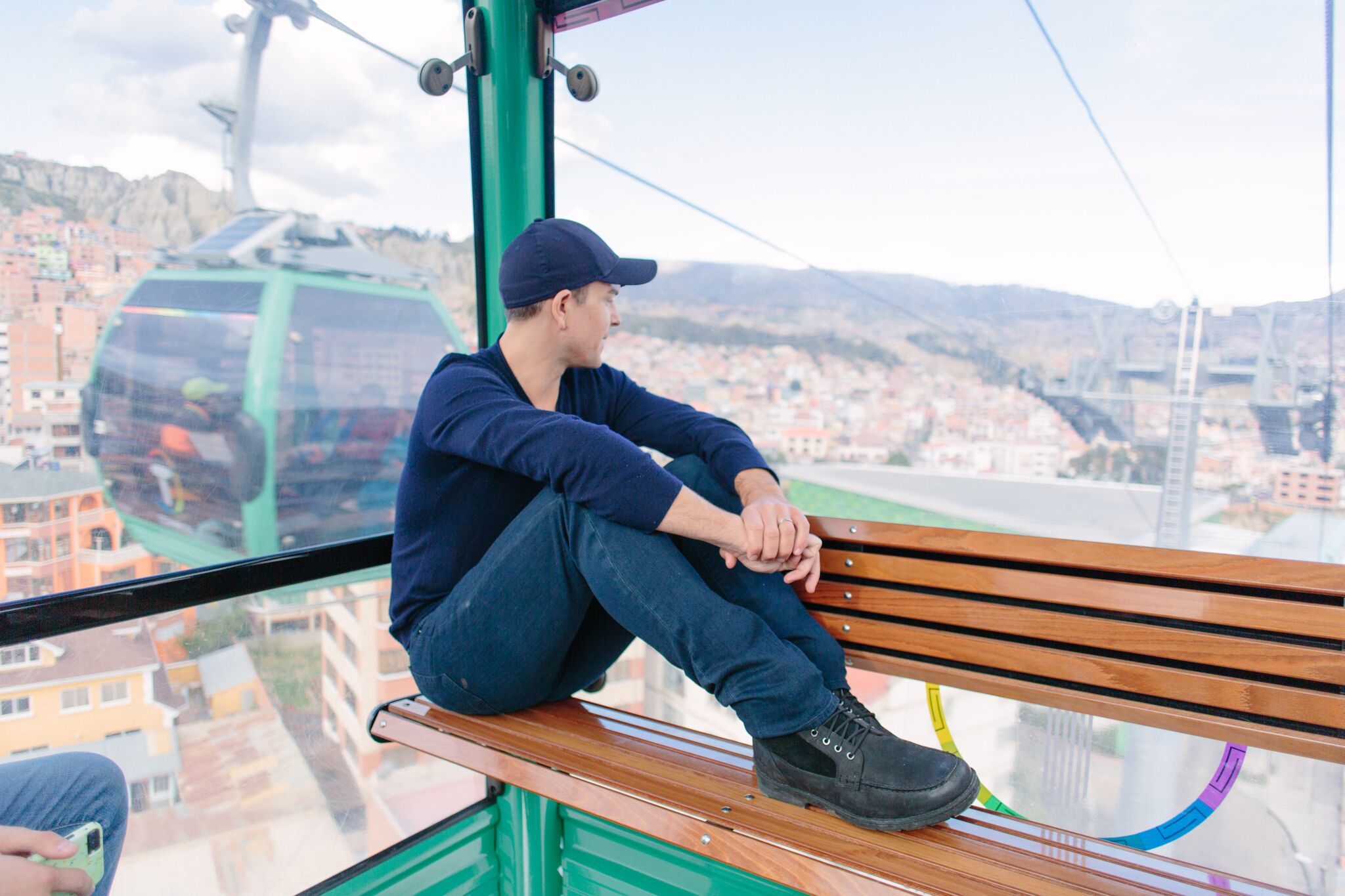 It was interesting to experience the new upgrades the city has been making, including its public transportation. We took the Teléferico sky train ride across the city, which was a unique way to see the architecture and dramatic landscape the city offers.
We also walked through the marketplace, which one can find local artisan fabrics, bags and goods. This is also the perfect place to encounter Cholitas; these indigenous women of Bolivia are a fascinating part of the culture. Once heavily discriminated against, within the past 10+ years, these women have reclaimed their cultural identity and now walk the streets in their traditional outfits of bowler hats and layered skirts. Here is a fascinating National Geographic article about Cholitas, oh and did I mention, they're also wrestlers? Not all of them, of course, but there is a group known as The Fighting Cholitas, who perform each Sunday for an audience of hundreds at El Alto's Multifunctional Center. I think I may have met one...
We got back to the hotel just in time to watch the sunset sipping Bolivia's signature cocktail poolside. — Sengani, ginger ale and lime juice
DAY 2
We woke up early to begin our journey to the salt flats. When we arrived, Gaston and his team greeted us to discuss the shoot logistics for the upcoming week. We dropped off our bags at Luna Salada, the Salar's salt hotel, and immediately got to work. The first concept we shot was the beach balls, which incorporated variations of rainbow colored, transparent beach balls. To accomplish the shot we wanted, we tied several beach balls to fishing line and threw them up in the air and continued to do so until we got the perfect shot. It was funny to watch my team toss these beach balls as far as they could into the sky. This would be the first of my beach inspired shots this trip.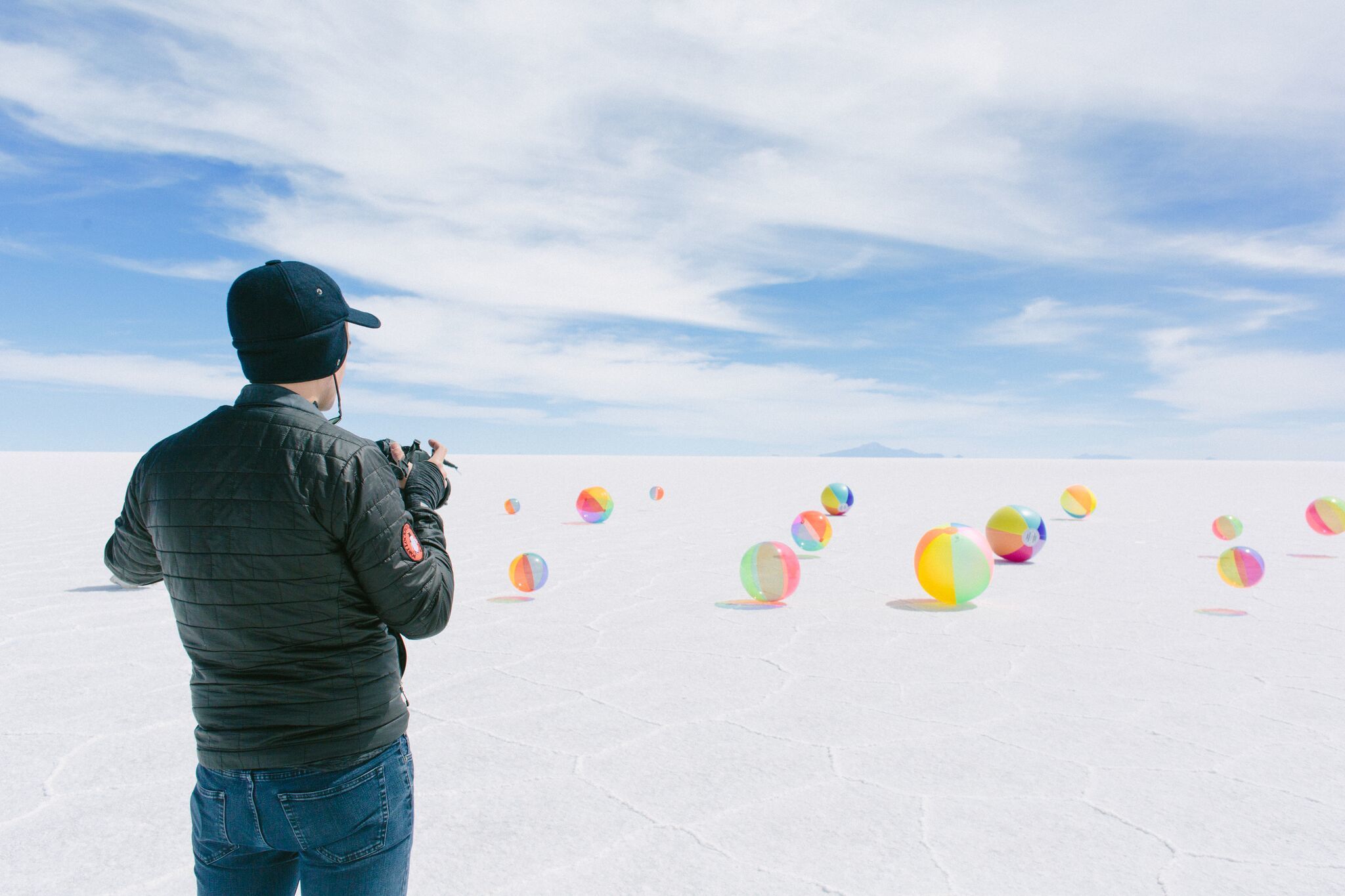 We continued Day 1 of shooting with a concept I have been thinking about for a long time, which was inspired by a series I had worked on in college — banana installations. Our team drove out hundreds of bushels of bananas to create a sculpture that reached 6 feet high. It was so funny seeing an entire truck full of bananas driven all the way from the Amazon jungle. Shooting this concept was surreal; it embodied everything I wanted to capture in my first banana series, 'Apeeling Moments.'
This shot was followed by attaching the bananas to a clothesline with clothespins and tossing single bananas in the air to make them appear as if they are flying. The team had a great time playing toss with the bananas.
We ended the day shooting the balloon words 'VOYAGE,' and 'I AM A PHOTOGRAPH.' These shots were especially spectacular because of the incredible sunset that filled the Bolivian sky behind them. I couldn't resist staying out on the salt flats until the sun dipped all the way down to the mountains in the distance. This was the perfect way to end the day.
DAY 3
Today was the windiest and coldest day of shooting. Everyone piled layers of clothing on but when gusts of wind hit us, it still didn't feel like enough. Our first shot of the day was inspired by a painting in my aunt's house of a white ladder. This image stuck with me over the years so I decided to bring this concept to life on the salt flats. Gaston and his team helped us install a white, steel ladder into the ground so it stood up magically by itself.

After shooting these first concepts, we drove to the flooded part of the salt flats. This area is very special because it creates a mirror effect, reflecting the clouds in the sky above onto the shimmering pool of water. Here, I shot whimsical concepts including a handcrafted, white and mint green diving board as well as beach umbrella. It was hard for me to stop shooting this because of how beautiful it looked in the glistening landscape. I swear the images just got better and better as the day went on.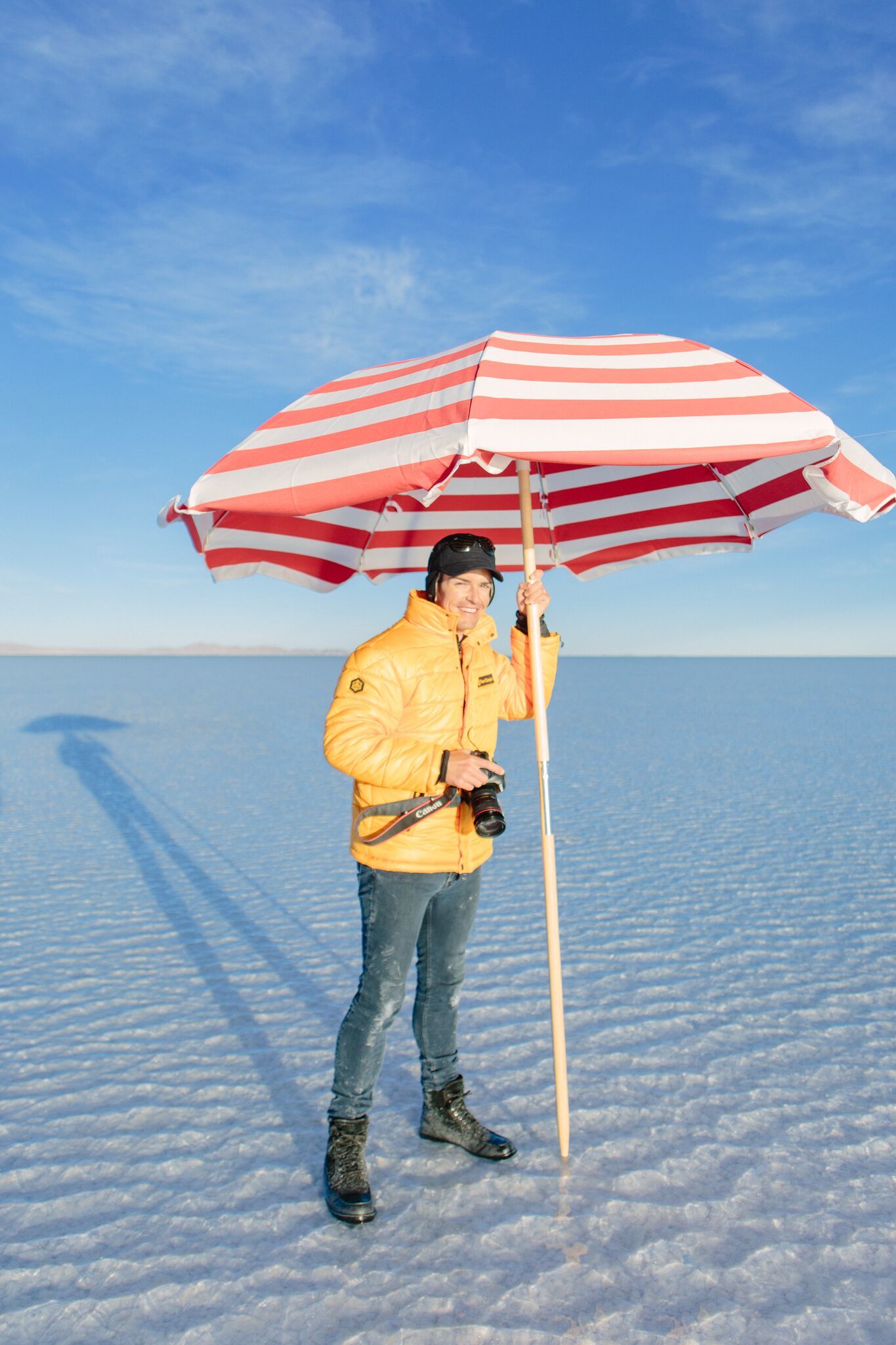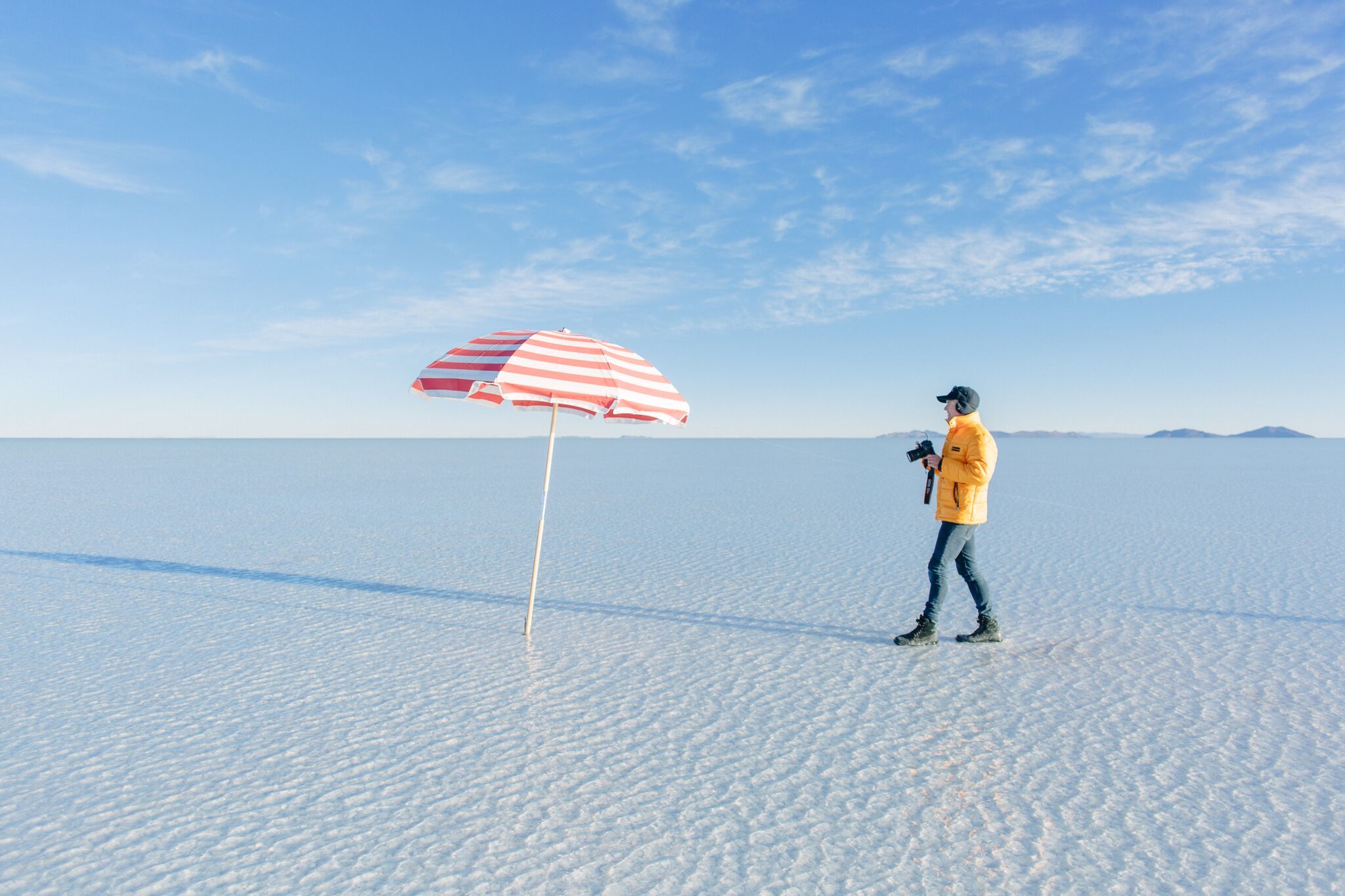 DAY 4
Today was all about color theory. My team brought custom made 30x30" acrylic circles to the salt flats and combined complimentary colors together to create a surreal color story that not only focused on the theory of color, but also refracted the light onto the ground. We played around with different combinations of neon and primary colors.
Llama time! Four years ago I shot one of my most popular images here, 'Llamas Black and White Balloons.' Because of this image's success, I was inspired to shoot them again. Recently, I have been under the spell of millennial pink and wanted to incorporate that color in some capacity. The llamas were really fun to work with, especially this one white haired llama that we referred to as Beyonce because she was confident and shined in her ensemble, which included bright colored tassels and balloons.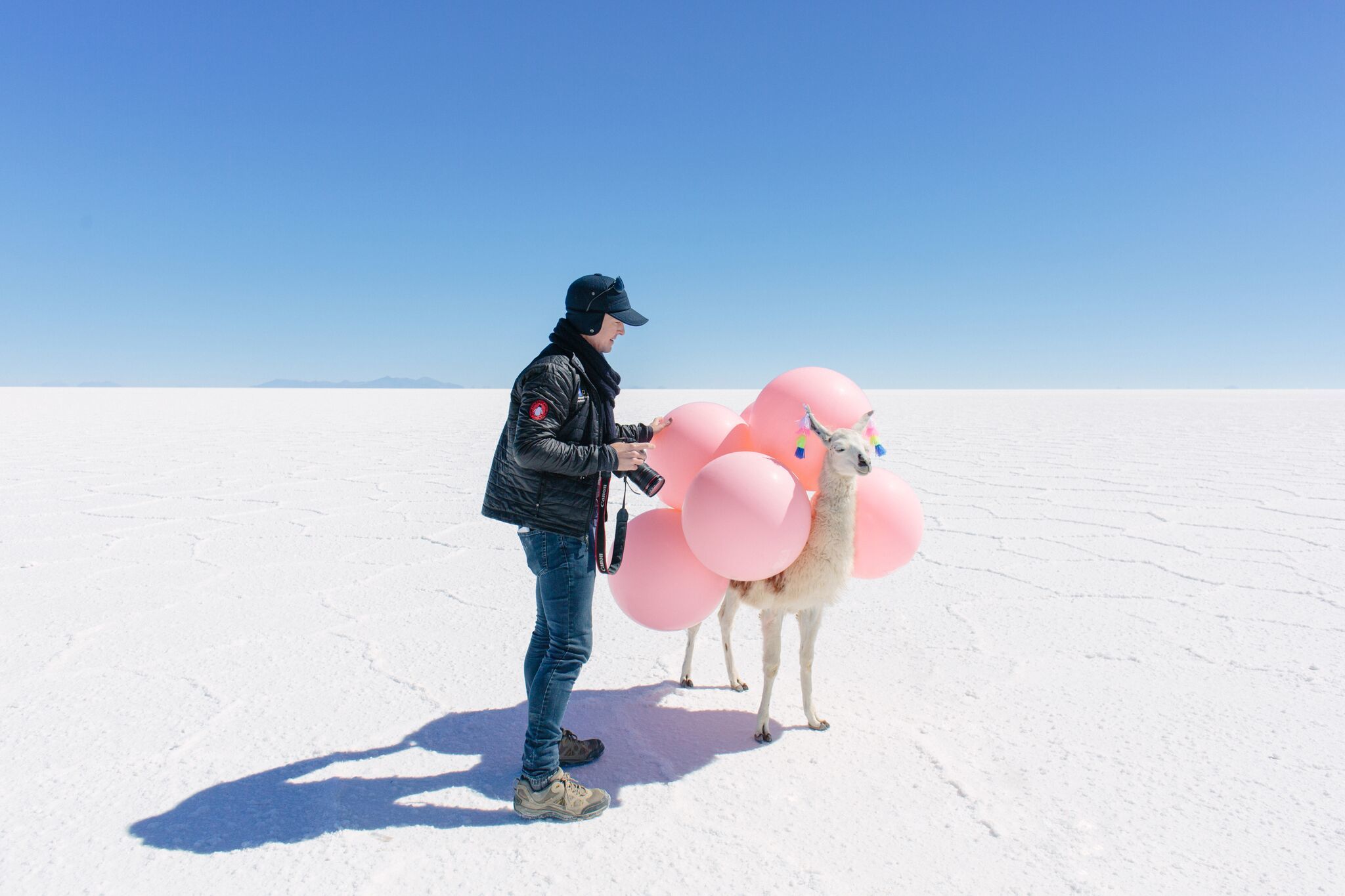 DAY 5
Bhutan was the first time I crafted a giant balloon sculpture and I wanted to further this idea in Bolivia. With the help of 10 assistants, we created a bright colored sculpture incorporating balloons of varying sizes and shapes. The 20-foot sculpture magically lifted in the air, creating dazzling shapes and mimicking a cloud-like form. We twirled the balloon sculpture around in the air and I shot it from different vantage points, each angle offering a unique experience. Seeing these balloons float in the middle of the desert brought joy to everyone helping with the shoot.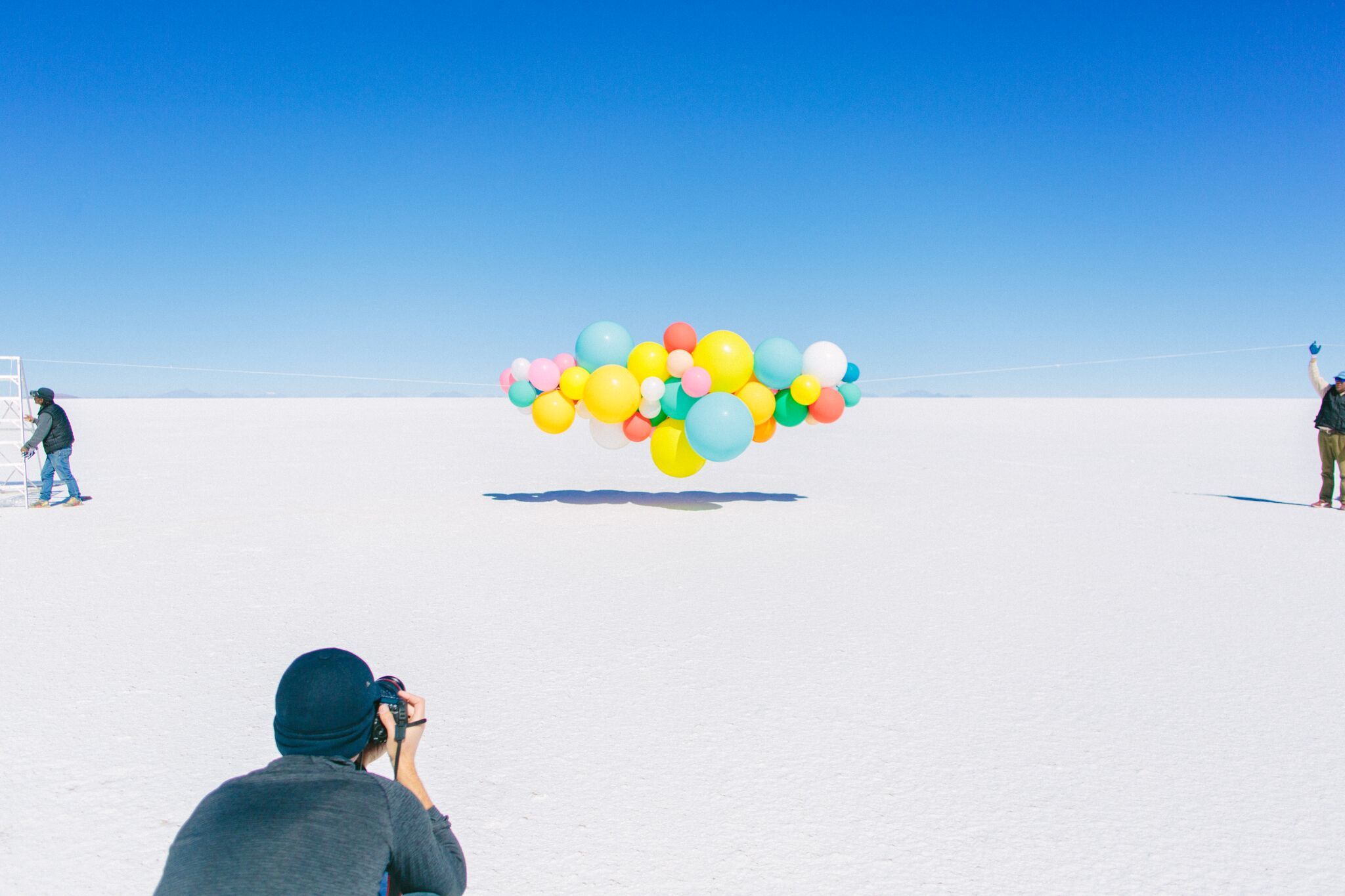 One of my most unbelievable shots during this week was of the these preserved butterflies mounted on plexiglass; this created an effect where the butterflies looked real and also blew everyone away.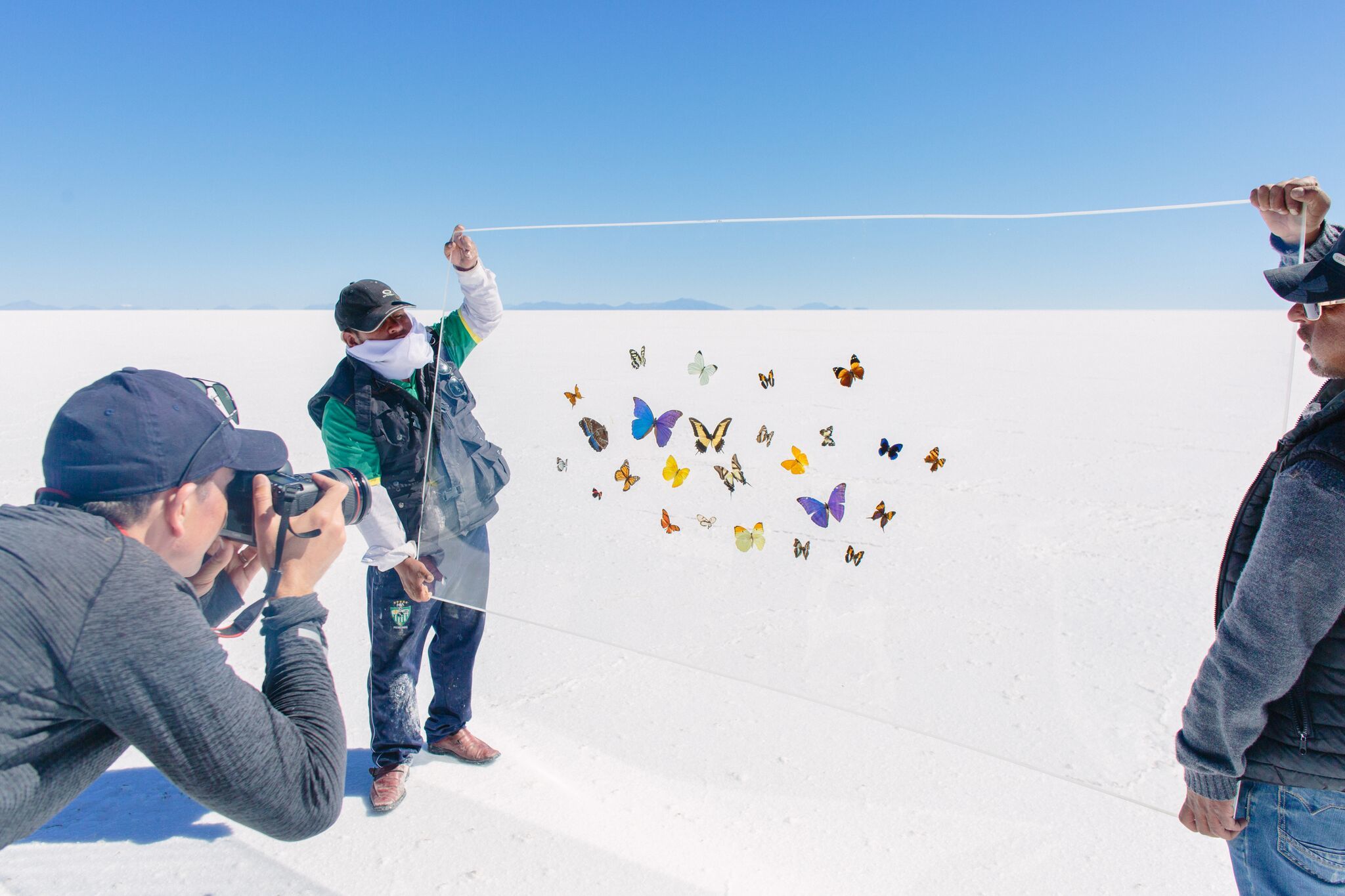 What was especially interesting was that the butterflies were beautiful from front and back, so we decided to flip the glass, and I shot it both ways.
I ended the day with one last snap of the team in the distance. It was truly a magical moment for me and a great way to wrap up my second installment of Far Far Away.
DAY 6
We spent our last day in Bolivia back in La Paz. The day started with lattes and small European style sandwiches from a hidden gem in San Miguel, Typica Café.
Next we walked around the city, going in and out of shops, finding unique gifts like salt straight from the Salar and hand embroidered blankets. Ale Pancha was our lunch spot in the heart of downtown. Amidst the hustle and bustle of the city, is a industrial and trendy Vegan restaurant with an extravagant cocktail menu as well. The amazing ambience and 3 course meal made this one of my favorite meals in Bolivia.
After lunch we grabbed a quick espresso at Bronze Café, a coffee shop on the ground floor of a revitalized 20th century building/soon to be a hotel. Next was the spa at our hotel. After long hours in the heat and sometimes harsh conditions of the salt flats, we were due for much needed manicures and massages. This was a special treat after a productive week. Once we finished relaxing, we had dinner and drinks at Hotel Atix with Gaston and his son, Mariano, and wife Daniella to celebrate the successful shoot. Then, with one last cheers, we were off the next morning.
To see more about the shoot, check out the Behind the Scenes post and for more of what was captured...Far Far Away II.
Cheers,
xx
GM