There's nothing like a fresh summer manicure, and this one we recently got done at Olive & June has "poolside" written all over it! Summer is the perfect time to play up your nails a bit, and push the boundaries outside of your bare nails or day-to-day nude mani. We're not strangers to some fun nail art, and this week we are back with another at-home mani tutorial that will make you wish you were lounging at the pool 24/7 until the day summer ends.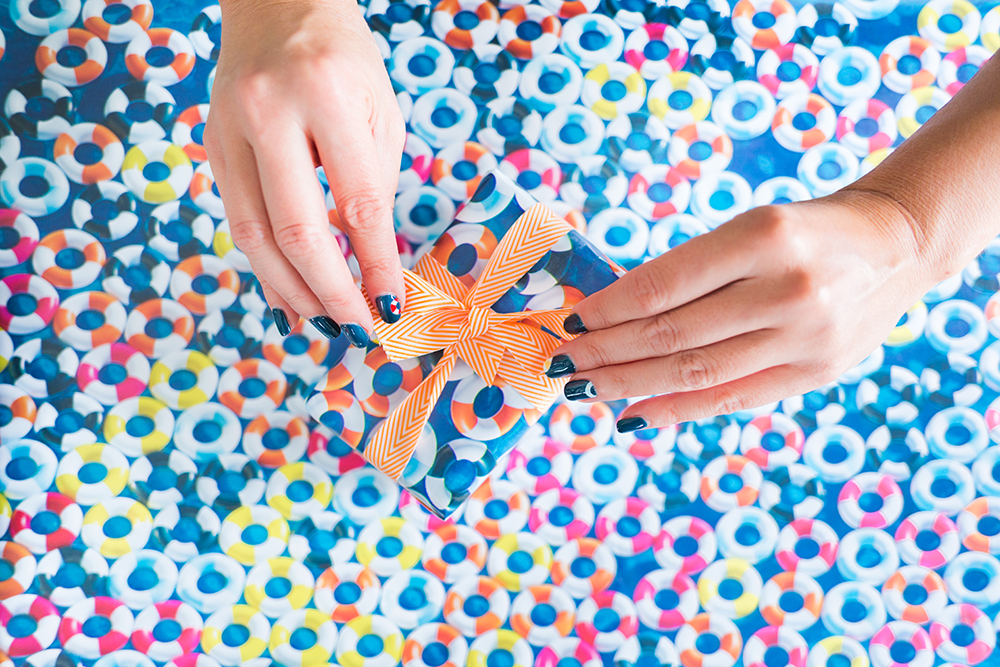 Our latest summer nails are inspired by The Great Escape print, shot by Gray in the Mediterranean. The best part about this print is that not only is it featured on our phone cases (and now our nails), but just last month we also released a brand new GM gift wrap set featuring the summery print! We obviously can't get enough of this aerial shot (those striped candy-colored inner tubes are making us wish summer would never end!), so we memorialized the print on our nails to take it anywhere and everywhere! Can you blame us? Let's get right to the tutorial so you can create this fun poolside look at home…
1. First, paint your nails a deep pool blue, like this one from OPI, called Keeping Suzie at Bay. (We recommend using a solid, flat blue, as opposed to a shimmery color so the pool tubes really pop when painted on.) Apply two coats. 2. Pick which nails you'll feature your striped pool floats on. We chose to do two on one hand, and one accent nail on the other, to create a more random look to mimic the free-floating inner tubes in the pool. 3. Take a small nail paint brush, and dip it in acetone, then lightly dab on a paper towel so the brush is saturated, but not dripping. On the nails that you've chosen to accent with your nail art, use the brush to wipe away a circular spot. This is where your inner tubes will be painted. (Tip: When using the brush, try to keep the edges of your circle as sharp as possible so that your next nail color doesn't mix with the blue polish.)
4. Next, use white polish, like OPI's Alpine Snow to create the foundation for your inner tubes. Use another small nail paintbrush for this step, and dip it in a tiny bit of polish for more accurate and detailed art. 5. To finish your art, dip a clean brush in a color of your choice and carefully paint stripes on the inner tubes. (You'll want an even smaller brush for this step, to make sure your stripes don't overpower the white polish.) When finished, let the color dry, and top off with a clear topcoat for some shine!
We don't know about you, but we'll be rocking this mani as long as possible… And hopefully be sipping cool drinks at the pool at the same time! Thanks again to our friends at Olive & June for this summer look, we're loving this take on a classic GM print. What do you guys think of this look? Will you be trying it at home?
Xx Team GM
To pick up The Great Escape print, click here.
Photos: Jessi Burrone for GrayMalin.com
{"slides":[{"label":"Escape to Paradise with Free Phone Backgrounds","url":"/lifestyle/escape-to-paradise-with-free-phone-backgrounds","image":"https://res.cloudinary.com/gray-malin/image/upload/c_scale,w_1000,q_50,f_auto/gray-malin/blog_posts/hero_images/000/001/878/original/0-mauna_kea_backgrounds.jpg?updated=1615512064"},{"label":"Guess These New Bon Voyage Icons","url":"/lifestyle/guess-these-new-bon-voyage-icons","image":"https://res.cloudinary.com/gray-malin/image/upload/c_scale,w_1000,q_50,f_auto/gray-malin/blog_posts/hero_images/000/001/873/original/BV_Inroom-3-square.jpg?updated=1614039357"},{"label":"Gray's Peppermintini Recipe","url":"/lifestyle/gray-s-peppermintini-recipe","image":"https://res.cloudinary.com/gray-malin/image/upload/c_scale,w_1000,q_50,f_auto/gray-malin/blog_posts/hero_images/000/001/812/original/0-Peppermintini-9.jpg?updated=1607647194"},{"label":"Gray's Favorite Gifts to Give and Receive ","url":"/lifestyle/gray-s-favorite-gifts-to-give-and-receive","image":"https://res.cloudinary.com/gray-malin/image/upload/c_scale,w_1000,q_50,f_auto/gray-malin/blog_posts/hero_images/000/001/810/original/0-Home_Tour_Detail_Shot-54_copy.jpg?updated=1607392494"},{"label":"Gray's Favorite Websites For Holiday Gifting","url":"/lifestyle/gray-s-favorite-websites-for-holiday-gifting","image":"https://res.cloudinary.com/gray-malin/image/upload/c_scale,w_1000,q_50,f_auto/gray-malin/blog_posts/hero_images/000/001/809/original/0-Lake_Arrowhead_Holiday_Inroom-9_no_bow.jpg?updated=1607117546"},{"label":"Gray's Gift Guide","url":"/lifestyle/gray-s-gift-guide","image":"https://res.cloudinary.com/gray-malin/image/upload/c_scale,w_1000,q_50,f_auto/gray-malin/blog_posts/hero_images/000/001/808/original/0-Gray_in_Car_copy.jpg?updated=1607124786"},{"label":"Free Holiday Phone Backgrounds","url":"/lifestyle/free-holiday-phone-backgrounds","image":"https://res.cloudinary.com/gray-malin/image/upload/c_scale,w_1000,q_50,f_auto/gray-malin/blog_posts/hero_images/000/001/807/original/0-December_Background_Screenshots_copy.jpg?updated=1607020467"},{"label":"Best Selling Gifts Under $100","url":"/lifestyle/best-selling-gifts-under-100","image":"https://res.cloudinary.com/gray-malin/image/upload/c_scale,w_1000,q_50,f_auto/gray-malin/blog_posts/hero_images/000/001/806/original/0-Lake_Arrowhead_Holiday_Product-69.jpg?updated=1606963259"}],"label":"Have You Seen?"}
{"id":null,"number":null,"item_total":"0.0","total":"0.0","ship_total":"0.0","state":"cart","adjustment_total":"0.0","user_id":null,"created_at":null,"updated_at":null,"completed_at":null,"payment_total":"0.0","shipment_state":null,"payment_state":null,"email":null,"special_instructions":null,"channel":"spree","included_tax_total":"0.0","additional_tax_total":"0.0","display_included_tax_total":"$0.00","display_additional_tax_total":"$0.00","tax_total":"0.0","currency":"USD","considered_risky":false,"canceler_id":null,"display_item_total":"$0.00","total_quantity":0,"display_total":"$0.00","display_ship_total":"$0.00","display_tax_total":"$0.00","display_adjustment_total":"$0.00","token":null,"checkout_steps":["address","delivery","complete"],"bill_address":null,"ship_address":null,"line_items":[],"payments":[],"shipments":[],"adjustments":[],"credit_cards":[],"promotions":[],"total_shipment_cost":"$0.00","permissions":{"can_update":false},"use_shipping_for_billing":true,"use_new_ship_address":true,"use_new_bill_address":false,"selected_ship_address":null,"selected_bill_address":null,"display_completed_at":null,"item_count":0,"subtotal_minus_promos":"$0.00","coupon_codes":[],"includes_framed_items":false,"contains_subscription":false}
This site uses cookies to allow better navigation. By closing this banner, scrolling this page or clicking any of its elements, you are giving consent to all cookies. To learn more and to change your preferences please see our Cookies Policy.