It's that time of year when the scissors and glue come out and we add all sorts of handmade touches to our home. Because nothing makes the Christmas season feel warm and cozy quite like a few pieces of homemade décor, right? At least, that is our philosophy here at the GM studios, and even better if we can add a bit of summer to our winter in the process! The DIY we're sharing today hits on all of those points, adding the perfect sunny touch to our Christmas décor around here. So without further ado, we can't wait to show you the step-by-step of our umbrella pom pom garland! Not only is it cute as can be, but it is incredibly versatile and lightweight so you can hang it almost anywhere. (And keep your eyes on the blog this month, because we've got a few more summery surprises where this came from… Let's just say your Christmas will be warm in the beachiest way.) Let's get started…
What You'll Need:
Directions:
1. Begin by threading your needle. Put the end of your twine through the eye of the needle, and pull the needle down just the beginning of your twine, until you have about a three-inch tail.
Pro Tips: We recommend using an embroidery needle, as the opening is larger and will make threading your twine much easier. Make sure not to tie any knots in your twine so that it glides easily through the pom poms!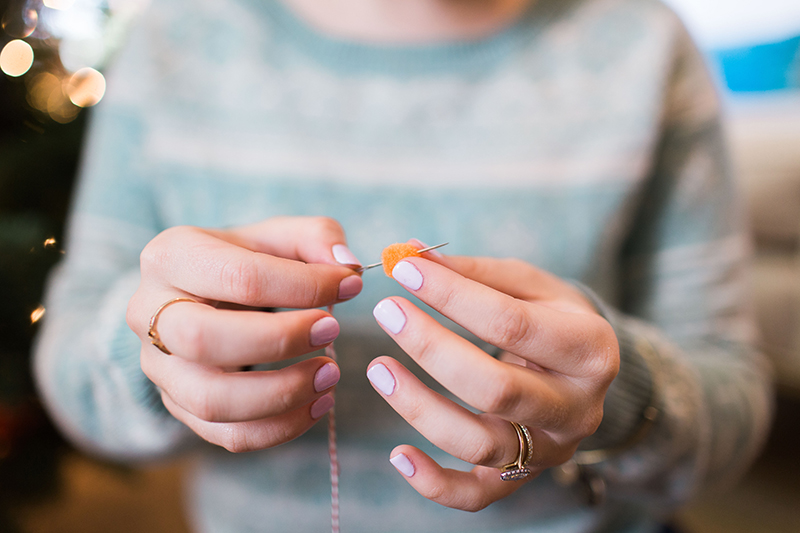 2. Once your needle is threaded, put the point of your needle through your first pom pom and pull it through. Slide the pom pom to the bottom of your twine, and repeat with 3 more pom poms, leaving about an inch of space between each one.
3. After you've threaded a few pom poms, move on to your first umbrella. Open the umbrella and poke your needle through the top, on one side. Follow your needle through the underside of the umbrella, and poke it back through the other side. (This will allow your umbrellas to float upright on your string, so try to do this as evenly as possible!)
Tip: If your umbrellas are sliding around too much on your string, feel free to tie a tiny knot on either side of your umbrella to keep it in place.
4. After one umbrella, add a few more pom poms to your garland, and then repeat with another umbrella. Do this until your garland is filled from end to end.
5. Hang your garland, and enjoy a little summer getaway in December!
Easy, right? We love how simple this DIY is, and how fun and festive it looks in our homes! Whether you string this summery garland around your tree, across your fireplace, or somewhere else entirely, it's sure to bring a little fun-in-the-sun to your winter. If you try this décor at home, don't forget to take a photo and tag us @GrayMalin so we can see your creation!
Xx Team GM
Photos: Jessi Burrone for GrayMalin.com
{"slides":[{"label":"Start With Art - Styling Snowy Art with Katherine Melvin","url":"/lifestyle/start-with-art-styling-snowy-art-with-katherine-melvin","image":"https://res.cloudinary.com/gray-malin/image/upload/c_scale,w_1000,q_50,f_auto/gray-malin/blog_posts/hero_images/000/001/749/original/0-Katherine_Melvin-1.jpg?updated=1602633892"},{"label":"See Jennifer Lake's New England Inspired Powder Bathroom","url":"/lifestyle/see-jennifer-lake-s-new-england-inspired-powder-bathroom","image":"https://res.cloudinary.com/gray-malin/image/upload/c_scale,w_1000,q_50,f_auto/gray-malin/blog_posts/hero_images/000/001/747/original/0-jennifer-lake-gray-malin-14_copy.jpg?updated=1602192874"},{"label":"Start with Art - Blue and White Bliss with Audrey Ferdyn","url":"/lifestyle/start-with-art-blue-and-white-bliss-with-audrey-ferdyn","image":"https://res.cloudinary.com/gray-malin/image/upload/c_scale,w_1000,q_50,f_auto/gray-malin/blog_posts/hero_images/000/001/746/original/0-IMG_4496.jpg?updated=1602022564"},{"label":"Start With Art - Creating a Statement-Making Bar Cart With Kelly Stone","url":"/lifestyle/start-with-art-creating-a-statement-making-bar-cart-with-kelly-stone","image":"https://res.cloudinary.com/gray-malin/image/upload/c_scale,w_1000,q_50,f_auto/gray-malin/blog_posts/hero_images/000/001/687/original/0-Kelly_Stone-2.jpg?updated=1595099289"},{"label":"Start with Art - Creating a Polished Bathroom with Amber Sokolowski","url":"/lifestyle/start-with-art-creating-a-polished-bathroom-with-amber-sokolowski","image":"https://res.cloudinary.com/gray-malin/image/upload/c_scale,w_1000,q_50,f_auto/gray-malin/blog_posts/hero_images/000/001/739/original/0-Amber_Sokolowki-9.jpg?updated=1600217658"},{"label":"Start with Art - Designing a Home Office Space with Kara Vacca","url":"/lifestyle/designing-a-home-office-space-with-kara-vacca","image":"https://res.cloudinary.com/gray-malin/image/upload/c_scale,w_1000,q_50,f_auto/gray-malin/blog_posts/hero_images/000/001/705/original/0-Kara_Vacca-5.jpg?updated=1599609473"},{"label":"Start With Art - Creating a Dreamy Workspace with Megan Hopp","url":"/lifestyle/start-with-art-creating-a-dreamy-workspace-with-megan-hopp","image":"https://res.cloudinary.com/gray-malin/image/upload/c_scale,w_1000,q_50,f_auto/gray-malin/blog_posts/hero_images/000/001/701/original/0-Megan_Hopp-4.jpg?updated=1599000143"},{"label":"Start with Art - Designing a Kids Room with Bailey Austin","url":"/lifestyle/start-with-art-designing-a-kids-room-with-bailey-austin","image":"https://res.cloudinary.com/gray-malin/image/upload/c_scale,w_1000,q_50,f_auto/gray-malin/blog_posts/hero_images/000/001/700/original/0-Bailey_Austin-1.jpg?updated=1598390393"}],"label":"Have You Seen?"}
{"id":null,"number":null,"item_total":"0.0","total":"0.0","ship_total":"0.0","state":"cart","adjustment_total":"0.0","user_id":null,"created_at":null,"updated_at":null,"completed_at":null,"payment_total":"0.0","shipment_state":null,"payment_state":null,"email":null,"special_instructions":null,"channel":"spree","included_tax_total":"0.0","additional_tax_total":"0.0","display_included_tax_total":"$0.00","display_additional_tax_total":"$0.00","tax_total":"0.0","currency":"USD","considered_risky":false,"canceler_id":null,"display_item_total":"$0.00","total_quantity":0,"display_total":"$0.00","display_ship_total":"$0.00","display_tax_total":"$0.00","display_adjustment_total":"$0.00","token":null,"checkout_steps":["address","delivery","complete"],"bill_address":null,"ship_address":null,"line_items":[],"payments":[],"shipments":[],"adjustments":[],"credit_cards":[],"promotions":[],"total_shipment_cost":"$0.00","permissions":{"can_update":false},"use_shipping_for_billing":true,"use_new_ship_address":true,"use_new_bill_address":false,"selected_ship_address":null,"selected_bill_address":null,"display_completed_at":null,"item_count":0,"subtotal_minus_promos":"$0.00","coupon_codes":[],"includes_framed_items":false}
This site uses cookies to allow better navigation. By closing this banner, scrolling this page or clicking any of its elements, you are giving consent to all cookies. To learn more and to change your preferences please see our Cookies Policy.