Hi Everyone,
It's the first day of our largest sale of the year and to say I'm excited is an understatement. We're currently offering 30% off all photography sitewide including framing! To make it even better, we're continuing our complimentary gift wrapping on framed art and offering free shipping on select purchases. I always find that the easiest way for me to get inspired when it comes to home decor is to see how other people style it in their homes, which is why I love sharing home and room tours with you all. Today we're stepping inside the home office of Danielle Moss, cofounder of The Everygirl to see how she converted her sunroom into the perfect workspace and finished off the design with a photograph from my La Dolce Vita series.
Hi, I'm Danielle Moss, cofounder of Anecdote, a home and furnishing store just outside Chicago, The Everygirl Media Group (The Everygirl and The Everymom), and I have a personal blog, too. I'm from LA and now live just outside Chicago with my husband (fun fact: we met on Tinder and got married in Paris), our two daughters Margot and Kate, and our rescue dog, Buddy. I love design—my homes have been featured in Architectural Digest and My Domaine.

In a normal world, I love spending time with family and friends, going to workout classes, decorating our home, and blogging when I have the time. This year, things have looked wildly different. We went into isolation in March, our daughter Margot was diagnosed with Leukemia in May, and Kate was born the following month. I've poured myself into fundraising and in just a few months, raised almost $60,000 for childhood cancer research and to help families going through what we're going through. A big thank you to Gray for donating a piece of art for me to auction off for cancer research.
Your career is pretty multi-faceted, could you tell us a little bit about what all you do?
I am usually all over the place but since May, have devoted my days to getting Margot through treatment (and had three months of maternity leave during that time, too). My days are usually spent working on The Everygirl and The Everymom and what I do varies day-to-day. I could work on brand partnerships, photography, planning an event, etc. I love our team and love what we do. It's never boring!

My involvement with Anecdote has unfortunately been pretty minimal since the hours just aren't there. I've helped with social and have been able to work on some partnerships, photography, etc. It's something I am very excited about and I'd love to be more involved at some point. Then there's my personal blog that happens when I have time, so not too often the last few months. It's something that's such a big part of me. Style and design are a big part of it but it's the stories I share that help other women feel less alone that mean the most to me.
When did you launch your blog? What was the catalyst behind creating it? How has your journey been creating and running this business?
I launched my personal blog in 2007, and after redesigning it, started getting requests to help others do the same. Within a year, I had fallen into graphic design and over the next few years, designed thousands of blogs for clients around the world. At the time, blogging seemed fun and different – no one I knew had one – and I loved the idea of sharing things that inspired me.

Three years later, I found myself living in Chicago and began blogging very, very regularly (daily) and focused more on design and style. It was at this point that my blog really started to grow, and I met my Everygirl cofounder, and we decided to launch a site to inspire women to live their best lives. A few years later, the entire industry looks so different. Sponsored content, brand partnerships, affiliates, ads, etc. It's evolved so much, and went from the two of us to running a team of thirteen full-time employees. It's been pretty amazing.
Will you tell us a little bit about your home and the space where you featured the print?
Our house was built in the 1930's and is just under 2000 square feet. It's 3 bedrooms, 2.5 baths, and has the most charming little sunroom off the living room. What is now Kate's nursery used to be my office, but we ended up moving things around and turned our sunroom into an office. The room is 8x13 and has lots of windows. We changed the flooring and added woven shades for warmth. The built-in bench was the perfect spot for our vintage marble bistro table – a great spot for morning coffee, and the opposite wall was perfect for a desk and art.
How would you describe your interior decor style?
Traditional meets modern – clean lines and lots of light, neutral, timeless pieces.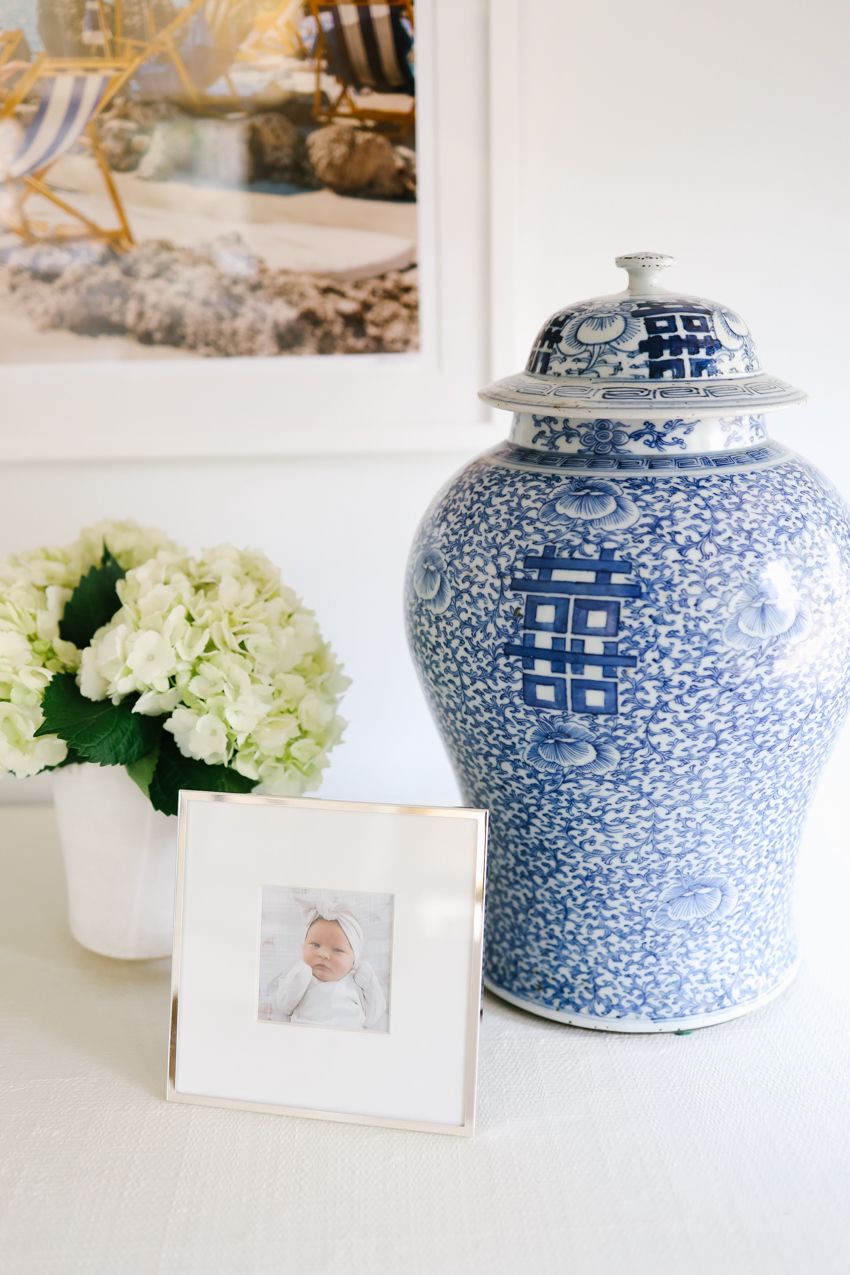 How do you balance your home life with your blog/lifestyle content work?
I'm not sure how much balance I've had since becoming a mom. Before kids, it was still a lot of working nights and weekends. When it's something you love, that makes it easier, but there's always work to do. I try to unplug when I'm with the girls and haven't been back to work since having Kate, so I haven't exactly figured out how it will work once things go back to whatever our new normal is.
When were you first introduced to the GM brand? Why did you choose this piece?
I feel like I've known about Gray's work for forever. I've seen it in my friend's homes and in countless home tours online, so I was very excited when I finally got a piece for my home. We chose a photograph of La Fontelina beach club since we spent a day there when we honeymooned in Positano.
What about the Gray Malin lifestyle brand do you connect with?
I love travel, so having a beautiful photo of a favorite destination or dream destination is something I've always wanted. There's something about his work that feels so coastal and light, and I'm from California, so in a way, it feels like home. The vibe feels how I want my home to feel.
Wow, I would love to work in that room! The natural light is so beautiful and, combined with the print, feels like a true escape. Now I want to give my home work space an update! If you're feeling like me, you can bring home the perfect print to transform your space with our https://graymalin.com/https://graymalin.com/. Danielle, thank you so much for welcoming us into your beautiful office!
Cheers!
Xx
Gray
{"slides":[{"label":"Gray's Favorite Inrooms Vol. 6","url":"/lifestyle/gray-s-favorite-inrooms-vol-6","image":"https://res.cloudinary.com/gray-malin/image/upload/c_scale,w_1000,q_50,f_auto/gray-malin/blog_posts/hero_images/000/001/885/original/2-Austin_Bean_OKC7635.jpg?updated=1617402512"},{"label":"Michelle Berdan's Laid Back Home by the Beach","url":"/lifestyle/michelle-berdan","image":"https://res.cloudinary.com/gray-malin/image/upload/c_scale,w_1000,q_50,f_auto/gray-malin/blog_posts/hero_images/000/001/884/original/0-Michelle_Madsen-10_copy.jpg?updated=1617066488"},{"label":"LoveShackFancy Founder Rebecca Cohen's Palm Beach Escape","url":"/lifestyle/loveshackfancy-founder-rebecca-cohen-s-palm-beach-escape","image":"https://res.cloudinary.com/gray-malin/image/upload/c_scale,w_1000,q_50,f_auto/gray-malin/blog_posts/hero_images/000/001/882/original/0-LoveShack-4.jpg?updated=1616633971"},{"label":"Gray's Favorite Inrooms Vol. 5","url":"/lifestyle/gray-s-favorite-inrooms-vol-5","image":"https://res.cloudinary.com/gray-malin/image/upload/c_scale,w_1000,q_50,f_auto/gray-malin/blog_posts/hero_images/000/001/881/original/3-IMG_0382.JPG?updated=1616175509"},{"label":"Our Favorite Places to Style City Prints at Home","url":"/lifestyle/our-favorite-places-to-style-city-prints-at-home","image":"https://res.cloudinary.com/gray-malin/image/upload/c_scale,w_1000,q_50,f_auto/gray-malin/blog_posts/hero_images/000/001/880/original/0-Boston-In-Room_4.jpg?updated=1616026718"},{"label":"Gray's Favorite Inrooms Vol. 4","url":"/lifestyle/gray-s-favorite-inrooms-vol-4","image":"https://res.cloudinary.com/gray-malin/image/upload/c_scale,w_1000,q_50,f_auto/gray-malin/blog_posts/hero_images/000/001/876/original/4-unnamed_(1)-Edit-Edit-Edit.jpg?updated=1614888819"},{"label":"Our Favorite Ways to Style Bon Voyage Prints","url":"/lifestyle/our-favorite-ways-to-style-bon-voyage-prints","image":"https://res.cloudinary.com/gray-malin/image/upload/c_scale,w_1000,q_50,f_auto/gray-malin/blog_posts/hero_images/000/001/874/original/0-ANTH_Gray_Malin_410_post_PD.jpg?updated=1614208369"},{"label":"Gray's Favorite Inrooms Vol. 3","url":"/lifestyle/gray-s-favorite-inrooms-vol-3","image":"https://res.cloudinary.com/gray-malin/image/upload/c_scale,w_1000,q_50,f_auto/gray-malin/blog_posts/hero_images/000/001/872/original/3-AG-20.JPG?updated=1613776972"}],"label":"Have You Seen?"}
{"id":null,"number":null,"item_total":"0.0","total":"0.0","ship_total":"0.0","state":"cart","adjustment_total":"0.0","user_id":null,"created_at":null,"updated_at":null,"completed_at":null,"payment_total":"0.0","shipment_state":null,"payment_state":null,"email":null,"special_instructions":null,"channel":"spree","included_tax_total":"0.0","additional_tax_total":"0.0","display_included_tax_total":"$0.00","display_additional_tax_total":"$0.00","tax_total":"0.0","currency":"USD","considered_risky":false,"canceler_id":null,"display_item_total":"$0.00","total_quantity":0,"display_total":"$0.00","display_ship_total":"$0.00","display_tax_total":"$0.00","display_adjustment_total":"$0.00","token":null,"checkout_steps":["address","delivery","complete"],"bill_address":null,"ship_address":null,"line_items":[],"payments":[],"shipments":[],"adjustments":[],"credit_cards":[],"promotions":[],"total_shipment_cost":"$0.00","permissions":{"can_update":false},"use_shipping_for_billing":true,"use_new_ship_address":true,"use_new_bill_address":false,"selected_ship_address":null,"selected_bill_address":null,"display_completed_at":null,"item_count":0,"subtotal_minus_promos":"$0.00","coupon_codes":[],"includes_framed_items":false,"contains_subscription":false}
This site uses cookies to allow better navigation. By closing this banner, scrolling this page or clicking any of its elements, you are giving consent to all cookies. To learn more and to change your preferences please see our Cookies Policy.