Hi everyone!
With restaurants still closed I've been trying to get inspired and come up with ways to make date night feel special. As you know Italy is one of my muses, so I thought, what better way to have a special date night with Jeff than to pretend we're in Italy? I created an evening of Italian bliss by cooking some delicious pasta, making our favorite cocktail, and listening to a fun playlist. I topped it all of with a piece of art from Italy to set the mood. It was so much fun and I wanted all of you to be able to do it too, so I'm sharing all the details here and in a video on our Instagram.
What to Eat
For those of you who don't live in Los Angeles, I have good news! You can bring Jon & Vinny's experience to your home with their special kit! We used this kit to make their Spicy Fusili for dinner and not only did it make it feel more special than whipping up something like spaghetti, but it also made it so fun because we got to try out a new recipe. The kit even includes a bottle of wine to enjoy while you're busy in the kitchen. If you don't want to wait to get the kit, you can see the full recipe for the Jon and Vinny's Spicy Fusili here on Bon Apétit.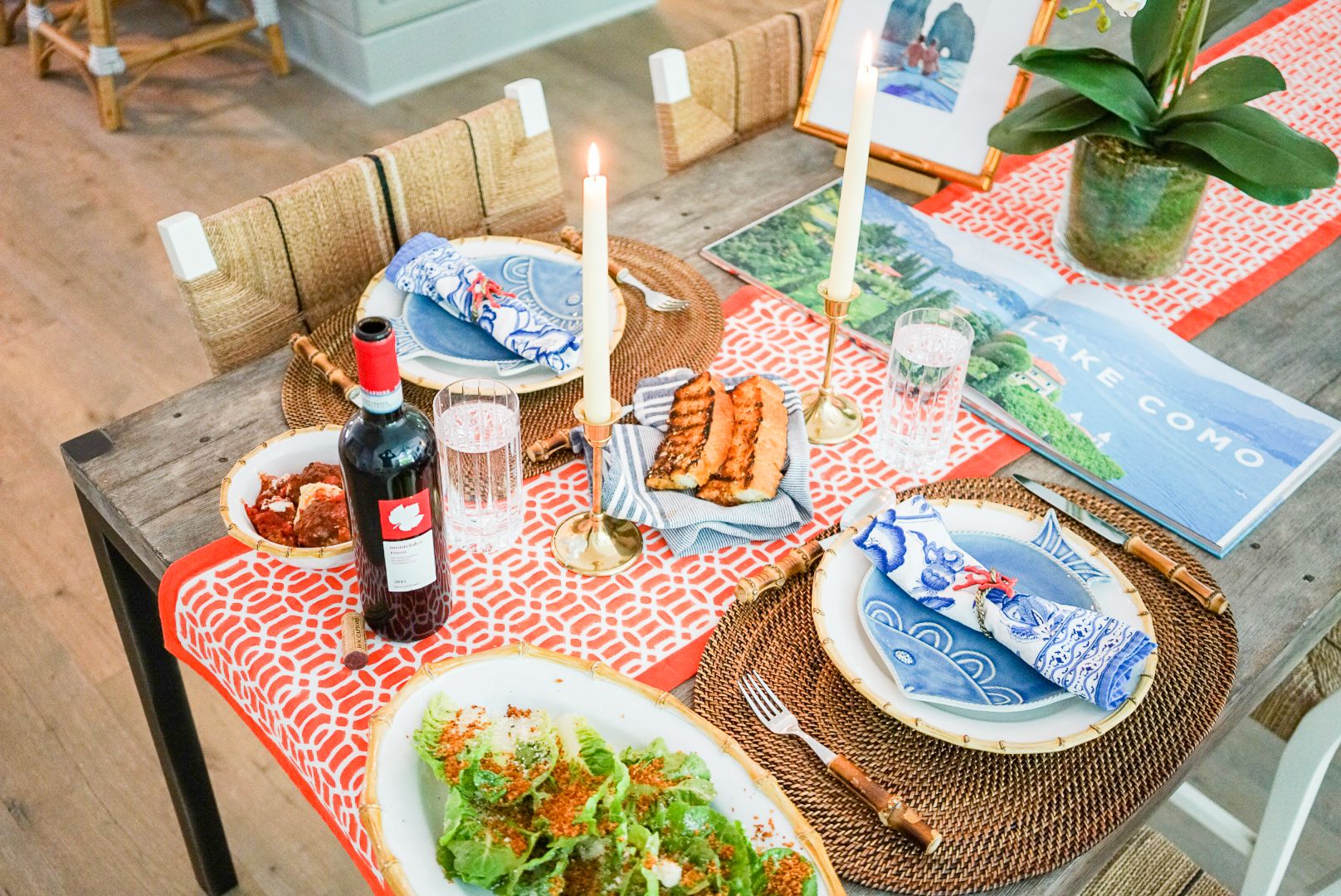 What to Drink
No evening in Italy is complete without an Aperol Spritz in hand, so we decided to make them at home! Don't be intimidated to recreate this cocktail at home. It's so easy! Combine 2oz. of Aperol, 3oz. of Prosecco and a splash of club soda in a glass with ice and you're good to go. You can garnish with pitted green olives or an orange slice if you want to go all out.
Setting the Mood
In order to pull the entire evening together it was essential to go the extra mile to set the mood. I wanted to use a piece of Italian art to help transport us, but I couldn't decide between Day Trip, Capri or La Fontelina Loungers. They both are such dreamy images and instantly make me feel like I'm enjoying the beautiful Mediterranean Sea. Which image do you like most? I also made a fun Italian playlist on my Spotify that made us feel like we were at a cafe in Positano. You can listen to the playlist below or by clicking here and you can currently get 25% off all Italy artwork on graymalin.com for a limited time to help you. We even flipped through my book ITALY while enjoying our evening together. This was the perfect combo to top it all off!
Anyone else looking to plan a special date night at home? Don't forget to complete the night with a piece of artwork from your dream destination and take 25% off all Italy artwork for a limited time. I'd love to see your recreations on social media too, so be sure to tag @graymalin.
Cheers!
Xx
Gray
{"slides":[{"label":"Escape to Paradise with Free Phone Backgrounds","url":"/lifestyle/escape-to-paradise-with-free-phone-backgrounds","image":"https://res.cloudinary.com/gray-malin/image/upload/c_scale,w_1000,q_50,f_auto/gray-malin/blog_posts/hero_images/000/001/878/original/0-mauna_kea_backgrounds.jpg?updated=1615512064"},{"label":"Guess These New Bon Voyage Icons","url":"/lifestyle/guess-these-new-bon-voyage-icons","image":"https://res.cloudinary.com/gray-malin/image/upload/c_scale,w_1000,q_50,f_auto/gray-malin/blog_posts/hero_images/000/001/873/original/BV_Inroom-3-square.jpg?updated=1614039357"},{"label":"Gray's Peppermintini Recipe","url":"/lifestyle/gray-s-peppermintini-recipe","image":"https://res.cloudinary.com/gray-malin/image/upload/c_scale,w_1000,q_50,f_auto/gray-malin/blog_posts/hero_images/000/001/812/original/0-Peppermintini-9.jpg?updated=1607647194"},{"label":"Gray's Favorite Gifts to Give and Receive ","url":"/lifestyle/gray-s-favorite-gifts-to-give-and-receive","image":"https://res.cloudinary.com/gray-malin/image/upload/c_scale,w_1000,q_50,f_auto/gray-malin/blog_posts/hero_images/000/001/810/original/0-Home_Tour_Detail_Shot-54_copy.jpg?updated=1607392494"},{"label":"Gray's Favorite Websites For Holiday Gifting","url":"/lifestyle/gray-s-favorite-websites-for-holiday-gifting","image":"https://res.cloudinary.com/gray-malin/image/upload/c_scale,w_1000,q_50,f_auto/gray-malin/blog_posts/hero_images/000/001/809/original/0-Lake_Arrowhead_Holiday_Inroom-9_no_bow.jpg?updated=1607117546"},{"label":"Gray's Gift Guide","url":"/lifestyle/gray-s-gift-guide","image":"https://res.cloudinary.com/gray-malin/image/upload/c_scale,w_1000,q_50,f_auto/gray-malin/blog_posts/hero_images/000/001/808/original/0-Gray_in_Car_copy.jpg?updated=1607124786"},{"label":"Free Holiday Phone Backgrounds","url":"/lifestyle/free-holiday-phone-backgrounds","image":"https://res.cloudinary.com/gray-malin/image/upload/c_scale,w_1000,q_50,f_auto/gray-malin/blog_posts/hero_images/000/001/807/original/0-December_Background_Screenshots_copy.jpg?updated=1607020467"},{"label":"Best Selling Gifts Under $100","url":"/lifestyle/best-selling-gifts-under-100","image":"https://res.cloudinary.com/gray-malin/image/upload/c_scale,w_1000,q_50,f_auto/gray-malin/blog_posts/hero_images/000/001/806/original/0-Lake_Arrowhead_Holiday_Product-69.jpg?updated=1606963259"}],"label":"Have You Seen?"}
{"id":null,"number":null,"item_total":"0.0","total":"0.0","ship_total":"0.0","state":"cart","adjustment_total":"0.0","user_id":null,"created_at":null,"updated_at":null,"completed_at":null,"payment_total":"0.0","shipment_state":null,"payment_state":null,"email":null,"special_instructions":null,"channel":"spree","included_tax_total":"0.0","additional_tax_total":"0.0","display_included_tax_total":"$0.00","display_additional_tax_total":"$0.00","tax_total":"0.0","currency":"USD","considered_risky":false,"canceler_id":null,"display_item_total":"$0.00","total_quantity":0,"display_total":"$0.00","display_ship_total":"$0.00","display_tax_total":"$0.00","display_adjustment_total":"$0.00","token":null,"checkout_steps":["address","delivery","complete"],"bill_address":null,"ship_address":null,"line_items":[],"payments":[],"shipments":[],"adjustments":[],"credit_cards":[],"promotions":[],"total_shipment_cost":"$0.00","permissions":{"can_update":false},"use_shipping_for_billing":true,"use_new_ship_address":true,"use_new_bill_address":false,"selected_ship_address":null,"selected_bill_address":null,"display_completed_at":null,"item_count":0,"subtotal_minus_promos":"$0.00","coupon_codes":[],"includes_framed_items":false,"contains_subscription":false}
This site uses cookies to allow better navigation. By closing this banner, scrolling this page or clicking any of its elements, you are giving consent to all cookies. To learn more and to change your preferences please see our Cookies Policy.