With Gray's La Dolce Vita collection hanging on our walls, every day truly seems to be a getaway. But we also get so delighted when contributors share their travel secrets with us (especially when related to one of our favorite seaside towns!). Today, Aida of Salt & Wind is divulging all her tips for getting the most out of the picturesque Italian town of Positano. For a limited time we are offering 25% off ALL of my artwork from Italy and a complimentary Nest candle when you spend $300 or more, while supplies last. Don't miss out!

Hi, lovelies! Aida here from the food travel site, Salt & Wind. I've spent the last month traveling through Italy and had all sorts of amazing times, but I fell head-over-heels for the seaside town of Positano.
It had been a few years since I'd last been to Positano and I forgot just how gorgeous it is. So, I've decided: Positano wins most photogenic town ever. Every single corner of Positano seems fit for a postcard, from its winding streets and steep staircases, to colorful umbrella-clad beaches and turquoise waters. If I had my way, we'd all move to Positano yesterday; for now, I cannot wait to share my finds with you!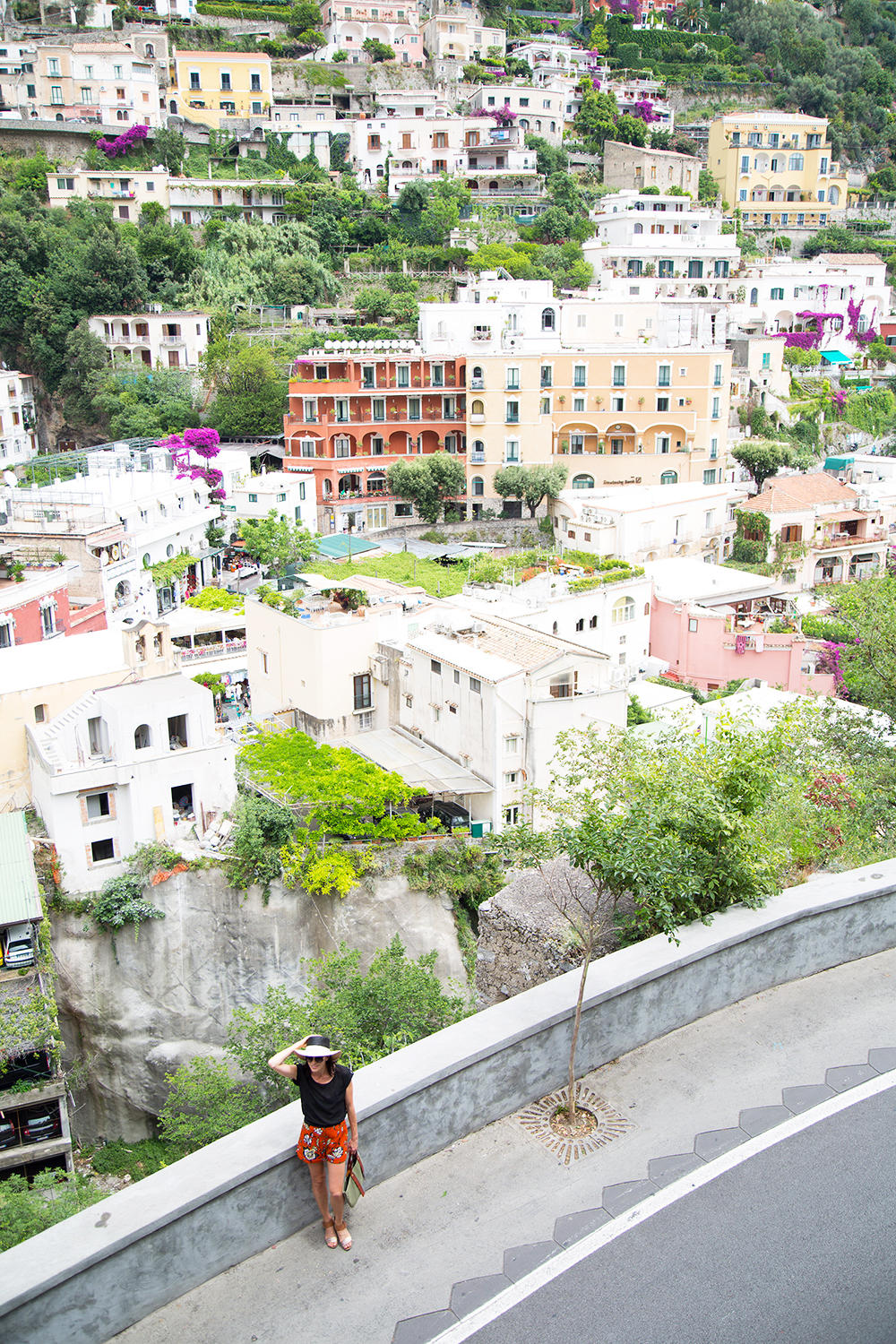 Where to Stay
Le Sirenuse This luxury boutique hotel is just small enough that it feels intimate but large enough that you have everything you could need, from a gorgeous pool and stunning views to an amazing Champagne bar and even a Michelin-starred restaurant. Definitely go here for sunset drinks if you don't stay here. Villa Tre Ville For something a bit away from it all, head to Villa Tre Ville. It's a teacup-sized boutique property that's historic and gorgeous. The rooms are one more stunning than the next and, though they have a teeny pool, their secluded beachside area (tucked in the cove next to Da Adolfo) more than makes up for it.
Where to Shop
Safari When it comes to shopping in the Amalfi coast, ceramics, linen, and handmade sandals are the must buys. And when it comes to sandals, the best shop in Positano is Safari where you can either by premade sandals or have them made-to-order. La Bottega di Brunella There's a ton of shopping in Positano and, while it seems like every shop has linen beachwear, not all the shops are created equal. La Bottega di Brunella has a collection that is a perfect mix of laidback chic. Emporio Sirenuse Carla Sersale (wife of Le Sirenuse owner) set up this shop just across the street from the hotel and it's every bit as chic as you'd expect. A carefully curated collection of resort wear, Carla travels the world searching out fabrics and designs, and sells her finds in this darling shop.
Where to Eat
Coffee and Sweets: La Zagara Positano is so small that you'll quickly make a few places part of your routine. One such place is La Zagara, where I headed in the morning for a pastry and coffee, in the afternoon for some seriously good pizza by the slice, or after dinner for some of the best sweets I've had on the Amalfi Coast. Lunch: Da Adolfo Da Adolfo is one of those places you won't stop talking about after you go. From the vintage boat you take from Positano to get there and the hidden cove the restaurant is tucked into to the beachside meal with some of the freshest fish you'll have in Italy, it's a must. Dinner: Next 2 Next 2 came highly recommended from a lot of friends and it's easy to see why: they have great service, a sophisticated scene that's not too scene-y, and a creative menu that's a mix of regional specialties and twists on the classics. Drinks: Franco's Bar This open-air bar next to the Sirenuse hotel is Positano at its best. The bar has drop-dead gorgeous views, it's decorated by contemporary artists from across the globe, and has some of the tastiest drinks I had in Positano.
Not to Miss
Hike Of The Gods Okay, you really need to be motivated to do this hike, as it's long and steep. That said, it will reward you with some of the most amazing views along the whole coastline. Ravello Day Trip Positano's location in the middle of the Amalfi Coast makes it an ideal homebase for day trips. While Capri and Amalfi are both worthwhile if you have a lot of time, I'm partial to the historic hillside town of Ravello. Water Time The water positively makes Positano, so make sure so block off some time to hang beachside, be it for a quick dip, an afternoon stand up paddle session, or on a sunset boat ride.
Inspired Eats
The Hugo Cocktail If you're heading to the Amalfi coast, it is all-essential to enjoy a Spritz on the regular. One of the most interesting twists on a Spritz I saw on this last trip was when I lunched at the Hotel Caruso in Ravello. This botanical elderflower twist on a spritz is known as The Hugo—head over to Salt & Wind for the recipe. Prosecco Lemon Pasta And if you can't fathom the idea of talking Italy without a little pasta, I hear you. In that case, you should cook up this Prosecco Lemon Shrimp Pasta inspired by the Amalfi Coast.
Thanks again to Aida for sharing her insight with us! As if Positano wasn't dreamy enough as it is, we think that her city guide made it sound even dreamier. To see more from Salt & Wind, visit their site or follow along on Instagram. We can't wait to see where she takes us next!
Xx Team GM
To see more of Gray's prints from Positano, click here.
Photos: Salt & Wind, Gray Malin