Hi Everyone,
As posted about on Friday, I was recently in London for an exhibition of my new series, Art of Living, but I also had the opportunity to take in the incredible art show, Frieze London. My adventures didn't stop there, though, as I packed in as much as I could in the few days I was in this lovely city. For today's post, I wanted to let you all in on what I consider a great way to spend a day in London. There are the usual suspects of things to do like visit Buckingham Palace and London Eye, which I highly recommend. This city guide though has a bit of a cheeky approach to taking in the city in a fun leisurely way.
GETTING AROUND
They have uber in London, but their cabs are adorable and these drivers KNOW their city. Hop in a cab and ask them to take you to Notting Hill, as you get closer, ask them if they've ever seen the movie Notting Hill. Who hasn't, right? Our driver certainly had, which made it super easy for him to take me and my friends to some of the movie's iconic spots.
NOTTING HILL
Much of the movie takes place on and off London's famed Portobello Road Market, but I wanted to see the street just off it with the rainbow colored town homes. They're just primed for a few quick photos. Did I mention we had beautiful crisp sunny weather? it's true..it does exist in London.
Up next, we were off to The Notting Hill Book Shop, which is the location of character Will's (played by Hugh Grant) bookstore and also where he meets movie star, Anna (aka Julia Roberts)..and spoiler alert, they fall in love.
And then last but not least, I had to visit "The Blue Door," which is where Will lived and the exact spot that Anna tells him she is "also just a girl, standing in front of a boy, asking him to love her." For all you Rom-Com lovers out there, this is tourism at it's finest!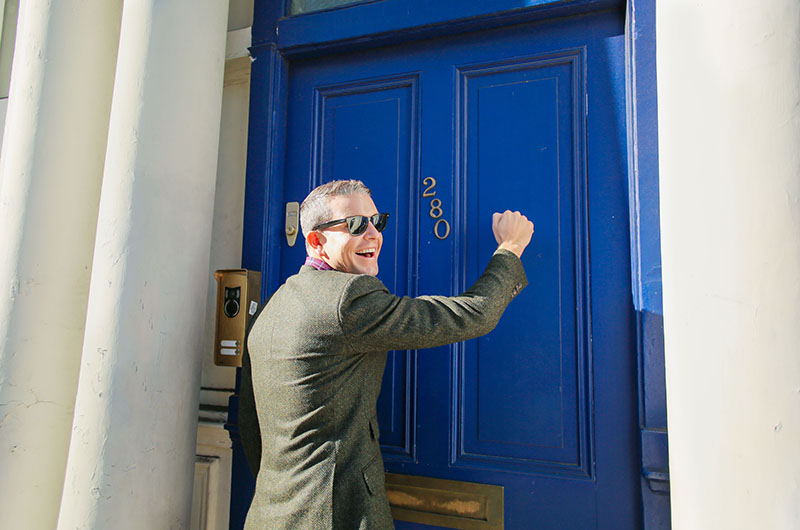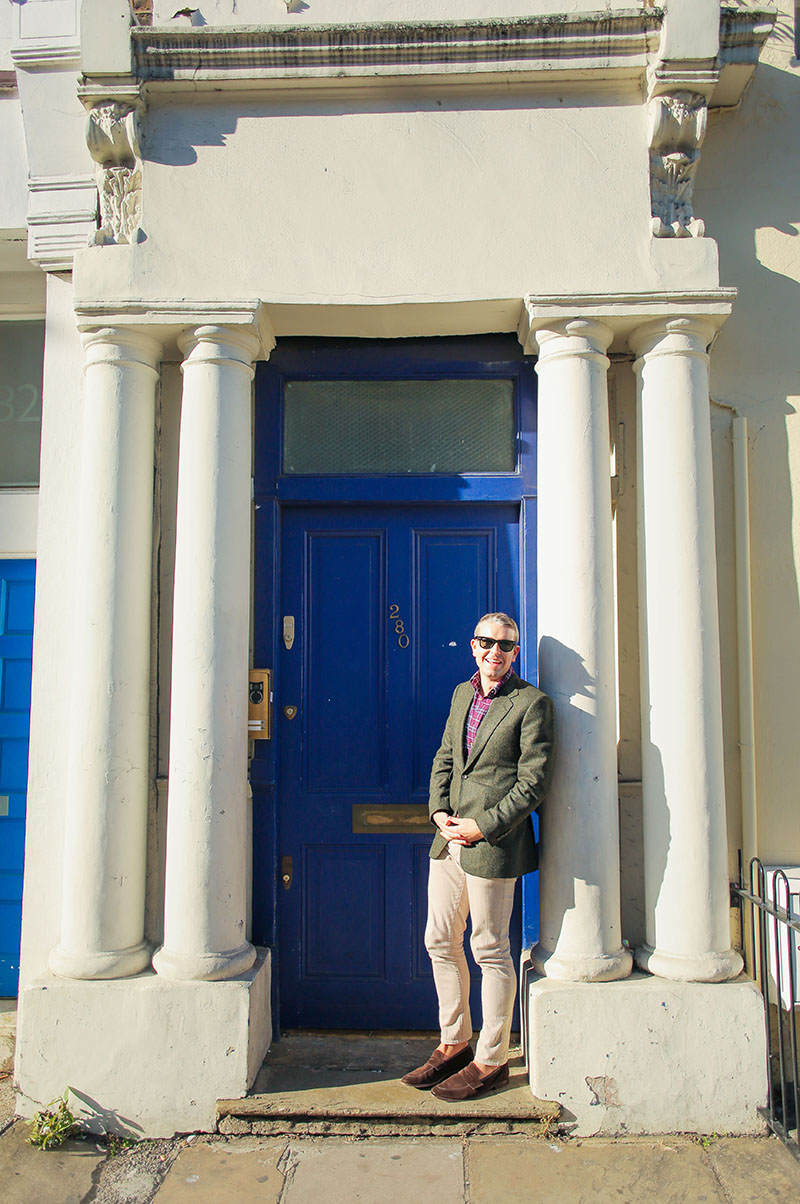 Up next..it's time for a little music history.
ABBEY ROAD
Abbey Road is many things. It's a road, it's the location of Abbey Road Studios, which is in a part of the city known as St. Johns Wood, and it's also the studio where a little band called The Beatles recorded their 11th studio album. The album's cover art is iconic as it shows the four fellows crossing this street, and on this day, I did it, too. Along with quite a few other brave souls, who risked getting run over by Brits who clearly simply use the road for driving purposes. After a few solid hours of moving through these two fun parts of the city, it will be time for a snack and a sip, and the best place to do it is SKETCH.
TEA TIME AT SKETCH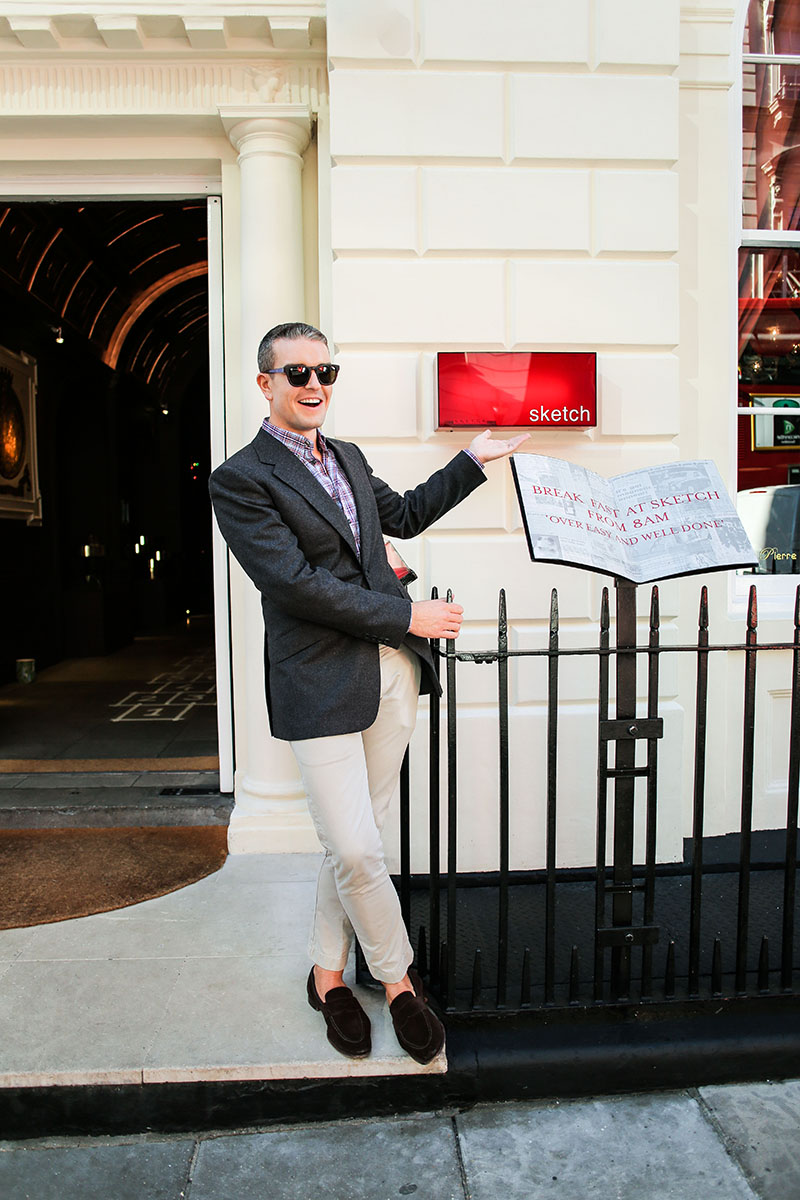 We went for a traditional tea time, which is at 4:00 PM, in the Gallery Room. Oh, did I mention that Sketch is broken up into four completely different interior decorated rooms over an expansive two story space of a converted 18th century building in Conduit Street, Mayfair, London? Well, it is and the Gallery was designed by India Mahdavi, who created a backdrop for celebrated British artist, David Shrigley's artwork. The results are pure eye candy.
We had the Champagne Afternoon Tea, which came with as many tiny sandwiches that we could eat, our choice of tea, and of course, a splash of bubbly. I still can't get over how they pour their champagne.
Even using the loo is an experience at Sketch...
..yes, those are actual 'pee pods!' Every single detail in this restaurant was thought out and it is appreciated by anyone who has a chance to take it all in. Whether it's for tea, dinner, or simply a cocktail or two, I encourage anyone who's in this city to stop in to experience Sketch for themselves.
THE PUB
Just down the street from Sketch, this eye catching pub is rich in history in London. Dating back to 1770s, the Coach and Horses is thought to be one of the first properties to be built in Bruton Street. In London, people are allowed to stand just outside the pub with their drinks, which clearly doesn't happen very often in the states, so I had to take advantage of this British past time.
Head back to the hotel or wherever you're staying for a quick rest and refresh, then it's time to head out for the final stop of the day.
DINE
If you're with a group, like I was, I highly recommend checking out May Fair Kitchen, which is in the heart of Mayfair on London's Stratton Street. My friends and I sipped on Ol'Fashioneds to start then switched to a Rosé Sancerre, which paired perfectly with the food. We dined on a variety of delicious plates like the trio of bruschetta, lobster risotto with cherry tomato & seared scallop, spiced chicken sliders with garlic & avocado mayo and so much more, I'm full just thinking about!
And, there you have it. I hope you enjoyed my version of a London City Guide. It may not be traditional but it certainly was fun! Thank you May Fair Kitchen, Sketch, cab drivers of London, and the weather that day for making my version of a City Guide for London so very fun and memorable. To see more from my trip, check this out.
Cheers,
GM
In all of these images, Gray is wearing lovely bespoked blazers from The Huntsman