Hi Everyone,
As we all know, Gray is known for his iconic Aerial Beach collection, so much so that he often gets people writing in with their suggestions on what beach destination he should consider shooting next. Curious about what part of the world he's been asked about the most since he began over five years ago? The Correct Answer Is....NANTUCKET & MARTHA'S VINEYARD! Well, Gray heard you all loud and clear and today we're very excited to deliver! These two islands off the coast of Cape Cod, Massachusetts hold a special place in many people's hearts, so it's an absolute pleasure to share these brand new images with you all today.
NANTUCKET
An island about 30 miles off the coast of Cape Cod, known for being a luxe summer getaway for notable visitors such as The Kennedys and Taylor Swift.
Ocean Rain, Nantucket - Special note on this one, a bit of a moodier take that what we're accustomed to seeing from Gray, but he really loved the tranquility of this shot. Also the texture of the rain on the ocean adds a rich layer to the soothing ripples.
MARTHA'S VINEYARD
Located 7 miles off the coast of Cape Cod, MA and only accessible by boat and air, this stretch of Americana is beloved by many. Not only is it where Steven Speilberg's massively successful JAWS was filmed but also where the Obama Family vacations every August.
Sunfish Sailboat, Martha's Vineyard - Gray couldn't resist shooting this childhood favorite and inspiration of his series, Sail Away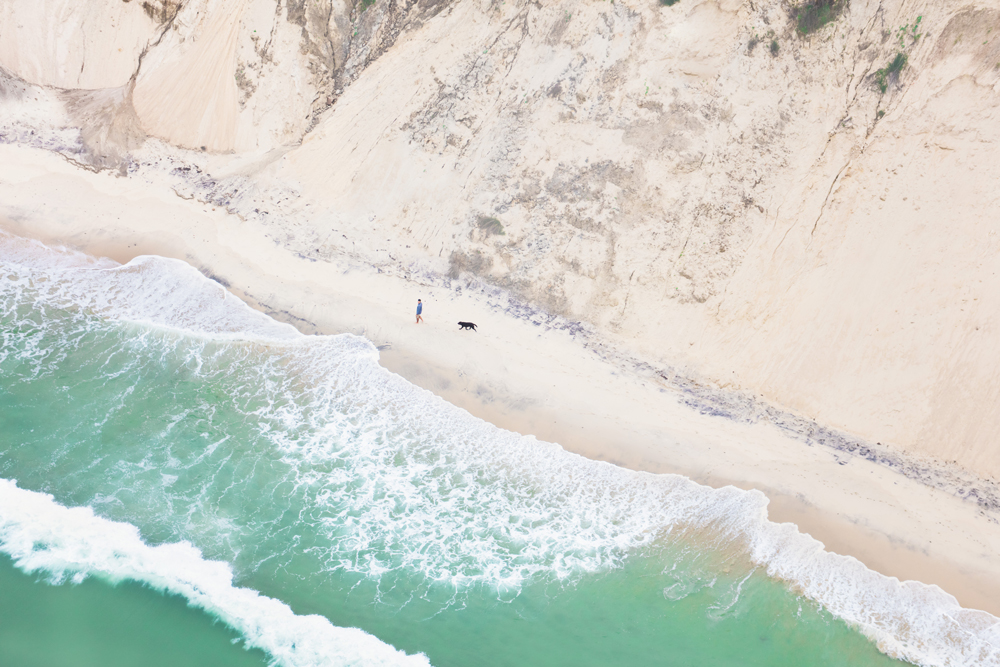 Reminding Gray of his cute dog, Stella, he naturally had to be the first to own this one. The is one of Team GM's favorites, too...because 1) we love dogs 2) we love beaches and 3) this embodies both. Done and done. :) And, there you have it! We hope you love Gray's latest additions of Nantucket and Martha's Vineyard to his Beach Aerial series. Which one is your favorite? See the new series here.
xx Team GM
{"slides":[{"label":"Summer's Hottest Accessory is Back: Supergoop! x Gray Malin Everyday Getaway Kit","url":"/lifestyle/summers-hottest-accessory-is-back-supergoop-x-gray-malin-everyday-getaway-kit","image":"https://res.cloudinary.com/gray-malin/image/upload/c_scale,w_1000,q_50,f_auto/gray-malin/blog_posts/hero_images/000/002/025/original/supergoop-may-2022-gray-malin-collaboraton-bag-open_(1).jpg?updated=1651929416"},{"label":"Introducing Gray Malin x illesteva Sunglasses","url":"/lifestyle/introducing-gray-malin-x-illesteva-sunglasses","image":"https://res.cloudinary.com/gray-malin/image/upload/c_scale,w_1000,q_50,f_auto/gray-malin/blog_posts/hero_images/000/002/023/original/blog_number_0.jpeg?updated=1650979072"},{"label":"The Making of Dogs at the Parker","url":"/lifestyle/behind-the-scenes-the-making-of-dogs-at-the-parker","image":"https://res.cloudinary.com/gray-malin/image/upload/c_scale,w_1000,q_50,f_auto/gray-malin/blog_posts/hero_images/000/002/022/original/0.jpg?updated=1650054774"},{"label":"Introducing New Summer Collection NEST New York x Gray Malin","url":"/lifestyle/introducing-new-summer-collection-nest-new-york-x-gray-malin","image":"https://res.cloudinary.com/gray-malin/image/upload/c_scale,w_1000,q_50,f_auto/gray-malin/blog_posts/hero_images/000/002/021/original/0.jpg?updated=1649702723"},{"label":"Gray Malin on Nantucket","url":"/lifestyle/gray-malin-on-nantucket","image":"https://res.cloudinary.com/gray-malin/image/upload/c_scale,w_1000,q_50,f_auto/gray-malin/blog_posts/hero_images/000/002/020/original/0.jpg?updated=1647451777"},{"label":"Introducing Snow Beach AspenX Gray Malin ","url":"/lifestyle/introducing-snow-beach-aspenx-gray-malin","image":"https://res.cloudinary.com/gray-malin/image/upload/c_scale,w_1000,q_50,f_auto/gray-malin/blog_posts/hero_images/000/001/987/original/1.jpg?updated=1645053743"},{"label":"Introducing My New Furniture Collection","url":"/lifestyle/introducing-my-new-furniture-collection","image":"https://res.cloudinary.com/gray-malin/image/upload/c_scale,w_1000,q_50,f_auto/gray-malin/blog_posts/hero_images/000/001/986/original/0.jpg?updated=1643761358"},{"label":"Introducing the Four Seasons Resorts Hawaii x Gray Malin Partnership ","url":"/lifestyle/introducing-the-four-seasons-resorts-hawaii-x-gray-malin-partnership","image":"https://res.cloudinary.com/gray-malin/image/upload/c_scale,w_1000,q_50,f_auto/gray-malin/blog_posts/hero_images/000/001/985/original/0_copy.jpg?updated=1643689090"}],"label":"Have You Seen?"}
{"id":null,"number":null,"item_total":"0.0","total":"0.0","ship_total":"0.0","state":"cart","adjustment_total":"0.0","user_id":null,"created_at":null,"updated_at":null,"completed_at":null,"payment_total":"0.0","shipment_state":null,"payment_state":null,"email":null,"special_instructions":null,"channel":"spree","included_tax_total":"0.0","additional_tax_total":"0.0","display_included_tax_total":"$0.00","display_additional_tax_total":"$0.00","tax_total":"0.0","currency":"USD","considered_risky":false,"canceler_id":null,"display_item_total":"$0.00","total_quantity":0,"display_total":"$0.00","display_ship_total":"$0.00","display_tax_total":"$0.00","display_adjustment_total":"$0.00","token":null,"checkout_steps":["address","delivery","complete"],"bill_address":null,"ship_address":null,"line_items":[],"payments":[],"shipments":[],"adjustments":[],"credit_cards":[],"promotions":[],"total_shipment_cost":"$0.00","permissions":{"can_update":false},"use_shipping_for_billing":true,"use_new_ship_address":true,"use_new_bill_address":false,"selected_ship_address":null,"selected_bill_address":null,"display_completed_at":null,"item_count":0,"subtotal_minus_promos":"$0.00","coupon_codes":[],"includes_framed_items":false,"contains_subscription":false}
This site uses cookies to allow better navigation. By closing this banner, scrolling this page or clicking any of its elements, you are giving consent to all cookies. To learn more and to change your preferences please see our Cookies Policy.