Hi Everyone,
Today, I am beyond HAPPY to share with you my brand new series BHUTAN: LAND OF HAPPINESS which will be the latest addition to The Private Collection - a special section of our website that features work shot in some of the most exotic locations around the world.
Below are highlights from the series but before scrolling through them too quickly, please take a minute to understand how incredibly difficult this body of work was to create! For example, getting helium in Bhutan was unheard of-- it had to be driven across the border of India and required a huge effort in advance planning with Customs to achieve! Also, each balloon design and pattern you see below was pre-conceptualized and designed by me with the help of my friends at Drop it Modern.
Make sure to watch our behind the scenes video below created in partnership with Le Meridien- It will surly make all of these images far more interesting!
Nestled in the Himalayas, the Kingdom of Bhutan is a destination that few people will ever be able to visit, yet it is a place that defines a belief shared by all: happiness. The Bhutanese believe happiness is achieved by being content in one's surroundings and everyday life without the aid of material possession and monetary gain. This point of view differs greatly from the Western mentality and challenges its people, and for that matter the world to dig deeper in the search of lifelong happiness rather than looking to fleeting elements that might bring joy only for a short period of time.
Predominately a Buddhist nation, the picturesque raw landscape is filled with thousands of prayer flags that blow and hum in the wind— carrying the wishes of the people up to the spirits above.
As I unveil this brand new series, I am also celebrating it as my latest installment in the Follow Me partnership with Le Méridien Resort Hotels and Resorts. This photo series launches in conjunction with the opening of their second hotel in the Kingdom of Bhutan, Le Méridien Paro, Riverfront.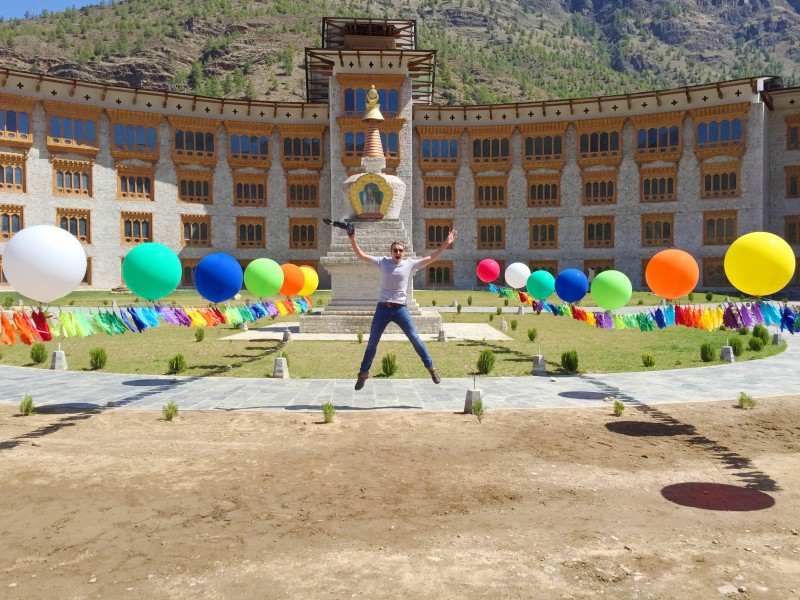 Follow Me is a multi-faceted global art collaboration that represents my 24-hour visual journey to inspiring destinations from Palm Springs to Bhutan, and you're invited along with Le Méridien guests to Follow Me. Check out this video Le Méridien created while on set in this beautiful country for some Behind the Scenes moments.
One of my favorite images from the series is entitled, Enchantment. You cannot even imagine how amazing it was to have these monks become enchanted by the balloons and kindly step in and pose for the shot! I don't know if there is any image like this of its kind...
I personally love the peacefulness this photograph evokes as the monks turn their heads to the sky and enjoy the balloons hovering above them.
But! The true magic was caught behind the scenes when something very rare, yet incredible happened...
they smiled....and I smile to this day just thinking about this moment (monks rarely smile!).
The people in Bhutan from the children to the monks to the Le Méridien staff were all so kind and joyful to be around. I consider myself lucky to have had the opportunity to meet them all.
They had never seen balloons with helium before so it really made their day!
I hope you all find as much Merriment from BHUTAN: LAND OF HAPPINESS as I did!
Thank you for Following Me! And, an extra special thank you to our friends at Le Meridien Paro, Riverfront and Le Meridien Thimphu for helping to bring this collection to life
xx
GM