While Gray may be known for his fine art prints and photography, he also has so many gorgeous lifestyle and home products inspired by his work as well. If you're looking for passport cases that remind you of the Italian Riviera or candles covered with beach prints that smell like summer, we definitely have something for you. Today, we're up our best selling products under $100 that will make incredible holiday gifts this year. If you've got your eye on a few things, now is the time to stock up for everyone on your list! Today marks the first day of our Gift More, Save More promotion, which means products are officially on sale! Depending on how much you spend, you can receive up to 30% off on everything on the site. Scroll through to find the perfect gifts...
Light this little guy up on those cold winter nights when you're feeling nostalgic for summer… The combination of sand lily, ocean breeze, and summer orchid scent will definitely get you there.
The 'I am Busy' Notebook and Pen Set - $42
The perfect set to keep on your desk to give everyone around you a subtle reminder… Keep your to do lists organized or use it as a journal to jot down your favorite memories and wildest dreams.
For all the fine art photography and backgammon lovers, this one was created just for you. Now you can enjoy both things you love at once! And even when not in use, this backgammon set makes a pretty impression on any game table or coffee table.
Porcelain trays are the perfect home piece. Keep one on your bedside for your jewelry or on a dresser or console table to make a statement.
The second best thing next to the holidays in the big apple? A two-sided puzzle to bring the city to you. Need we say more?
Even though we're not traveling right now, you'll 100% need this Positano Passport Case when you get to explore again.
If there's one thing this year taught us, it's the importance of keeping in touch. Calls and texts are great, but what's better than sending a handwritten postcard?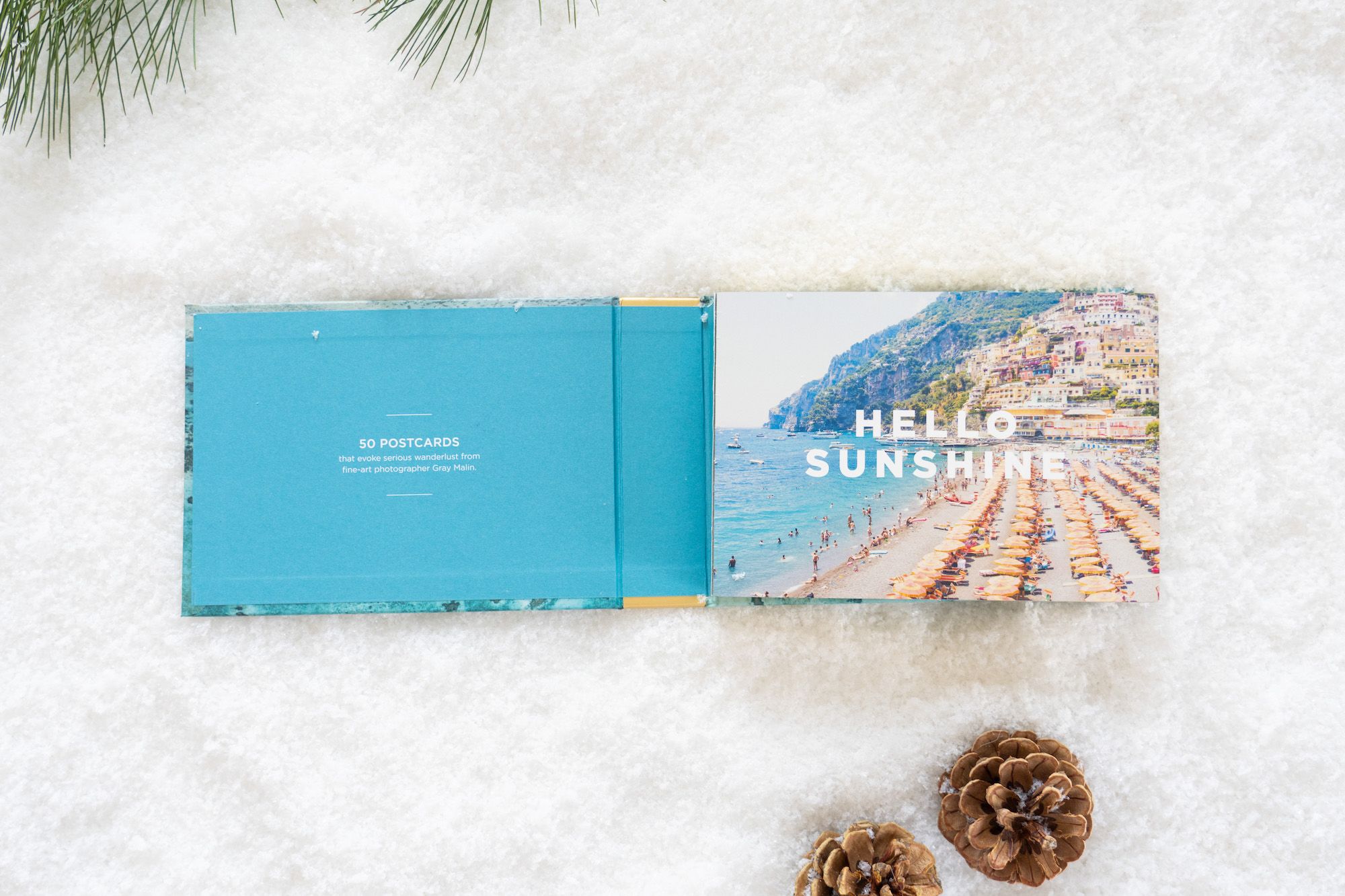 These Beach Coasters are a small and whimsical, yet thoughtful detail to add to your coffee table and enhance your overall table décor—not to mention, a luxe gift to give to anyone on your list this holiday season.
The Parker Playing Card Set is just what you need to spice up your game nights and soirées. They'll make every card game all the more intriguing…
Which Gray Malin products are on your wish list?
Cheers!
Team GM
{"slides":[{"label":"Escape to Paradise with Free Phone Backgrounds","url":"/lifestyle/escape-to-paradise-with-free-phone-backgrounds","image":"https://res.cloudinary.com/gray-malin/image/upload/c_scale,w_1000,q_50,f_auto/gray-malin/blog_posts/hero_images/000/001/878/original/0-mauna_kea_backgrounds.jpg?updated=1615512064"},{"label":"Guess These New Bon Voyage Icons","url":"/lifestyle/guess-these-new-bon-voyage-icons","image":"https://res.cloudinary.com/gray-malin/image/upload/c_scale,w_1000,q_50,f_auto/gray-malin/blog_posts/hero_images/000/001/873/original/BV_Inroom-3-square.jpg?updated=1614039357"},{"label":"Gray's Peppermintini Recipe","url":"/lifestyle/gray-s-peppermintini-recipe","image":"https://res.cloudinary.com/gray-malin/image/upload/c_scale,w_1000,q_50,f_auto/gray-malin/blog_posts/hero_images/000/001/812/original/0-Peppermintini-9.jpg?updated=1607647194"},{"label":"Gray's Favorite Gifts to Give and Receive ","url":"/lifestyle/gray-s-favorite-gifts-to-give-and-receive","image":"https://res.cloudinary.com/gray-malin/image/upload/c_scale,w_1000,q_50,f_auto/gray-malin/blog_posts/hero_images/000/001/810/original/0-Home_Tour_Detail_Shot-54_copy.jpg?updated=1607392494"},{"label":"Gray's Favorite Websites For Holiday Gifting","url":"/lifestyle/gray-s-favorite-websites-for-holiday-gifting","image":"https://res.cloudinary.com/gray-malin/image/upload/c_scale,w_1000,q_50,f_auto/gray-malin/blog_posts/hero_images/000/001/809/original/0-Lake_Arrowhead_Holiday_Inroom-9_no_bow.jpg?updated=1607117546"},{"label":"Gray's Gift Guide","url":"/lifestyle/gray-s-gift-guide","image":"https://res.cloudinary.com/gray-malin/image/upload/c_scale,w_1000,q_50,f_auto/gray-malin/blog_posts/hero_images/000/001/808/original/0-Gray_in_Car_copy.jpg?updated=1607124786"},{"label":"Free Holiday Phone Backgrounds","url":"/lifestyle/free-holiday-phone-backgrounds","image":"https://res.cloudinary.com/gray-malin/image/upload/c_scale,w_1000,q_50,f_auto/gray-malin/blog_posts/hero_images/000/001/807/original/0-December_Background_Screenshots_copy.jpg?updated=1607020467"},{"label":"Best Selling Gifts Under $100","url":"/lifestyle/best-selling-gifts-under-100","image":"https://res.cloudinary.com/gray-malin/image/upload/c_scale,w_1000,q_50,f_auto/gray-malin/blog_posts/hero_images/000/001/806/original/0-Lake_Arrowhead_Holiday_Product-69.jpg?updated=1606963259"}],"label":"Have You Seen?"}
{"id":null,"number":null,"item_total":"0.0","total":"0.0","ship_total":"0.0","state":"cart","adjustment_total":"0.0","user_id":null,"created_at":null,"updated_at":null,"completed_at":null,"payment_total":"0.0","shipment_state":null,"payment_state":null,"email":null,"special_instructions":null,"channel":"spree","included_tax_total":"0.0","additional_tax_total":"0.0","display_included_tax_total":"$0.00","display_additional_tax_total":"$0.00","tax_total":"0.0","currency":"USD","considered_risky":false,"canceler_id":null,"display_item_total":"$0.00","total_quantity":0,"display_total":"$0.00","display_ship_total":"$0.00","display_tax_total":"$0.00","display_adjustment_total":"$0.00","token":null,"checkout_steps":["address","delivery","complete"],"bill_address":null,"ship_address":null,"line_items":[],"payments":[],"shipments":[],"adjustments":[],"credit_cards":[],"promotions":[],"total_shipment_cost":"$0.00","permissions":{"can_update":false},"use_shipping_for_billing":true,"use_new_ship_address":true,"use_new_bill_address":false,"selected_ship_address":null,"selected_bill_address":null,"display_completed_at":null,"item_count":0,"subtotal_minus_promos":"$0.00","coupon_codes":[],"includes_framed_items":false,"contains_subscription":false}
This site uses cookies to allow better navigation. By closing this banner, scrolling this page or clicking any of its elements, you are giving consent to all cookies. To learn more and to change your preferences please see our Cookies Policy.