Hi Everyone,
Happy Saturday! Summer is in full swing, and it's all about trips to the beach! To celebrate, I'm listing off the best beaches to visit in July AND what you should do while you're there. Let's begin, shall we?
ST. BARTHS
Home to a large communtiy of French descendents, celebrate Bastille Day on the beach, rather than in a city. The island celebrates the holiday with a number of festivities, including the popular Bastille Day Kingfish Tournament. Between 50 and 100 boats compete for a chance to win up to $13,000 in prizes, which also makes for some fun competition to watch!
PORTUGAL
With hot summers refreshed by the Atlantic breeze and the highest number of hours of sunshine in Europe, Portugal is not to be missed! Often overshadowed by it's more popular neighbors, such as Spain and France, Portugal has the majority of its awe-inspiring coastline and beaches facing west, which also makes it the best direction to watch a beautiful sunset. After a day at the beach, it's time for a delicious seafood dinner as Portugal is also home to Europe's largest fishing zones.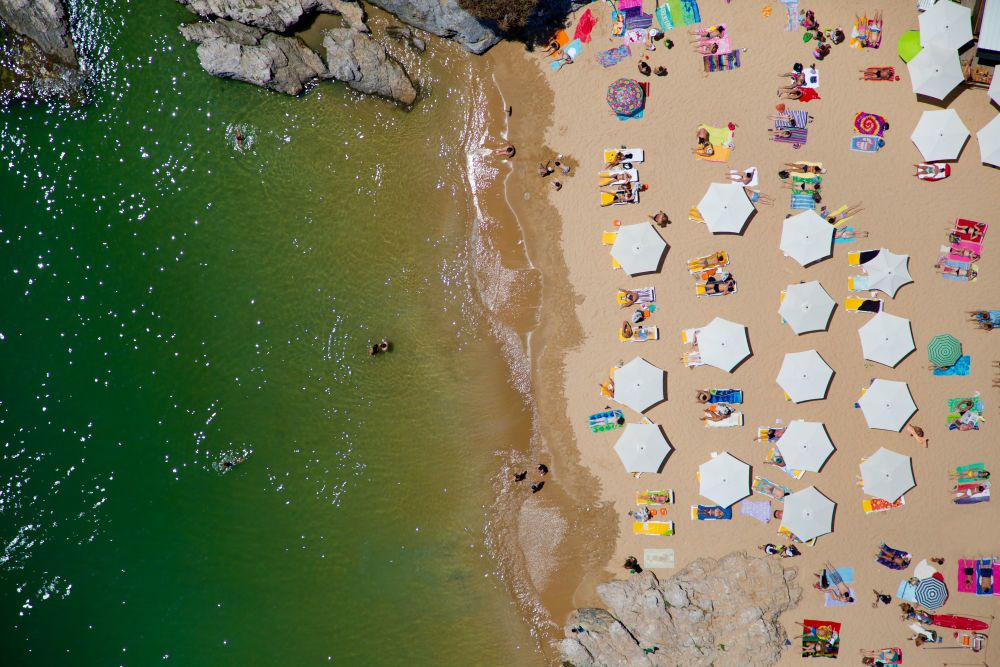 NANTUCKET
Whether you're enjoying one of Nantucket's plentiful beaches or getting out on the water, this little slice of paradise is one of the best places to be in America during the month of July. After you've had enough fun in the sun, head to Cisco Brewers sip from a variety of their world-class wines, beers, and spirits.
FORTE DEI MARMI
Known as the Hamptons of Italy, beach like an Italian and head to one of the numerous beach clubs for a lounge and an aperol spritz. Want to know more? Check out my Travel Guide, right HERE.
SANTA MONICA
Not to brag or anything but, it's great living in Los Angeles, especially when it's summertime. Just a quick drive west, Santa Monica is a wonderful beach to post up for the day. To keep it fun and outside, I recommend catching a movie via Eat See Hear.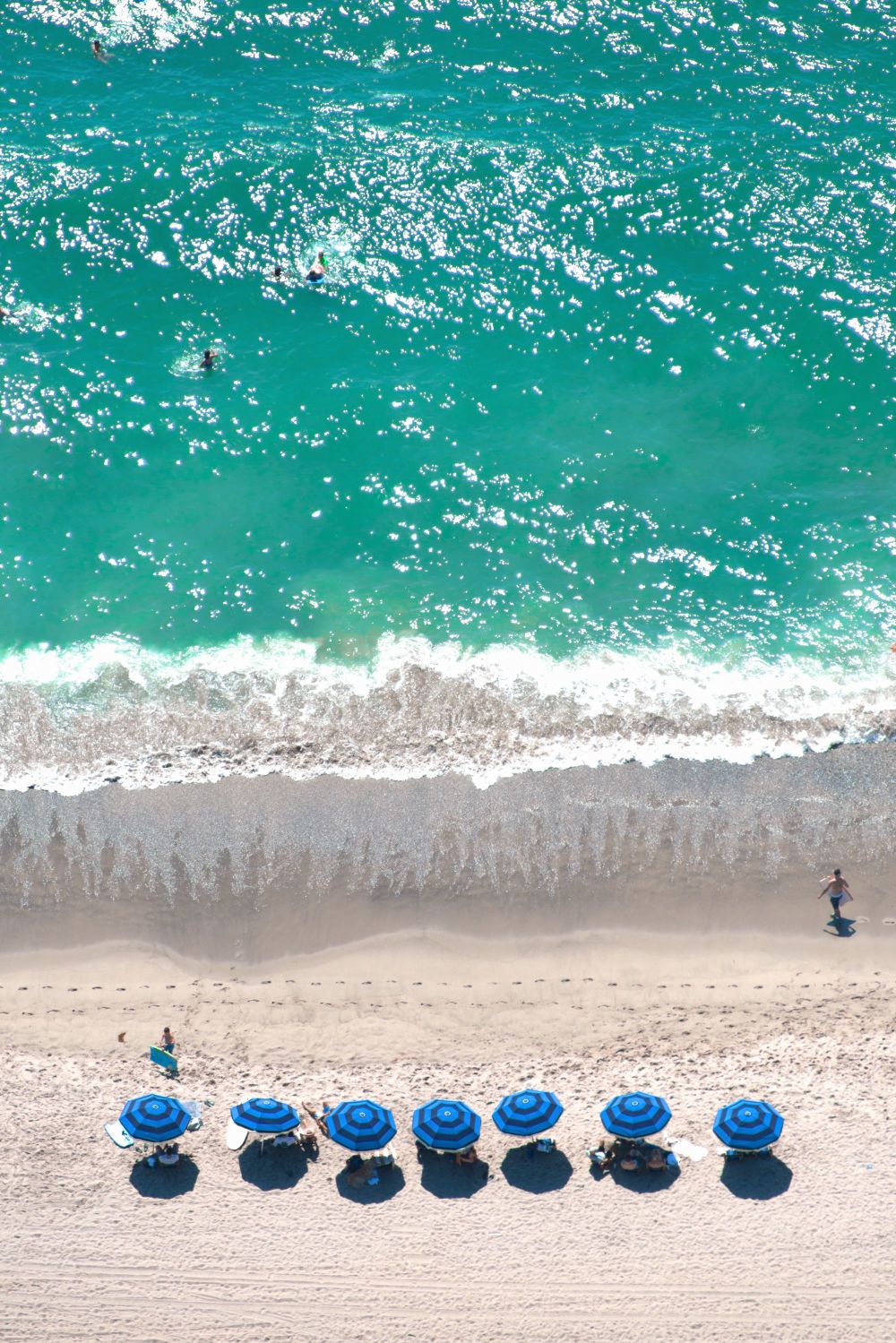 BORA BORA
With sunshine hours at their highest, rainfall and humidity at its lowest and temperatures hitting that sweet spot of somewhere between 77 - 88F degrees, the beaches of Bora Bora are quite comfortable in July. Needless to say, the thing to do while in this tropical paradise is to enjoy the many outoodr activities at your disposal. Snorkeling anyone?
And, there you have it! Are you traveling to any of these gorgeous beach destinations this month? Whether the answer is yes or no, now is the time to enjoy them year round with your choice from all of my beach aerial photography.
Cheers,
xx
GM
{"slides":[{"label":"Best Nude Beaches Around the World","url":"/lifestyle/best-nude-beaches-around-the-world","image":"https://res.cloudinary.com/gray-malin/image/upload/c_scale,w_1000,q_50/gray-malin/blog_posts/hero_images/000/001/161/original/barcelona-nude-beach.jpg?updated=1549399848"},{"label":"12 Items That Will Make Traveling With a Baby So Much Easier","url":"/lifestyle/12-items-that-will-make-traveling-with-a-baby-so-much-easier","image":"https://res.cloudinary.com/gray-malin/image/upload/c_scale,w_1000,q_50/gray-malin/blog_posts/hero_images/000/001/153/original/0a-_Header.jpg?updated=1548443984"},{"label":"A Designer's Favorite Travel Destination","url":"/lifestyle/a-designer-s-favorite-travel-destination","image":"https://res.cloudinary.com/gray-malin/image/upload/c_scale,w_1000,q_50/gray-malin/blog_posts/hero_images/000/001/136/original/1-_da-luigi-beach-club-capri.jpg?updated=1547774664"},{"label":"5 Winter Travel Destinations","url":"/lifestyle/5-winter-travel-destinations","image":"https://res.cloudinary.com/gray-malin/image/upload/c_scale,w_1000,q_50/gray-malin/blog_posts/hero_images/000/001/132/original/off-the-grid.jpg?updated=1547254515"},{"label":"5 Places on Our Radar for 2019","url":"/lifestyle/5-places-on-our-radar-for-2019","image":"https://res.cloudinary.com/gray-malin/image/upload/c_scale,w_1000,q_50/gray-malin/blog_posts/hero_images/000/001/109/original/stbarths3.jpg?updated=1547162383"},{"label":"Our Baby Moon in Japan","url":"/lifestyle/our-baby-moon-in-japan","image":"https://res.cloudinary.com/gray-malin/image/upload/c_scale,w_1000,q_50/gray-malin/blog_posts/hero_images/000/001/079/original/Japan_Edit-3.jpg?updated=1541567541"},{"label":"Cases That Take You Places","url":"/lifestyle/cases-that-take-you-places","image":"https://res.cloudinary.com/gray-malin/image/upload/c_scale,w_1000,q_50/gray-malin/blog_posts/hero_images/000/001/073/original/The_Reef__Bora_Bora.jpg?updated=1540595448"},{"label":"5 Things Not to Miss in Aspen, Colorado","url":"/lifestyle/5-things-not-to-miss-in-aspen-colorado","image":"https://res.cloudinary.com/gray-malin/image/upload/c_scale,w_1000,q_50/gray-malin/blog_posts/hero_images/000/001/051/original/1-_Loge-Peak_-Aspen-Highlands.jpg?updated=1538157797"}],"label":"Have You Seen?"}
{"id":null,"number":null,"item_total":"0.0","total":"0.0","ship_total":"0.0","state":"cart","adjustment_total":"0.0","user_id":null,"created_at":null,"updated_at":null,"completed_at":null,"payment_total":"0.0","shipment_state":null,"payment_state":null,"email":null,"special_instructions":null,"channel":"spree","included_tax_total":"0.0","additional_tax_total":"0.0","display_included_tax_total":"$0.00","display_additional_tax_total":"$0.00","tax_total":"0.0","currency":"USD","considered_risky":false,"canceler_id":null,"display_item_total":"$0.00","total_quantity":0,"display_total":"$0.00","display_ship_total":"$0.00","display_tax_total":"$0.00","display_adjustment_total":"$0.00","token":null,"checkout_steps":["address","delivery","complete"],"bill_address":null,"ship_address":null,"line_items":[],"payments":[],"shipments":[],"adjustments":[],"credit_cards":[],"promotions":[],"total_shipment_cost":"$0.00","permissions":{"can_update":false},"use_shipping_for_billing":true,"use_new_ship_address":true,"use_new_bill_address":false,"selected_ship_address":null,"selected_bill_address":null,"display_completed_at":null,"item_count":0,"subtotal_minus_promos":"$0.00","coupon_codes":[]}
This site uses cookies to allow better navigation. By closing this banner, scrolling this page or clicking any of its elements, you are giving consent to all cookies. To learn more and to change your preferences please see our Cookies Policy.