Hi Everyone,
Hope your New Year is off to an excellent start! It certainly has been a busy start for most, so I think we're all looking forward to the holiday weekend and that extra day off to escape a bit.
For the ultimate in Flashback Friday, I'm revealing for the first time some of the aerial images I captured while road-tripping with hubby in Italy this past summer.
This was our first trip to Italy together, and it was the first time I was able to take to the air to capture the stunning coastline from above. The following text is direct excerpts from the travel journal I kept on this trip. I hope you enjoy reading as much as I enjoyed writing...
I woke up and pulled back the curtains to see a beautiful blue sky- the perfect weather for my first ever aerial photo shoot over Italy! Jeff and I packed our bags and after a yummy breakfast set out on the road to the airport in Forte dei Marmi. Forte dei Marmi is a little bit like the Hamptons of Italy. Located not far from Rome and Florence, the elite circle of Italy tend to belong to one of the many gorgeous beach clubs that line the coast in Forte dei Marmi.

Our pilot and operating manager, Francesco and Antonio flew the helicopter in from Florence and were waiting for us upon our arrival at the "all grass" small airport.
After some security checks, they harnessed me in and we prepared ourselves to fly along the coast for about 40 kilometers ranging from Forte dei Marmi down to Viareggio. As we lifted off and came above the tree line my little heart opened up and smiled - the sea of colorful umbrellas from above was even better than I could have ever imagined!
The next hour was nothing but pure heaven for me- my umbrella obsessed mind was over stimulated and my eyes were legit popping out of my head. Every couple of minutes I had to pull myself back into the helicopter because my eyes were tearing so badly from the wind. Each time I wiped them clean and looked out the marvelous view, I felt like I had won the lottery. Every type of umbrella you could imagine in every single color one could dream of perfectly lined the sand for miles and miles. Though it felt like imagination, the reality was clear and truly unbelievably amazing.
As we headed back from the beach to the airport I could feel the excitement inside starting to bubble out and I was SO happy to have Jeff by my side to turn and smile from ear to ear with—we both knew it was an incredible shoot without having seen the images.
Saying our "Gratzi's and Ciao's" to the pilots, we headed into a beautiful La Dolce Vita day...
and then got up the next day to do it again.
This day was all about a stretch of beach that extends from the town of Cuttica to Rimini...
I was particularly excited to shoot this area of Italy because of how wide the beach is from the shore to the water offering an amazing vantage point of thousands of umbrellas in one image.
Due to the airspace of a nearby commercial airport, we flew twice as high as our flight on the other coast which made for amazing differences in the scale of the imagery. Flying along the beaches of Cottica, Miramare, Rivazzura, Marebello, Viserra, Viserbella, Bellariva, Rivabella, and Rimini, each stretch has it's own feel from the colors of the umbrellas to the distance of the walking paths leading to the shore in each beach club below.
As we came back along the shore I tried to pause for a moment to take it in but with so many 'La Dolce Vita' moments unfolding beneath my dangling feet, I glued my eye to the viewfinder and documented every single beach and umbrella pattern I could find.

At the end of the flight I took my signature image of my feet extended out of the helicopter before we headed back to the farm where we started. I checked my battery and there was still a quarter left- I officially had completed the shoot!

Today is June 21st, the summer solstice and also the anniversary of 'legal' wedding which took place in 2012 in Providence Town, Rhode Island. Unfortunately gay marriage wasn't legal in California when we got married so we had to have a small legal ceremony before our official wedding. We sipped prosecco and dined on the local fruits of the sea as the sun set over the longest day of year—such a great day to end our time in Rimini before heading south.
July 3rd marked the last aerial shoot of the trip and it was all about capturing the beauty of the Amalfi Coast, Positano, and glamorous, Capri.
After an adventurous car ride to find the helipad for our helicopter ride over Amalfi Coast, Positano and Capri, I was thrilled to find such beautiful weather.
The shoot was just stunning. Seeing Capri and the Amalfi Coast, which we had just explored so carefully on foot and by boat was a treasure to observe from above. I recognized so many umbrellas, swimming pools, caves, villas—it reminded me how amazing the aerial perspective can be over something you think you already know so well.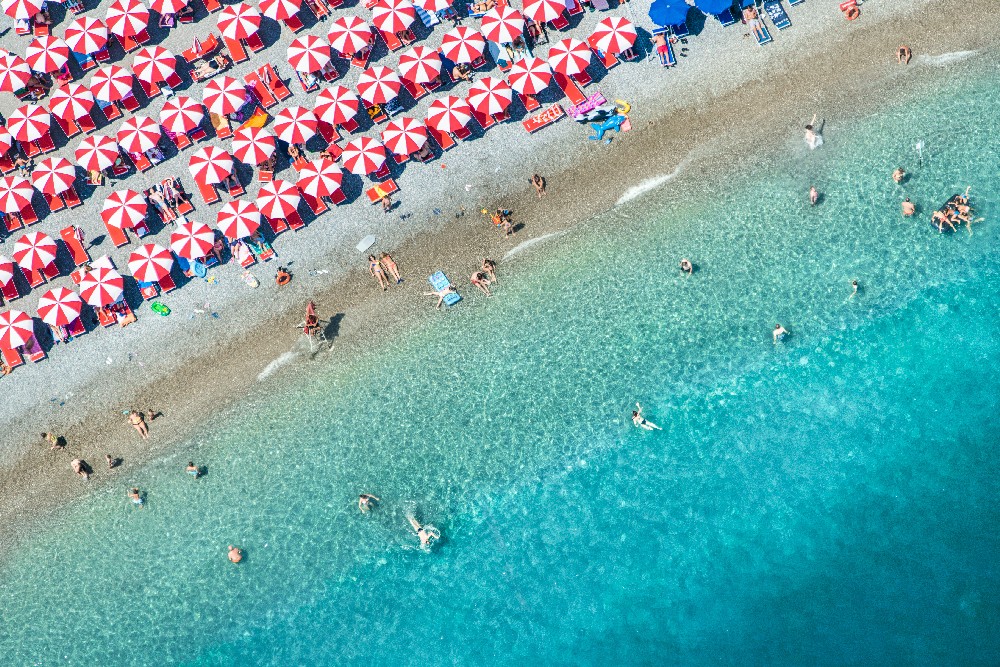 Though incredibly famous, Amalfi actually has quite a small beach in comparison to Positano and therefore everyone is tightly packed together. Though it may not be ideal for the average sunbather, it's really great for me!
As for Capri, though totally overrun with tourists, it is a true slice of heaven on earth...and it's no different from above.
Taking in the enchanting scenery in by air is highly recommended for a view that is truly breathtaking. It was the perfect end to an aerial photo shoot that was a long time coming!
And just like that, it was complete and we were off on a 4 hour drive to Rome for the last and final leg of our Italy 2015 Road Trip.
First stop?
Gelato! I mean...the historic Colisseum, of course.
Thanks so much for taking a trip down memory lane with me!
Ciao!
xx
GM