Hi Everyone,
I am so excited to share today's nursery tour as this particular Mommy played a pivotal role in helping my series, Gray Malin at the Parker, come into fruition! It's my pleasure to introduce you all to Marisa and her sweet baby girl, Olivia.
Together with the two of them, I am thrilled to highlight her Parker styled nursery, as well as officially announce the pre-sale of my very first children's book inspired by...you guessed it, the Gray Malin at the Parker series!
Growing up, I loved all of my picture books, especially ones like Eloise at the Plaza. Although, not quite as mischievous, I like to think that if Eloise had lived in an animal-only hotel, it would have had the style and whimsy of the Parker. Just reading Be Our Guest! will whisk children away on a temporary holiday, which is nothing less than extraordinary. Creating a children's book based on this particular series is something that I had been pondering from the very first installment in 2015; to back up a bit, though, lets first talk with Marisa about how the opportunity to do the series first began...
Marisa, in your own words, will you tell our readers what you do for the Parker Palm Springs?
My official title is Vice President of Marketing & Development for the Jack Parker Corporation (the parent company of the Parker Palm Springs, Parker New York, real estate & some restaurants). Essentially what that means is that I oversee Public Relations, Marketing, Business & Brand Development for the hotel.
Needless to say, Marisa's position keeps her plenty busy. However, one fateful night, I had the lucky chance of meeting her. I'll let Marisa do the honors though of telling the story..
Gray and I met through a friend, Kelly from the blog Kelly Golightly. We had a mutual love affair. I was (and am) a huge fan of his work and Gray's favorite hotel is the Parker Palm Springs. We started chatting about how we could collaborate on something and Gray had the idea for something whimsical which resulted in an array of beautiful animals being shot in and around the hotel.
And, what did you think when you first heard the idea about using the series for a children's book?
Gray and I had discussed the idea of a coffee table book for a while that would showcase these amazing images at the Parker Palm Springs. Then Gray had this idea of turning it into a children's book which I thought was brilliant. What better way then to share these images of beautiful animals than with kids.
Out of the three installments of the series, do you have a favorite group of animals?
They all are amazing in their own ways but I'd have to say the monkey, the elephant and the lion. The personality of the monkey was just so fun! She was so easy to work with and entertained us immensely. The elephant was beyond sweet and the lion was incredible to see up close. Totally majestic and you understand why they are the king of jungle.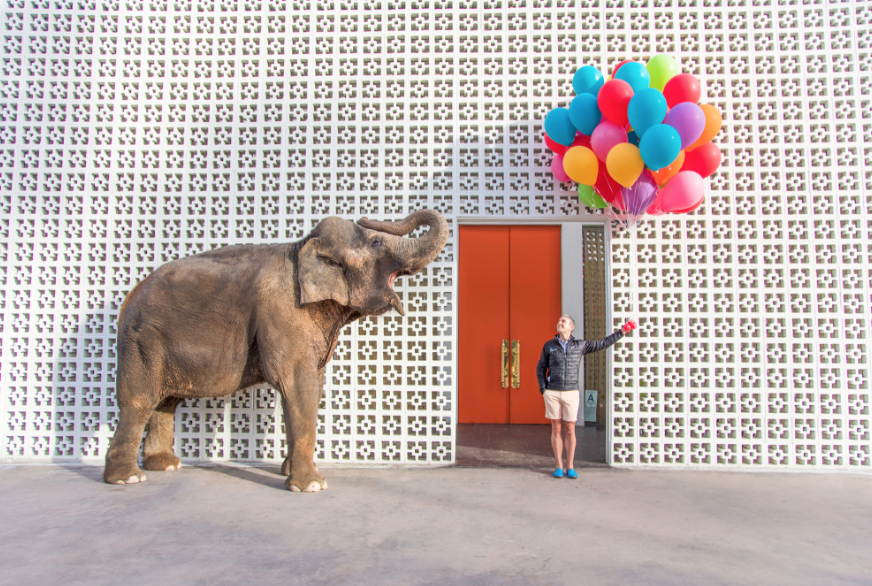 And last question before we get to Olivia's adorable nursery...
Any funny moments from the 3 shoots that you'd like to share?
There are so many funny moments from the shoots but I'd say my most memorable one was when we were shooting Tiny, the Giraffe for the 'Lifeguard on Duty' photograph. We had the hotel notify all of the guests and make sure the area was clear. We happened to hear some rustling in the bushes and turned to see a group of guests hiding in the bushes with their cameras. They looked like they were on their very own safari at the Parker!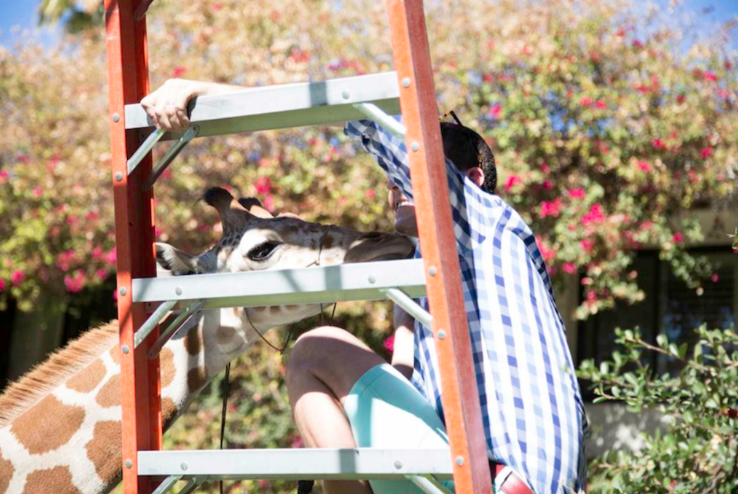 Haha! YES! I totally remember that moment, too! It is totally understandable, though. I can't say I'd do any different if I were a guest and received that notice! Okay, now let's talk nursery decor..
What was your decor inspiration for your daughter's nursery?
So a few years ago on our very first shoot together I told Gray that when I have a child I am going to have 'Afternoon Croquet' hanging in the nursery. Something about that shot from the first series really resonated with me. I thought the colors and setting was just perfect. So when my husband and I were expecting we both knew we had to go with an animal theme and incorporate Gray's work throughout. Then, my husband spotted the Fiona Walker animal heads in a store and a few of those sprinkled throughout was the perfect compliment.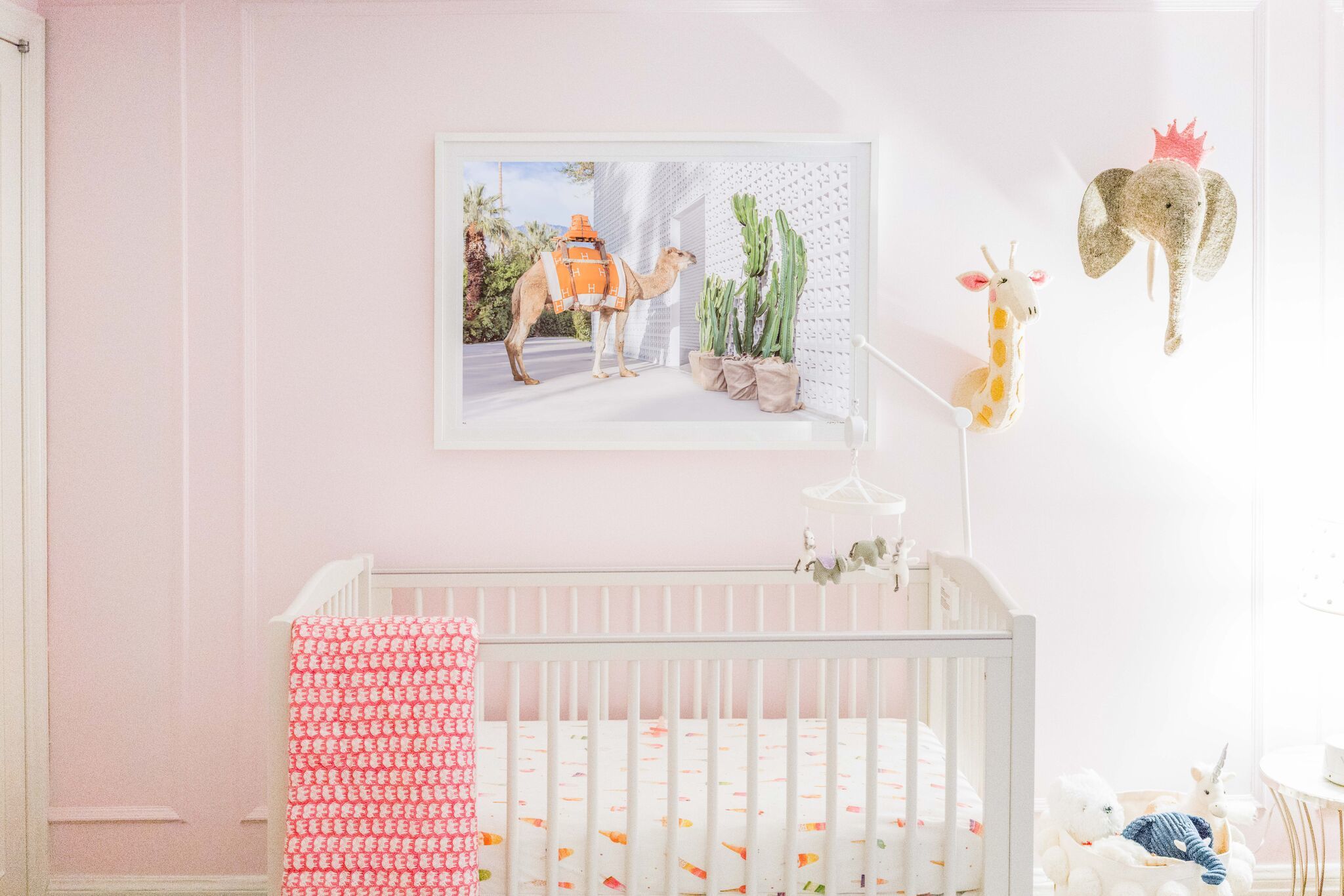 Aside from Gray's art, we have two small pieces of art that family made. One is from Derek's father and one is from my mother. Adding those in had a special touch. For the rest of the room we tried to go pretty neutral using a lot of grey and white since we had so much color from the walls.
It turned out beautifully! I really love the soft pink shades combined with the pops of orange in the Parker prints. So, dying to ask...
As a new Mom, what do you think is special about Be Our Guest!?
I have been reading to my daughter Olivia since she was only a few weeks old. There are a bunch of great children's books out there and a lot of not-so-great ones. The thing I realize though is that so many have illustrations vs. real pictures. The fact that Be Our Guest has real pictures of animals but tells a story in a fun, bright & magical way is perfect. It captures her attention but lets her learn about the animals at the same time.
Oh, this makes me so HAPPY! I love that Olivia is one of the very first children to enjoy Be Our Guest! To learn about where you can pre-order this darling children's book, look no further than right HERE. The official release is May 1st, and we are sure to celebrate it in true GM fashion...hint, book tour. ;)
Thank you Marisa for sharing Olivia's sweet nursery, and thank you all...as always for following along.
Cheers,
xx
GM