Hi Everyone,
I wanted to take you on another home tour to hopefully inspire you to give your home a little refresh with our Free Framing and Shipping promotion on graymalin.com. Today's gorgeous Chicago home belongs to blogger Andrea Denes. These images are so dreamy and I know you'll love them as much as I do.
Hi Andrea, thank you so much for welcoming us into your home, can we start off by having you tell us a little about yourself?
Hi everyone! I'm Andrea from @lifeoncedarlane. I'm a wife and mom to four kiddos ages 8 to 3, and we live in a northern suburb of Chicago on Cedar Lane. Life is super busy these days with the kids, but when I have a moment to myself (or a babysitter lined up) I love sneaking away for a date night with my husband or dinner with friends. Now that our littlest one is three I'd love to focus more on another passion of mine which is traveling, and have some exciting trips in the works! Most of the time though, I'm totally content snuggling up at home with a big glass of wine and some Netflix!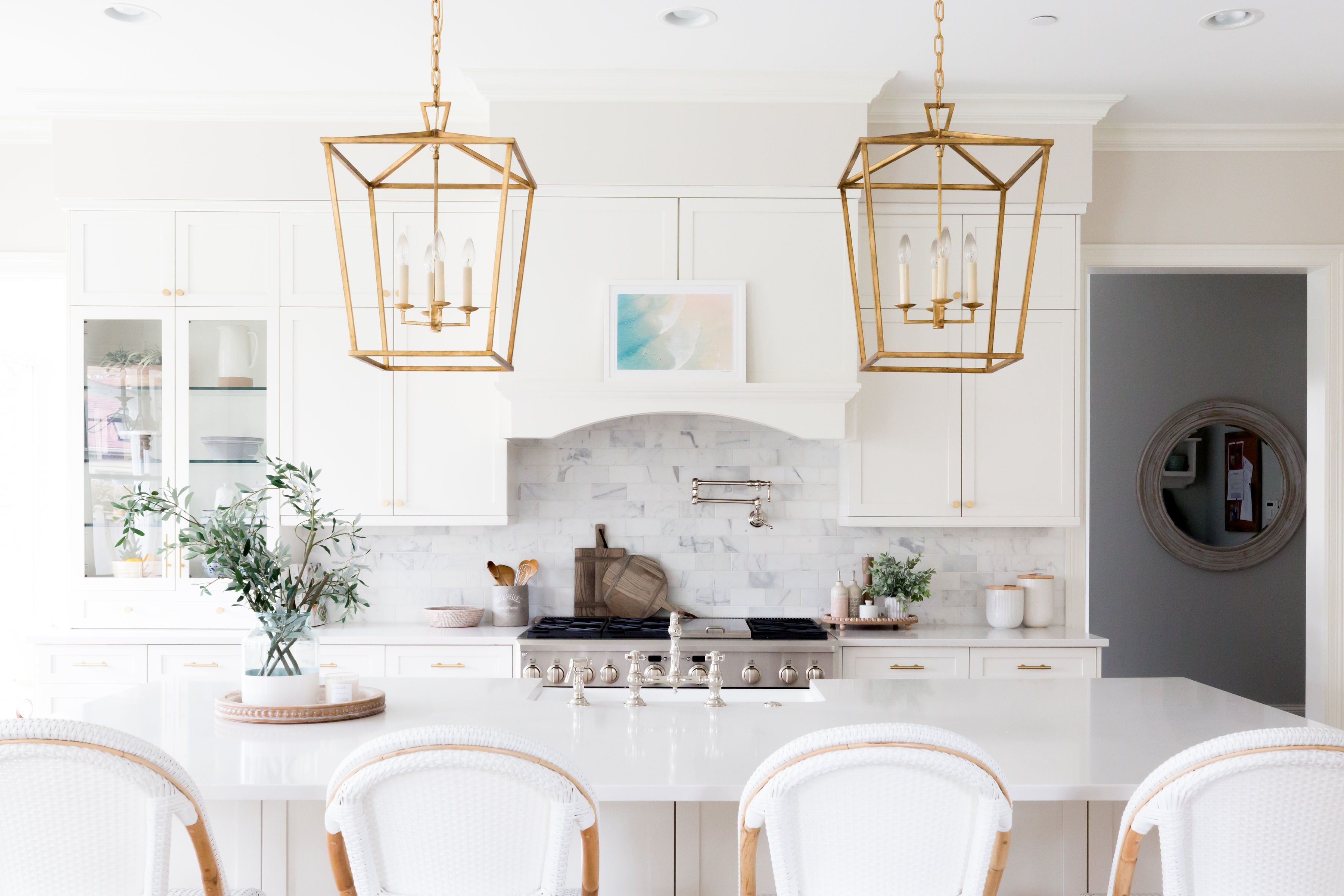 Will you tell us a little bit about what life as a blogger is like?
My business all started with my instagram account, and I value each and every reader who decides to follow along on this journey of mine. They are my true motivation, I absolutely love creating and sharing beautiful content for them. And interacting through comments and messages, assisting with decor and design questions whenever possible.

On the flip side, I also work with brands and share their products or promotions with my readers as well. I really think through each and every collaboration request to make sure it truly aligns with my brand and something my readers would love. I've had some amazing opportunities to work with companies I love such as Pottery Barn, Homegoods and Serena & Lily to name a few.

Now that we're in full on holiday mode I also spend a ton of time making my blog a resource for all things shopping, from Black Friday deals to all sorts of gift guides...I absolutely love sourcing out fun gift ideas and amazing deals for my readers! Another highlight is attending events and conferences, the last two years I was lucky enough to be invited to the Better Homes & Gardens Stylemaker event.
When did you launch your blog and lifestyle page? What was the catalyst behind creating it? How has your journey been creating and running this business?
I started my instagram account with the initial intention to provide inspiration for others possibly going through the new build or renovation process. I found so much of my inspo on social media, so I thought it would be fun to share our experience. I was a stay at home mom before starting my blog, but always had a passion for design and decor. I found I was getting many questions about items in my home from decor to furniture, as well as the design choices I made. What turned into a once a day instagram post has now turned into a 24/7 full time job, and I love every second of it. Not that I'm actually working all day everyday, but the thing I didn't realize before starting my page is that social media is always "on". There are no 9-5 hours in this world, but that also allows me the flexibility to be home with my young kiddos and work around their schedule! But the blog is definitely a lot of work, especially during the holidays when I have a queue of content commitments and contracts. It can be challenging at times, especially when I have a deadline...and 4 kids asking why I'm on my phone so much, especially as I'm usually limiting their screen time. Like all things I'm learning to juggle it all, be the best mom while also running a successful business. It also helps that I love what I do, creating and designing spaces just makes me happy and I feel so lucky to have a job I'm so passionate about!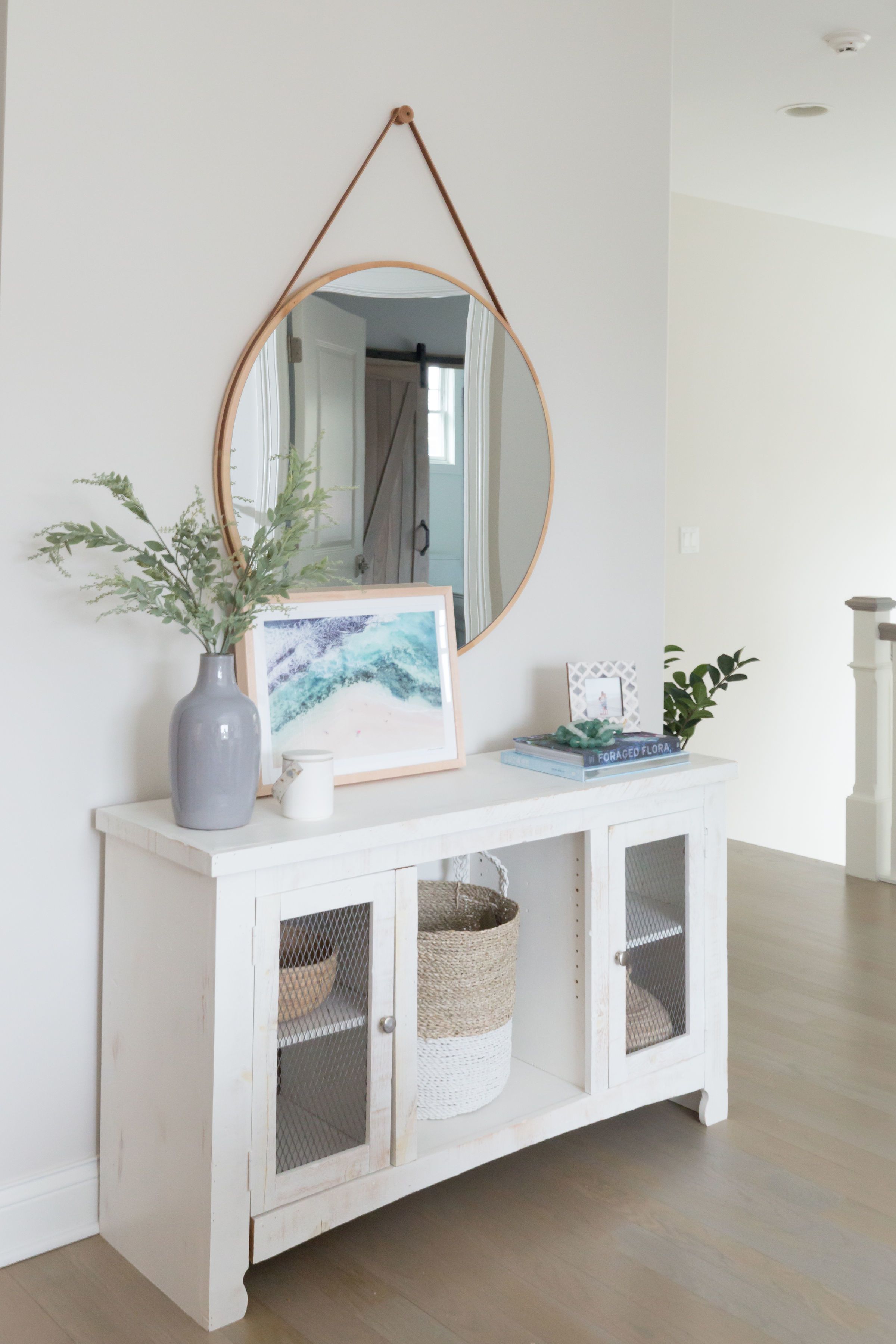 Will you tell us a little bit about your home?
We built and moved into our home a little over two years ago, a week before our oldest started Kindergarten which was also the same day we delivered our youngest son! It was a busy time to say the least! Since we designed our home ourselves, structurally everything was just how we planned it. But designing and sourcing decor for a completely empty home is a big job, and definitely a process. Two years later I'm still working on completing spaces in our home. Our home is roughly 4800 square feet, not including a finished basement. We have four bedrooms upstairs (we knew we were having a boy during the design phase) so the boys share a room so we could have an upstairs living space which we call the loft! Most of our main floor is open concept, I love cooking in the kitchen and still being able to watch my kids play in the living space. I would say my design styles leans traditional or classic. I love neutral styling with soft pops of color, and a slight hint of coastal elements. The water has always been a happy place for me, whether it's an ocean or lake...so I love bringing those touches into our home.

I also chose decor and furnishings that aligned with the needs of our family. I wanted our home to be beautiful but also comfortable for our family, a place my kids would always love coming home to. Whether now after a long school day or years from now when returning home during a college break. I loved the look of white sofas, but went with a slipcover option. I chose beautiful bistro stools for my kitchen, that easily wipe down. I think one of the things my readers appreciate is showing how you can have a light and bright home with small children. You don't have to sacrifice design choices, you just have to get creative!
Does your personal fashion style align with your interior decor style? If so, how?
This is a great question because it totally does! When I'm not in my mom uniform of workout clothes (even though I have no intention of going to the gym), I'm a total jeans and tee kinda girl. Casual and comfortable but still stylish! I like to invest in pieces that aren't overly trendy that will instead stand the test of time!
When were you first introduced to the GM brand? What was your first piece?
I have loved Gray Malin for as long as I've been passionate about design. As I mentioned a happy place for me is anywhere near water, so his aerial beach photographs truly speak to my soul. I own every single one of his coffee table books and recently received my first piece The Pink Umbrella, Hawaii which is a gorgeous aerial photograph of a beach in Hawaii. We honeymooned in Hawaii so this seemed like the perfect way to combine that special memory with our home decor.
As your collection has grown, what has inspired each selection?
Salt Pond Beach, Kauai - Again we honeymooned in Hawaii and have plans to return in the next year or so, so our children can experience that beautiful place. This print is absolutely gorgeous and creates such beautiful memories for me whenever I see it!

Two Waves, Byron Bay - This beautiful shot was photographed in Austraila, a must see on my travel bucket list. I'm not sure when we'll get there, but this beautiful image felt like it belonged in my kitchen with its beautiful muted colors and that perfect addition of coastal decor.

Lake Michigan Sailboat - This was taken over our very own Lake Michigan here in Chicago. Since I don't live near an ocean this lake is the next best thing, especially during the summers in Chicago! We always make several trips down to enjoy the lake with our family so it felt like the perfect additional to our entryway.

The Cabana: This print is so warm and inviting and perfect for our living room. I love how the colors are somewhat neutral, but it still stands out.
What about the Gray Malin lifestyle brand do you connect with?
I love how Gray Malin makes the jet setting lifestyle attainable for everyone! Additionally I can bring the beauty of these places into my home, relive old memories or look forward to making new ones at these amazing destinations. Our 15th wedding anniversary is next August and we're planning on a Mediterranean Cruise, and I've already scouted out the next piece I plan to add to my collection!
Andrea, thank you again so much for giving us a tour. The art looks so wonderful styled in your home and I can't wait to see what pieces you decide to add to your collection. If you're feeling inspired to refresh your home with new art, now is the perfect time with our Free Framing and Shipping promotion going on at graymalin.com. Happy shopping!
Cheers!
Xx
Gray
{"slides":[{"label":"Christen Joy's Colorful University Apartment Design","url":"/lifestyle/christen-joy-s-colorful-university-apartment-design","image":"https://res.cloudinary.com/gray-malin/image/upload/c_scale,w_1000,q_50,f_auto/gray-malin/blog_posts/hero_images/000/002/024/original/IMAGE_2.jpg?updated=1651554607"},{"label":"Tour Sarah Levy's Los Angeles Home","url":"/lifestyle/tour-sarah-levy-s-los-angeles-home","image":"https://res.cloudinary.com/gray-malin/image/upload/c_scale,w_1000,q_50,f_auto/gray-malin/blog_posts/hero_images/000/001/490/original/0-Sarah_Levy-11.jpg?updated=1574806365"},{"label":"Andrea Denes's Blissful Chicago Home","url":"/lifestyle/andrea-denes-s-blissful-chicago-home","image":"https://res.cloudinary.com/gray-malin/image/upload/c_scale,w_1000,q_50,f_auto/gray-malin/blog_posts/hero_images/000/001/487/original/00-header.jpg?updated=1574797181"},{"label":"The Sisters Suite by Serena and Lily and Palm Beach Lately at The Colony","url":"/lifestyle/the-sisters-suite-by-serena-and-lily-and-palm-beach-lately-at-the-colony","image":"https://res.cloudinary.com/gray-malin/image/upload/c_scale,w_1000,q_50,f_auto/gray-malin/blog_posts/hero_images/000/001/517/original/1-PB_lately-1.jpg?updated=1578610731"},{"label":"Michelle Berdan's Laid Back Home by the Beach","url":"/lifestyle/michelle-berdan","image":"https://res.cloudinary.com/gray-malin/image/upload/c_scale,w_1000,q_50,f_auto/gray-malin/blog_posts/hero_images/000/001/884/original/0-Michelle_Madsen-10_copy.jpg?updated=1617066488"},{"label":"Instant Refresh","url":"/lifestyle/instant-refresh","image":"https://res.cloudinary.com/gray-malin/image/upload/c_scale,w_1000,q_50,f_auto/gray-malin/blog_posts/hero_images/000/001/984/original/Rainbow_Ridge-1.jpg?updated=1643241774"},{"label":"Amy Tangerine's Vibrant Mid-Century Modern Los Angeles Home","url":"/lifestyle/amy-tan-s-vibrant-mid-century-modern-los-angeles-home","image":"https://res.cloudinary.com/gray-malin/image/upload/c_scale,w_1000,q_50,f_auto/gray-malin/blog_posts/hero_images/000/001/948/original/0.jpg?updated=1638900812"},{"label":"Gray's Holiday Home Tour 2021","url":"/lifestyle/gray-s-holiday-home-tour-2021","image":"https://res.cloudinary.com/gray-malin/image/upload/c_scale,w_1000,q_50,f_auto/gray-malin/blog_posts/hero_images/000/001/945/original/Holiday_Home_Tour19.jpg?updated=1637510540"}],"label":"Have You Seen?"}
{"id":null,"number":null,"item_total":"0.0","total":"0.0","ship_total":"0.0","state":"cart","adjustment_total":"0.0","user_id":null,"created_at":null,"updated_at":null,"completed_at":null,"payment_total":"0.0","shipment_state":null,"payment_state":null,"email":null,"special_instructions":null,"channel":"spree","included_tax_total":"0.0","additional_tax_total":"0.0","display_included_tax_total":"$0.00","display_additional_tax_total":"$0.00","tax_total":"0.0","currency":"USD","considered_risky":false,"canceler_id":null,"display_item_total":"$0.00","total_quantity":0,"display_total":"$0.00","display_ship_total":"$0.00","display_tax_total":"$0.00","display_adjustment_total":"$0.00","token":null,"checkout_steps":["address","delivery","complete"],"bill_address":null,"ship_address":null,"line_items":[],"payments":[],"shipments":[],"adjustments":[],"credit_cards":[],"promotions":[],"total_shipment_cost":"$0.00","permissions":{"can_update":false},"use_shipping_for_billing":true,"use_new_ship_address":true,"use_new_bill_address":false,"selected_ship_address":null,"selected_bill_address":null,"display_completed_at":null,"item_count":0,"subtotal_minus_promos":"$0.00","coupon_codes":[],"includes_framed_items":false,"contains_subscription":false}
This site uses cookies to allow better navigation. By closing this banner, scrolling this page or clicking any of its elements, you are giving consent to all cookies. To learn more and to change your preferences please see our Cookies Policy.