Hi Everyone!
I wanted to share a beautiful home tour to help you make some decisions this holiday season during our 25% off sale. I always love to see how others style my art in their homes, especially when their style is so different from my own. I'm so thrilled Amy was willing to take the time to share her chic style with all of us. Without further ado, let's get started!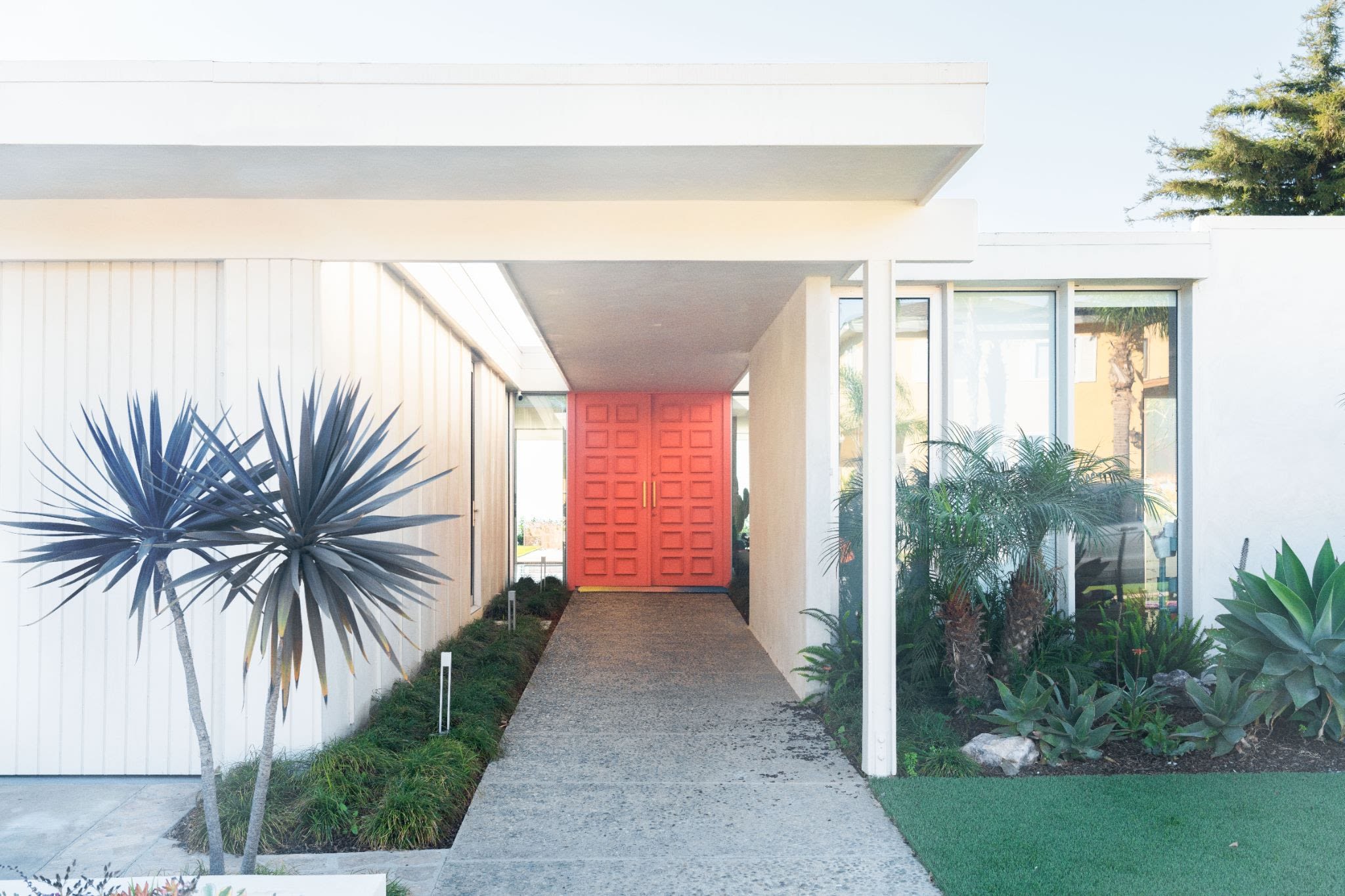 1. Please tell us a little about yourself - where you live, what you like to do for fun, etc
I'm a multi-passionate maker living in Los Angeles, CA with my longtime partner and 2 kids. I enjoy going to the beach and on hikes, and love spending quality time with my family and friends. Taking snapshots and documenting memories is something I value and I love sharing our adventures in various ways.
2. Your career is pretty multi-faceted, could you tell us a little bit about what all you do?
For over 20 years, I've had my own business and have been working to help everyone find their path in life through creativity, positivity, and, of course, crafts! As author of Craft a Life You Love and producer of a YouTube series geared towards empowerment, I've dedicated my career to being that optimistic voice that helps you find the confidence you need to pursue your life's goals. No dream is too big or out of reach in my opinion, and I think that we all have something fresh to bring to the table. I scrapbook, art journal and love sharing bits and pieces of my life. My second book, Making Memories, which focuses on creativity and mindfulness for kids ages 8 and up launches in February 2022!
3. Will you tell us a little bit about your home? (details like apprx size, amount of rooms, architecture style - trying to convey what you were working with when you moved in, essentially)
Our mid-century modern home was built in 1965 and we are just the second owners. We were really lucky to have found the home after a long search and 3 other houses which we were outbid on. We believe we ended up in the right place after all and it really does feel like a sanctuary. Initially we planned just a bit of renovation work that began at the beginning of the pandemic, however after meeting with our architect and GC, the project definitely grew. It was important to keep the integrity of the home (overall floor plan, atriums and terrazzo floors were a huge draw for us). However the huge 80's kitchen, textured ceilings and old roof and pool had to go. Our patience was definitely tested several times when new discoveries were made about additional issues that needed to be addressed. We originally had planned on using the 4th bedroom as a guest room, and while renovating, we found out we were pregnant in April 2020, and decided it would be the perfect room for the baby!
5. How did you go about decorating the interior of this home and how did it differ from the decor in your other home?
Though all the walls were intentionally painted white, we aren't afraid of color and whimsy, and had planned on decorating with specific colors for each room. Our dining room is unofficially the blue room, the living room is primarily mustard. It took us a long time to find a sofa that we loved and was comfortable. Then it was just a matter of finding the perfect pieces of art to hang above it. My husband has always wanted to collect art and this space gives us a lot of freedom to explore. We also kept with the mix of old and new. Looking for special vintage pieces was important to us, but after having a vintage sofa (good looking but not comfortable at all) when our son was a baby, a comfortable couch was really important to me this time around. Finding unique, interesting and meaningful pieces was a priority for us and during the pandemic felt a bit challenging as we were seeing a lot of photos online but weren't able to see much in person.
6. Do you feel that covid had an impact on how you value the decor in your home or how you went about decorating it? Is it more important to you now to cultivate a certain vibe or design style?
I think it really brought to light the importance of loving your home and how it feels. You should feel joy and comfort while also being able to not just function, but thrive. The pandemic allowed us time to pause and reflect on what matters most, and one of the essential things for us was to have our space feel like a big exhale upon walking in. A couple people have said it feels very Palm Springs, which is a huge compliment for us.
7. When were you first introduced to the GM brand? What was your first piece?
I've been following his work for years though I can't remember specifically where I first saw his work. I feel like Gray and I are friends though (haha) after meeting serendipitously at The Parker in Palm Springs several years ago when he was shooting the first piece we got (see here). Our daughter Juniper who just turned 1 loves to wave goodnight to Eliza as she now happily hangs in the hallway.
8. As the collection grew, what was the thinking behind each selection?
There's a personal connection to every piece I selected, even though it was very hard to narrow down because I love so many of Gray's pieces. Many of them would work in our home and especially on top of the yellow sofa, but we finally chose the bananas for the quirkiness, colors and uniqueness. We have never visited salt flats of any kind, but it's on our list. The Kauai piece holds a special place in our hearts because it's where JC proposed. It's an unconventional story but he didn't get down on one knee and he didn't have a ring in hand, but it was absolutely perfect for us. Since one of my favorite places is the beach, I love the aerial of Bondi in particular because Jack's first international trip was to Sydney, Australia. The Big Sur piece reminds us of our family road trip down the coast from San Francisco to Los Angeles this summer.
9. What about the Gray Malin lifestyle brand do you connect with?
Everything - the optimism, bright outlook, and feelings evoked when we look at the pieces just brings such a sense of peace and comfort. We have many of Gray's books on our shelves too! The bookcases were original and a huge draw for us for this house, even though we ended up removing one of them to open up the kitchen.
10. Do you have any hot tips or tricks for decor in 2022?
Do what makes you happy! Find pieces you love and feel connected to that inspire you to live your best life. And just because you can DIY it, if the process doesn't bring you joy, you have permission to let it go. Investing in the art that makes your space feel the way you want is worth it. Even down to the candle in the powder room, details matter. And Gray's candles specifically smell amazing even when they aren't lit!
Amy, thank you again for sharing your beautiful space with us and taking time to share about your home, life, and career. Make sure to stay up to date with Amy by following her on Instagram and checking out her blog.
Cheers!
Xx
Gray
{"slides":[{"label":"Christen Joy's Colorful University Apartment Design","url":"/lifestyle/christen-joy-s-colorful-university-apartment-design","image":"https://res.cloudinary.com/gray-malin/image/upload/c_scale,w_1000,q_50,f_auto/gray-malin/blog_posts/hero_images/000/002/024/original/IMAGE_2.jpg?updated=1651554607"},{"label":"Tour Sarah Levy's Los Angeles Home","url":"/lifestyle/tour-sarah-levy-s-los-angeles-home","image":"https://res.cloudinary.com/gray-malin/image/upload/c_scale,w_1000,q_50,f_auto/gray-malin/blog_posts/hero_images/000/001/490/original/0-Sarah_Levy-11.jpg?updated=1574806365"},{"label":"Andrea Denes's Blissful Chicago Home","url":"/lifestyle/andrea-denes-s-blissful-chicago-home","image":"https://res.cloudinary.com/gray-malin/image/upload/c_scale,w_1000,q_50,f_auto/gray-malin/blog_posts/hero_images/000/001/487/original/00-header.jpg?updated=1574797181"},{"label":"The Sisters Suite by Serena and Lily and Palm Beach Lately at The Colony","url":"/lifestyle/the-sisters-suite-by-serena-and-lily-and-palm-beach-lately-at-the-colony","image":"https://res.cloudinary.com/gray-malin/image/upload/c_scale,w_1000,q_50,f_auto/gray-malin/blog_posts/hero_images/000/001/517/original/1-PB_lately-1.jpg?updated=1578610731"},{"label":"Michelle Berdan's Laid Back Home by the Beach","url":"/lifestyle/michelle-berdan","image":"https://res.cloudinary.com/gray-malin/image/upload/c_scale,w_1000,q_50,f_auto/gray-malin/blog_posts/hero_images/000/001/884/original/0-Michelle_Madsen-10_copy.jpg?updated=1617066488"},{"label":"Instant Refresh","url":"/lifestyle/instant-refresh","image":"https://res.cloudinary.com/gray-malin/image/upload/c_scale,w_1000,q_50,f_auto/gray-malin/blog_posts/hero_images/000/001/984/original/Rainbow_Ridge-1.jpg?updated=1643241774"},{"label":"Amy Tangerine's Vibrant Mid-Century Modern Los Angeles Home","url":"/lifestyle/amy-tan-s-vibrant-mid-century-modern-los-angeles-home","image":"https://res.cloudinary.com/gray-malin/image/upload/c_scale,w_1000,q_50,f_auto/gray-malin/blog_posts/hero_images/000/001/948/original/0.jpg?updated=1638900812"},{"label":"Gray's Holiday Home Tour 2021","url":"/lifestyle/gray-s-holiday-home-tour-2021","image":"https://res.cloudinary.com/gray-malin/image/upload/c_scale,w_1000,q_50,f_auto/gray-malin/blog_posts/hero_images/000/001/945/original/Holiday_Home_Tour19.jpg?updated=1637510540"}],"label":"Have You Seen?"}
{"id":null,"number":null,"item_total":"0.0","total":"0.0","ship_total":"0.0","state":"cart","adjustment_total":"0.0","user_id":null,"created_at":null,"updated_at":null,"completed_at":null,"payment_total":"0.0","shipment_state":null,"payment_state":null,"email":null,"special_instructions":null,"channel":"spree","included_tax_total":"0.0","additional_tax_total":"0.0","display_included_tax_total":"$0.00","display_additional_tax_total":"$0.00","tax_total":"0.0","currency":"USD","considered_risky":false,"canceler_id":null,"display_item_total":"$0.00","total_quantity":0,"display_total":"$0.00","display_ship_total":"$0.00","display_tax_total":"$0.00","display_adjustment_total":"$0.00","token":null,"checkout_steps":["address","delivery","complete"],"bill_address":null,"ship_address":null,"line_items":[],"payments":[],"shipments":[],"adjustments":[],"credit_cards":[],"promotions":[],"total_shipment_cost":"$0.00","permissions":{"can_update":false},"use_shipping_for_billing":true,"use_new_ship_address":true,"use_new_bill_address":false,"selected_ship_address":null,"selected_bill_address":null,"display_completed_at":null,"item_count":0,"subtotal_minus_promos":"$0.00","coupon_codes":[],"includes_framed_items":false,"contains_subscription":false}
This site uses cookies to allow better navigation. By closing this banner, scrolling this page or clicking any of its elements, you are giving consent to all cookies. To learn more and to change your preferences please see our Cookies Policy.