Hi Everyone,
I hope you all had a wonderful long weekend! I'm excited today to share the beautiful home of Amy Tangerine. With her husband and adorable son, Jack, she has put together a home that is picture perfect. Who's better to tell you about it, though, than Amy herself....needless to say, prepare to be inspired and ready to take advantage of our extended FREE FRAMING hours.
Amy, will you please tell us a little about yourself - where you live, what you like to do for fun...?
I live in Culver City, California with my husband JC and son, Jack. When I'm not running my company, Amy Tangerine, I love painting, hiking, traveling, reading and playing with Jack. I'm obsessed with paper crafting and making stuff. Taking photos and documenting memories is something I value and I love sharing our adventures in various ways.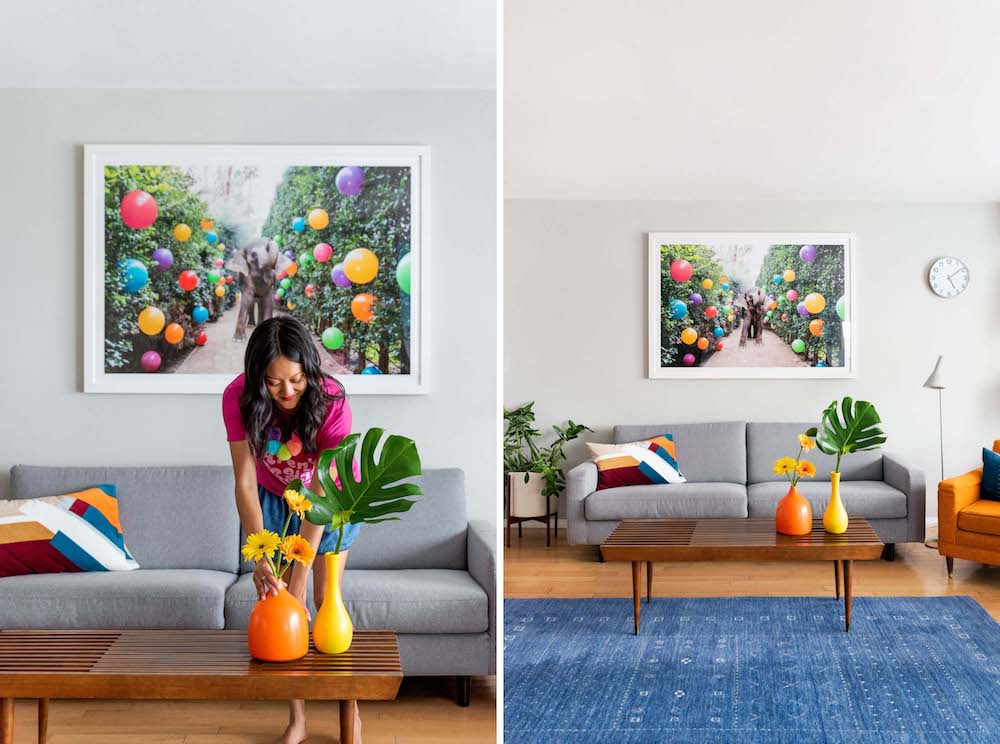 Could you give us an overview about what your business is all about?
Amy Tangerine has been a lot of things from a styling and production company to a t-shirt line and scrapbooking collections, just to name a few. In 2017 I self-published Craft a Life You Love and it ended up getting picked up by Abrams. The expanded and color edition is available now. Our products have changed throughout the years, however, I believe our main values have remained the same - inspiring people to infuse more creativity, fun and intention in their everyday lives.
Congrats on the book! My books were published via Abrams, as well and it's been such an exciting experience being a published author. I hope you're enjoying it!
When did it all launch?
My company was a happy accident. Initially, I worked as a fashion stylist and produced photoshoots. I came up with the name at that point. When I started making arm warmers and hand-stitched shirts, it seemed fitting to have it all under the same name— Amy Tangerine. In my twenties, I focused on branding without realizing. Knowing I started something back in 2002 and watching it evolve and adapt in a way that is unique is one of the best things about being an entrepreneur.
What inspired you to choose this Gray Malin print(s)? How did it fit into your style?
The elephant print has several special meanings for us, which is why we love it so much. My in-laws used to have quite a collection of elephant icons in their home. I visited several elephant sanctuaries in Thailand and when JC and I were in South Africa, we spotted several elephants, including babies. They are such fascinating and lovely animals. Also, serendipitously, I happened to be at The Parker when this photo shoot was happening. In fact several friends and I walked up right when Eliza was being walked through the path after she was done with this shot. We saw the balloons and Gray was kind enough to talk with us and even pose for a photo!
OH wow! I love that we got this photo together! And, I couldn't agree more on how serendipitous it is for you to have Party at the Parker II for your very own.
The wallaby print is perfect for Jack's room because his first international trip was to Australia. One of my favorite photos of us as a family is a simple snapshot taken from the trip when he was 17 months and feeding a kangaroo.
Since getting your GM prints, does your space feel different? Has it triggered anything new, once seeing it come to life in your home?
For Jack's room, we were working on figuring out what to do with the large wall. Because I knew it would be perfect to go along with his other loves of reading, Lego "guys" and art, we had the custom shelves built in a way that would work with framed pieces around it. We just love the colors and it brings a smile to everyone's face when they see it.

Whereas in the Living Room, it's really the focal point and came at the perfect time as we had just gotten rid of our TV and cable and we were searching for the perfect piece to go on the large wall. It brings such joy and brightens up our happy home in the most wonderful way.
I love it! Tell me more about your interior style, in general.
This is the first house JC and I have ever owned. We purchased it together when I was pregnant and we take great pride in making it our own. We had a rule (because I tend to like a lot of stuff) that we would only bring in items we truly loved. Our home is decorated with neutrals and accented with bright pops of color. I guess we have an eclectic mix of mid-century modern with a twist. I love the element of surprise while streamlining things too. We like to mix old and new, with many of our pieces coming from the flea market. I'm an aspiring minimalist but may be a hoarder at heart. Ha! We also found this amazing handyman who helps us build custom items like the bookshelves in our living/dining room.
There's nothing wrong with minimal hoarding, right? ;) Thank you so much Amy for sharing your home with us...I absolutely love the multifaceted connection you have to your Gray Malin at the Parker prints. If you love Amy's style as much as I do, be sure to follow along at Amy Tangerine and @amytangerine....and be sure to take advantage of the final (extended) hours on Free Framing & Shipping!
Cheers,
xx
GM
{"slides":[{"label":"How to Pick the Right Lighting For Your Home","url":"/lifestyle/how-to-pick-the-right-lighting-for-your-home","image":"https://res.cloudinary.com/gray-malin/image/upload/c_scale,w_1000,q_50/gray-malin/blog_posts/hero_images/000/001/363/original/0-GillianSegal_Hamilton_G5A9402_copy_2.jpg?updated=1565981564"},{"label":"How To Pull Off Pantone's Summer Color Trends in Your Home","url":"/lifestyle/how-to-pull-off-pantone-s-summer-color-trends-in-your-home","image":"https://res.cloudinary.com/gray-malin/image/upload/c_scale,w_1000,q_50/gray-malin/blog_posts/hero_images/000/001/326/original/00_Header.jpg?updated=1565371945"},{"label":"10 To-Die-For Rug + Print Combos","url":"/lifestyle/10-to-die-for-rug-print-combos","image":"https://res.cloudinary.com/gray-malin/image/upload/c_scale,w_1000,q_50/gray-malin/blog_posts/hero_images/000/001/325/original/0-Header-20190529-EAGLEROCK-HOME15332_EDIT.jpg?updated=1565370436"},{"label":"How To Bring New England Charm to Your Interiors ","url":"/lifestyle/how-to-bring-new-england-charm-to-your-interiors","image":"https://res.cloudinary.com/gray-malin/image/upload/c_scale,w_1000,q_50/gray-malin/blog_posts/hero_images/000/001/321/original/01-Header.jpg?updated=1565133332"},{"label":"Wheeler Coberly, Using Minis to Liven Up Small Spaces","url":"/lifestyle/wheeler-coberly","image":"https://res.cloudinary.com/gray-malin/image/upload/c_scale,w_1000,q_50/gray-malin/blog_posts/hero_images/000/001/318/original/0-Wheeler_Coberly-2.jpg?updated=1564088401"},{"label":"How to Translate Fashion's Rainbow Trend Into Your Interiors ","url":"/lifestyle/how-to-translate-fashion-s-rainbow-trend-into-your-interiors","image":"https://res.cloudinary.com/gray-malin/image/upload/c_scale,w_1000,q_50/gray-malin/blog_posts/hero_images/000/001/306/original/00_Header.jpg?updated=1562027355"},{"label":"Pool House Décor","url":"/lifestyle/pool-house-decor","image":"https://res.cloudinary.com/gray-malin/image/upload/c_scale,w_1000,q_50/gray-malin/blog_posts/hero_images/000/001/305/original/00_Header.jpg?updated=1562026618"},{"label":"A Designer's Most Commonly Asked Paint Questions ","url":"/lifestyle/a-designer-s-most-commonly-asked-paint-questions","image":"https://res.cloudinary.com/gray-malin/image/upload/c_scale,w_1000,q_50/gray-malin/blog_posts/hero_images/000/001/314/original/00-Header.jpg?updated=1563389603"}],"label":"Have You Seen?"}
{"id":null,"number":null,"item_total":"0.0","total":"0.0","ship_total":"0.0","state":"cart","adjustment_total":"0.0","user_id":null,"created_at":null,"updated_at":null,"completed_at":null,"payment_total":"0.0","shipment_state":null,"payment_state":null,"email":null,"special_instructions":null,"channel":"spree","included_tax_total":"0.0","additional_tax_total":"0.0","display_included_tax_total":"$0.00","display_additional_tax_total":"$0.00","tax_total":"0.0","currency":"USD","considered_risky":false,"canceler_id":null,"display_item_total":"$0.00","total_quantity":0,"display_total":"$0.00","display_ship_total":"$0.00","display_tax_total":"$0.00","display_adjustment_total":"$0.00","token":null,"checkout_steps":["address","delivery","complete"],"bill_address":null,"ship_address":null,"line_items":[],"payments":[],"shipments":[],"adjustments":[],"credit_cards":[],"promotions":[],"total_shipment_cost":"$0.00","permissions":{"can_update":false},"use_shipping_for_billing":true,"use_new_ship_address":true,"use_new_bill_address":false,"selected_ship_address":null,"selected_bill_address":null,"display_completed_at":null,"item_count":0,"subtotal_minus_promos":"$0.00","coupon_codes":[]}
This site uses cookies to allow better navigation. By closing this banner, scrolling this page or clicking any of its elements, you are giving consent to all cookies. To learn more and to change your preferences please see our Cookies Policy.