Hi Everyone,
With the summer in full swing, it's feels timely to explore the series of small towns along the Amalfi Coast, just about an hour south of Naples. The coastal towns include Nerano, Positano, Praiano, Amalfi, Minori, Maiori, and Vietare Sul Mare at the tail end. Soaring above in the hills, and not to be missed, is the picturesque town of Ravello with sweeping views of the coastline below. It is nearly impossible to see all of these towns in a day, given that many, like Positano, contain only one-way streets that require you to drive all the way into the town and back out in a giant loop.
So with that in mind, I give you the most time efficient way to see the towns, not to mention the most relaxing - rent a private boat accompanied with a local captain to guide you for the day. I recommend Blue Star boats, and Captain Mossimo. You'll not only get chartered around the gorgeous coastline, but you'll be served typical italian snacks like cheeses, olives, and breads, but you'll also be served a steady supply of Aperol Spritz as you bask in the sun on the bow of the ship.
A day on a boat cruising along the Amalfi coast is pure bliss, so without much further ado, let's enjoy a few sips and begin...
POSITANO
Step aboard on your private cruise and set sail along the Amalfi Coast — one of Italy's and in my opinion, the world's, most spectacular stretches of coastline.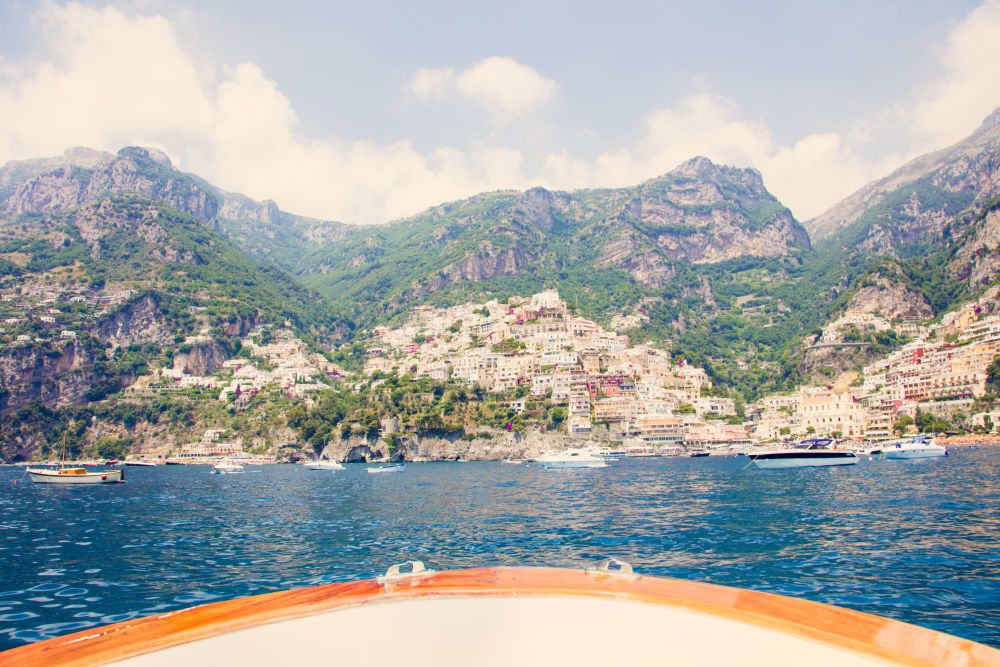 As you drift away, the view of Positano from the sea is perhaps one of the most famous views in all of Italy. From experience, I can say without hesitation it never gets old and neither does everything else you get to see along this tour. Up next...
PRAIANO
One of the fishing villages, Praiano is beautiful to see as its shoreline is scattered with a variety of colorful sailboats...
...as well as incredible private villas..think they'd mind if we climbed the stairs for a dip?
AMALFI
The Amalfi Coast is famous for its dramatic and impressive views, as the coastline is made of countless rock formations and sea caves. Throughout the day you will have the option to stop and swim in various coves, enjoy a seaside lunch, and explore the villages of your choice on land.
ATRANI
Continuing east from Amalfi, Atrani is a tiny town that may not get as much attention as Positano and Amalfi, but it is just as picturesque. I'd also say that Atrani's beaches are a bit less crowded than Amalfi and Positano too.
MINORI
The next few stops will go pretty quick as by this point, you're a very happy camper. Up next, Minori is scattered with tons of umbrellas and sunbathers enjoying the day. I captured this holiday'esque shot here.
MAIORI
With the longest unbroken stretch of beach on the Amalfi coastline, Maiori is a popular beach for tourists and locals alike.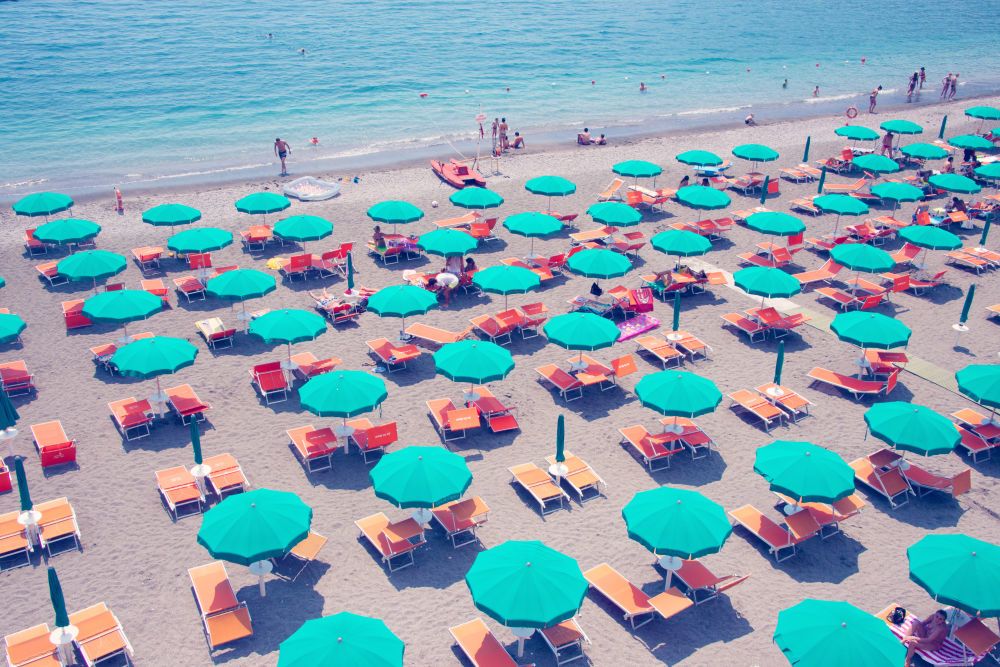 VIETRI SUL MARE
Vietri Sul Mare will mark the final destination of your tour but in reality, it is the entrance to the Amalfi Coast. With views that rival its neighbors, Vietri Sul Mare is a sight to see. Fun fact: it's also the place to enjoy the Italian liqueur, limoncello, as the coast is lined with lemon trees.
With a glass of Prosecco, enjoy the ride back to Positano along the lovely coast. Undoubtedly, you'll behold a beautiful sunset from this unique viewpoint along the coastline. Needless to say, if you'd like to enjoy the Amalfi Coast year round, now is the time to do it.
Cheers,
xx
Gray