Hi Everyone,
I hope you all had a wonderful Memorial Day weekend and are feeling refreshed from that extra day off from work. To kick it back into gear, I'm sharing an inspired decor story to enjoy and potentially - give you that final push to create one of your own! Today, we'll be heading to my hometown of Dallas and checking out the cabana reveal by Alicia of The Lust List.
Please tell us a little about yourself, Alicia...where you live, what you do for work and for fun?
I am the creative and foodie behind for The Lush List, a Dallas-based lifestyle blog focused on Personal Style, Food & Entertaining, Beauty, Travel and Interior Design. I've always created lists and The Lush List is where I share my ideas on style, recipes, entertaining, travel tips and great sales. My husband, Scott, and I are raising three wonderful, creative girls and sharing our love of food, serving our community and travel with them.
What about the Gray Malin lifestyle brand do you connect with?
I truly love traveling and capturing photos of the places we visit, but no one does this better than you! I love your eye for beauty and playfulness as well. I think something from the Parker Series has to be next! They radiate whimsy and joy to me.
Well, thank you! I really appreciate your kind words and I absolutely agree..Parker next!
We would love to know more about your style when it comes to decorating your home/dream space?
Our home is a mix of pieces we love both new and vintage. Nothing is too precious for my girls and their friends, though. A home should be filled with things you love but truly liveable for your family and guests as well. Our sofas and and chairs in the Cabana, Family Room and Breakfast Room are covered in Crypton Fabric so kids and their messes are no problem! I love a white as a backdrop and bringing in color in fun ways. Every room has my signature pop of pink even it is only the flowers. I didn't want the Cabana to be too girly so I kept with a beachy vibe using blues and grays.
What inspired you to choose this Gray Malin print? Do you have a personal connection to the location?
I have long admired your work and have always wanted a photograph in my home. Our Cabana is a fun space where we spend a lot of time. I knew this was just the place for it to be enjoyed by my family and friends. I would live by the ocean if I could and the Amalfi Beach White Umbrellas transports me there instantly. I dream of spending a month on the Amalfi Coast like you did!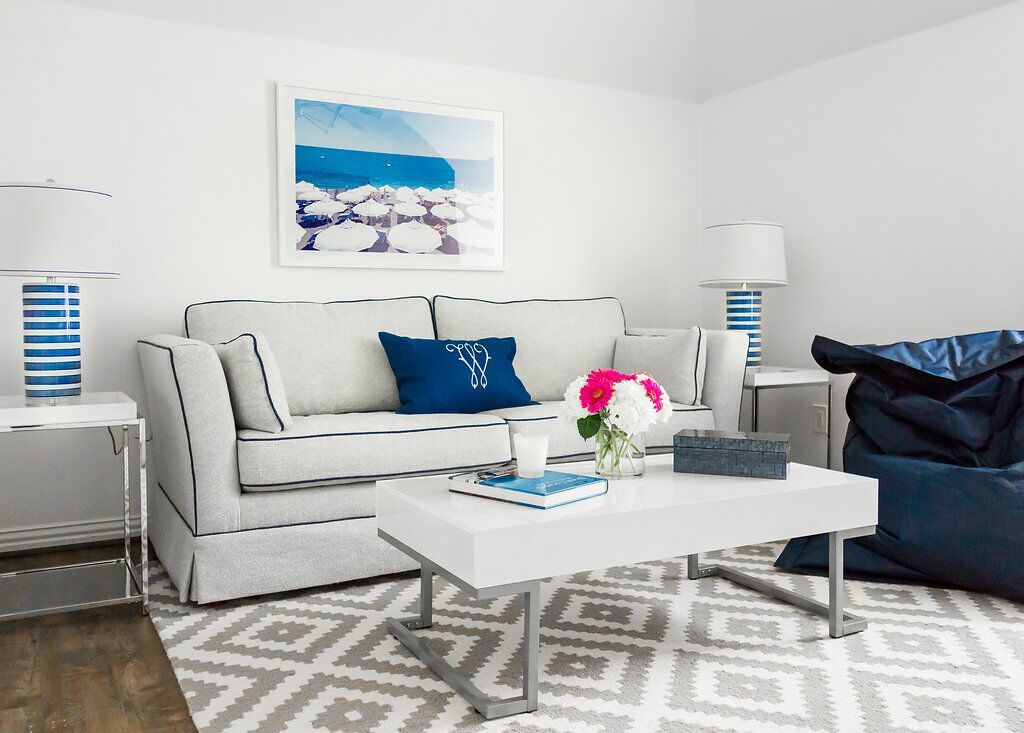 I'd love to do that (again), too! It truly is a magical place to be and I'm so happy you're now able to enjoy it on the daily with your La Dolce Vita print. Thank you so much for sharing the space with us, Alicia! And, as always - thank YOU all for following along.
Cheers,
xx
GM
{"slides":[{"label":"Christen Joy's Colorful University Apartment Design","url":"/lifestyle/christen-joy-s-colorful-university-apartment-design","image":"https://res.cloudinary.com/gray-malin/image/upload/c_scale,w_1000,q_50,f_auto/gray-malin/blog_posts/hero_images/000/002/024/original/IMAGE_2.jpg?updated=1651554607"},{"label":"Tour Sarah Levy's Los Angeles Home","url":"/lifestyle/tour-sarah-levy-s-los-angeles-home","image":"https://res.cloudinary.com/gray-malin/image/upload/c_scale,w_1000,q_50,f_auto/gray-malin/blog_posts/hero_images/000/001/490/original/0-Sarah_Levy-11.jpg?updated=1574806365"},{"label":"Andrea Denes's Blissful Chicago Home","url":"/lifestyle/andrea-denes-s-blissful-chicago-home","image":"https://res.cloudinary.com/gray-malin/image/upload/c_scale,w_1000,q_50,f_auto/gray-malin/blog_posts/hero_images/000/001/487/original/00-header.jpg?updated=1574797181"},{"label":"The Sisters Suite by Serena and Lily and Palm Beach Lately at The Colony","url":"/lifestyle/the-sisters-suite-by-serena-and-lily-and-palm-beach-lately-at-the-colony","image":"https://res.cloudinary.com/gray-malin/image/upload/c_scale,w_1000,q_50,f_auto/gray-malin/blog_posts/hero_images/000/001/517/original/1-PB_lately-1.jpg?updated=1578610731"},{"label":"Michelle Berdan's Laid Back Home by the Beach","url":"/lifestyle/michelle-berdan","image":"https://res.cloudinary.com/gray-malin/image/upload/c_scale,w_1000,q_50,f_auto/gray-malin/blog_posts/hero_images/000/001/884/original/0-Michelle_Madsen-10_copy.jpg?updated=1617066488"},{"label":"Instant Refresh","url":"/lifestyle/instant-refresh","image":"https://res.cloudinary.com/gray-malin/image/upload/c_scale,w_1000,q_50,f_auto/gray-malin/blog_posts/hero_images/000/001/984/original/Rainbow_Ridge-1.jpg?updated=1643241774"},{"label":"Amy Tangerine's Vibrant Mid-Century Modern Los Angeles Home","url":"/lifestyle/amy-tan-s-vibrant-mid-century-modern-los-angeles-home","image":"https://res.cloudinary.com/gray-malin/image/upload/c_scale,w_1000,q_50,f_auto/gray-malin/blog_posts/hero_images/000/001/948/original/0.jpg?updated=1638900812"},{"label":"Gray's Holiday Home Tour 2021","url":"/lifestyle/gray-s-holiday-home-tour-2021","image":"https://res.cloudinary.com/gray-malin/image/upload/c_scale,w_1000,q_50,f_auto/gray-malin/blog_posts/hero_images/000/001/945/original/Holiday_Home_Tour19.jpg?updated=1637510540"}],"label":"Have You Seen?"}
{"id":null,"number":null,"item_total":"0.0","total":"0.0","ship_total":"0.0","state":"cart","adjustment_total":"0.0","user_id":null,"created_at":null,"updated_at":null,"completed_at":null,"payment_total":"0.0","shipment_state":null,"payment_state":null,"email":null,"special_instructions":null,"channel":"spree","included_tax_total":"0.0","additional_tax_total":"0.0","display_included_tax_total":"$0.00","display_additional_tax_total":"$0.00","tax_total":"0.0","currency":"USD","considered_risky":false,"canceler_id":null,"display_item_total":"$0.00","total_quantity":0,"display_total":"$0.00","display_ship_total":"$0.00","display_tax_total":"$0.00","display_adjustment_total":"$0.00","token":null,"checkout_steps":["address","delivery","complete"],"bill_address":null,"ship_address":null,"line_items":[],"payments":[],"shipments":[],"adjustments":[],"credit_cards":[],"promotions":[],"total_shipment_cost":"$0.00","permissions":{"can_update":false},"use_shipping_for_billing":true,"use_new_ship_address":true,"use_new_bill_address":false,"selected_ship_address":null,"selected_bill_address":null,"display_completed_at":null,"item_count":0,"subtotal_minus_promos":"$0.00","coupon_codes":[],"includes_framed_items":false,"contains_subscription":false}
This site uses cookies to allow better navigation. By closing this banner, scrolling this page or clicking any of its elements, you are giving consent to all cookies. To learn more and to change your preferences please see our Cookies Policy.