Calling all cold-weather enthusiasts… While the temps in some parts of the country may have felt sub-zero for several weeks now, winter actually made its official arrival just a few days ago. Can you believe it? So with that in mind, we're here with some good news… there's still time to infuse your space with all that winter décor you've had sitting in your online shopping cart! (Yes, you can breathe a sigh of relief.) Ashley and Andrea of Avenue Interior Design are back on the blog today sharing a few winter décor ideas to get any interior ready for the season, so keep that page scrolling for nine ways to embrace the cold weather outside—and the coziest design indoors.
Statement Greens
Nothing signifies that winter is here more than a beautiful pine garland or wreath, like this room by Jana Bek. Drape one over the mantel, up the staircase or create an organic installation in the room. Customize your installation w/ a sprinkle of holly, a few pinecones or dried citrus slices for extra personality.
>
Warm & Fuzzy
Trade in your lightweight throws for thick, luxurious winter weather staples like wool, faux fur and chunky cotton weaves. Swap out summery printed pillows with solid leather pillows, tartan plaids, geometric prints or an overall knitted look for an instant tactile transformation.
Alter Your Artwork
Don't even move that nail! To continue your seasonal décor transformation, simply swap one statement piece for another. This season has us dreaming of an après ski scenario as captured by Gray Malin in his À la Montagne series. Don't want to ditch the beach vibe to pay homage to the winter weather? Antarctica: The White Continent showcases iconic warm weather mainstays (think striped umbrellas and fluorescent floaties) amongst the Earth's coolest climate.
Celebrate Friends & Family
Nothing infuses personality into a room like a fun family photo. Create a temporary gallery wall that pays tribute to your annual holiday card collection. No empty wall space? Utilize the mantel to prominently display a special photo of you and your loved ones, like this one from Gray's home of him and his family in South Africa.
Ornament Centerpieces
No tree? No problem. We adore a good collection of ornaments and love the idea of displaying them in a large bowl on top of a coffee table or to decorate a bookshelf for guests to admire. Hosting a dinner party? Incorporate your ornaments into the floral centerpiece for an unexpected whimsical twist.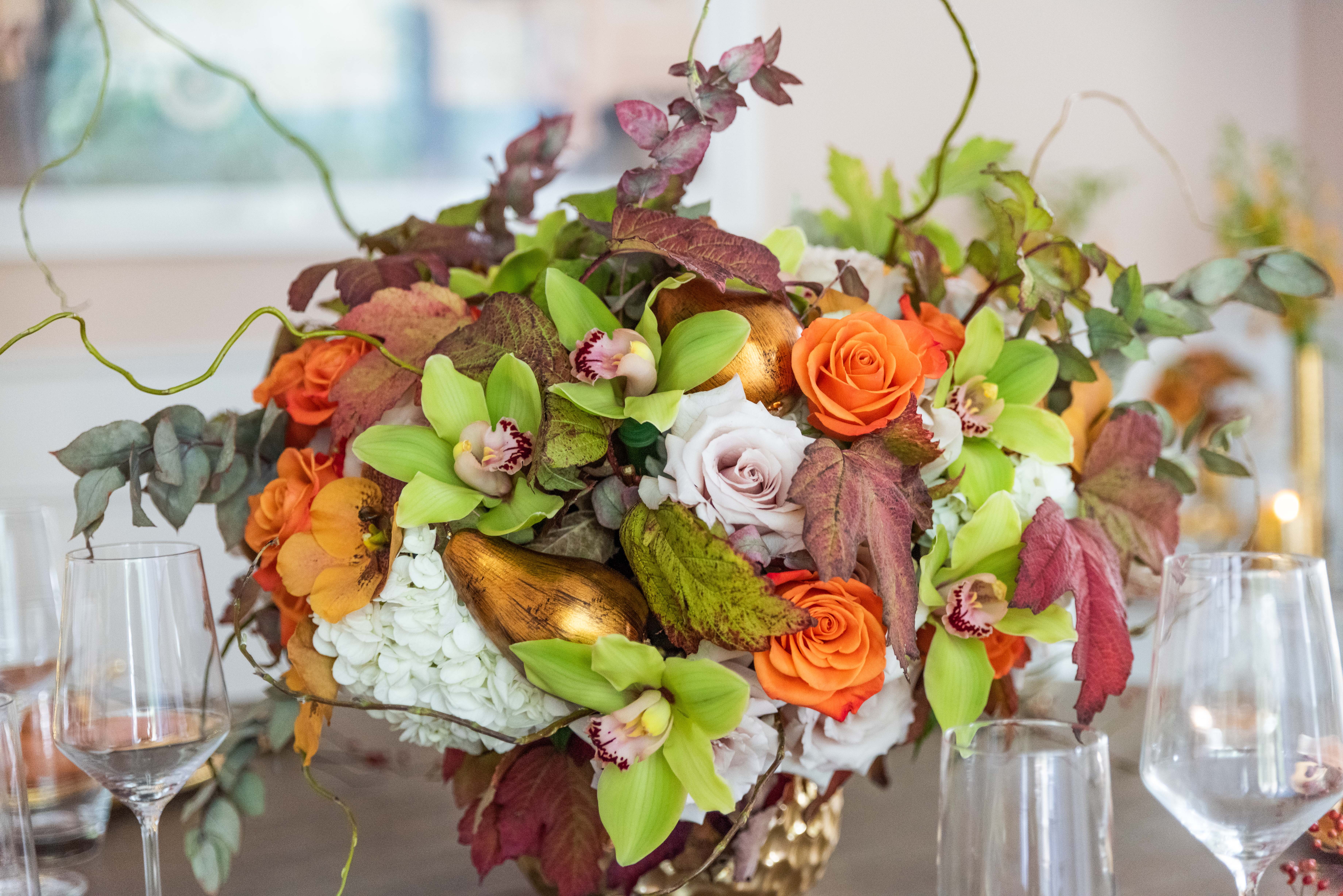 A Contemporary Wreath
It seems like everywhere you look this winter people are putting a new twist on the classic holiday wreath. Untraditional holiday greens, dried flowers, and an asymmetrical slant are breathing new life into this seasonal décor staple. Forego the classic circle for a triangular or square shaped wreath for a more contemporary vibe.
Dramatic Dining
Ditch the summer whites for a more dramatic place setting when hosting your next dinner party. Steely blue grays, dusty turquoise and bold burgundies are the backbone of some of our favorite winter color palettes. Bonus points for incorporating a seasonal sprig at each place setting!
Let There Be Light
Cold weather also comes with shorter days. Give the illusion of longer days all year long with small doses of ambient light scattered throughout your home. Be it a small strip of string lights or individual votive candles, a little low lighting goes a long way!
Pile on the Presents
It's that time of year—embrace it! Pick a color scheme for your presents that complements your décor, wrap up your gifts and stack them around your home for an instant infusion of holiday spirit.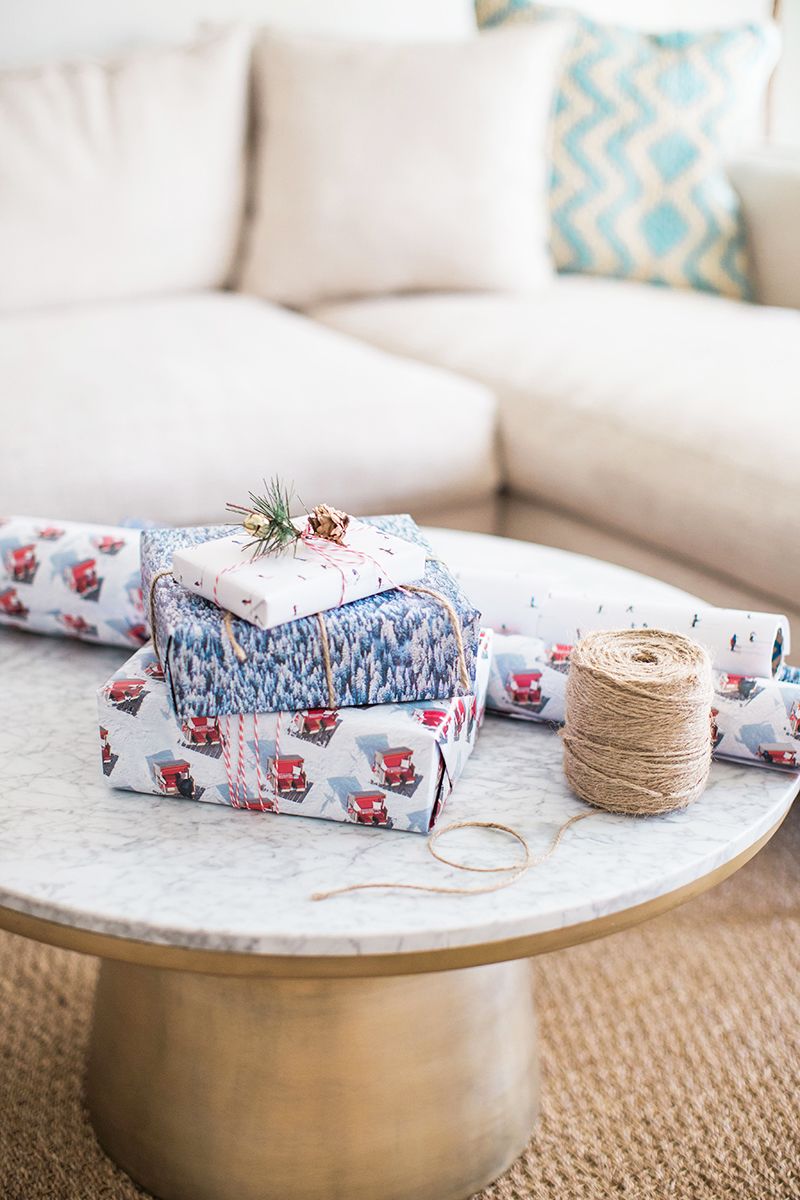 5 Gift Wrapping Tricks That Will Change Your Life This Season
How are you embracing cold-weather vibes in your interiors this season?
We have to admit, we love a good artwork swap when the temperatures drop! Make sure to peek Avenue ID's website and Instagram for more interior inspo and updates, and happy holidays from our team to you!
Xx Team GM
Photos: (Header) Gray Malin