We're proud to make a very exciting announcement today… The first ever Gray Malin pouches just hit the shop, and we're in love! Made from premium leather (printed with a few of our favorite GM prints, of course) and completed with a soft suede interior, these pouches are the accessories of our dreams—mostly dreams of us lying on the sand, under one of these umbrellas. But we digress.
We can't wait to show you our favorite ways to use this new product, so let's cut to the chase. From travel to toiletries, you'll never run out of ways to use your pretty new pouch. So why not stock up on a few? Keep reading to shop and see the five chic ways we're using our brand new GM pouches…
1. Beach Catch-All
First and foremost, we had to put our pouches to the (beach) test—after all, they are covered in actual beaches. We love using these to store all of our little bits and baubles while we enjoy a day in the sun. So throw your keys, sunnies, and anything else you want to keep safe in your pouch, and declare yourself officially out-of-office. Just keep in mind, they are made of premium leather with suede interior, so maybe keep your shiny new pouch a safe distance from the water… just to be safe. ;)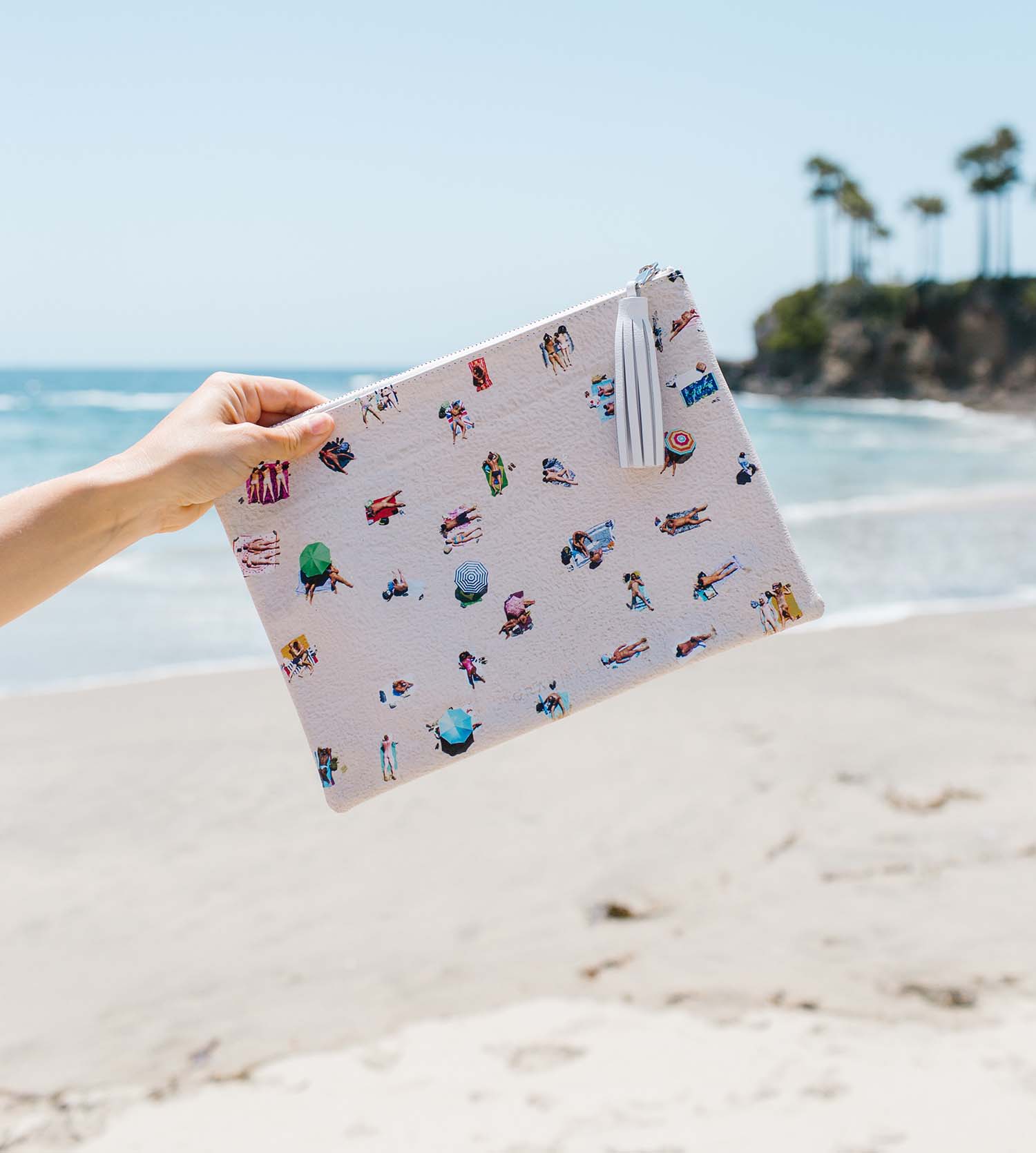 2. Everyday Statement Clutch
Of course, we couldn't resist taking these beauties for a spin for our everyday errands… and they did not disappoint. Not only are these pouches easy on the eyes, but they are also the perfect size for carrying around town, whether you're going shopping or making an appearance at a party. They easily hold all the essentials—sunnies, keys, phone, and so much more—and look pretty dang great doing it. (And we haven't even gotten to the tassel detail yet… what more could we want from an everyday clutch?)
3. Travel Pouch
You know we're suckers for a good getaway, so naturally these pouches fit right into our travel plans. We were pleasantly surprised at just how much these pouches could hold for a day of travel, and as far as we're concerned, we'll never use another travel bag again. So stash away your snacks, ear buds, charger, books and more, and get ready to take the next flight to anywhere. (Or maybe even the very beach on your pouch? Just sayin'…)
4. Makeup Bag
The second we laid eyes on the Miami Pink Umbrellas clutch, we knew it would be right at home on our vanities amid our makeup and favorite skincare products. We love the soft, feminine vibe of this print, and now that it's in pouch form, it holds all of our makeup brushes and other toiletries like a dream. This is, of course, not to say any of the other chic picks couldn't be just as perfect for all of your beauty.
5. iPad & Tech Holder
If you're always looking for the perfect place to hold your tech, then look no further… The soft suede interior of these pretty pouches make them perfect for holding precious cargo like your iPad or any other device you want to tote with you. Plus, we have to say, it makes your tech a whole lot lovelier (and may or may not cause a case of wanderlust… you've been warned!).
How are you planning to use your new GM pouch?
Share your ideas with us on social media by snapping a photo and tagging us @GrayMalin. We can't wait to see you all fall in love with these pouches just as much as we have!
Did we mention there's more where these came from? Shop all six styles HERE.
Xx Team GM

Photos: Jessi Burrone for GrayMalin.com