Interiors
Tips & Tricks: 4 Ways to Turn Your Empty Candle Vessel into Chic Décor
If you haven't heard the news yet, brand new Gray Malin scented candles were just added to our ever-expanding line of products this past week, and we're smitten! We've been burning them non-stop, which got us thinking… there must be some way to repurpose these cute print-clad vessels when our favorite candle is burned out, right? If you're like us, then you've probably burned a candle or two down to the very bottom, only to be disappointed that such a pretty vessel has to go to waste and take a trip to the trash.
With that in mind, we wanted to find a few ways we could get the most out of our favorite candles, and rework them into our décor in an entirely new way. So, we did some experimenting and came up with a few easy ways to turn your empty candle vessel into chic—and functional—décor, and we're sharing them with you below. (And believe it or not, the process of cleaning out your candle is easier than you might think!) Read on to see how we made it happen, and get inspired so that when your favorite GM candle burns its last flame, you can give it a whole new life…
But First, Cleaning Out Your Candle
Start by making sure your burned down far enough so you're not working with too much wax (about ½ - ¼ inch is ideal).

Taking a knife, cut around the edges of the wax until it loosens up. You may have to make a few cuts across the center to make the pieces smaller and easier to pull out.

Wipe out as much residue as possible with a towel, then bring a pot of water to a boil on the stove, making sure the water level does not exceed the height of the candle jar.

Place the candle vessel upright in the water over low-medium heat, until the remaining wax residue has melted enough to be poured or scooped out.

Finish by cleaning your candle vessel with hot soapy water and a soft bristle brush.

Reuse for these four things (or anything else you can think of!)…
1. A Chic Silverware Holder
There's no denying that sometimes storing your kitchen utensils isn't the prettiest task. Luckily, we think one of these empty candle vessels makes for the perfect—and undeniably chic—holder for all your forks, knives, and spoons. We especially love the idea of setting this little vessel out with your silverware on a serving table, so guests can quickly grab their utensils at any get together (and admire the beachy presentation in the process, of course).
2. A Pencil Jar
Quite possibly one of the easiest solutions to reusing your candle vessel, is to turn it into a stylish desk accessory. We're constantly looking for an organized place to keep our pens, pencils, and scissors—and it's always a bonus when that pencil holder adds to the aesthetic of our space, rather than detracts from it. Plus, we love the happy vibe this Starmint Umbrellas print adds to a busy workday at our desk.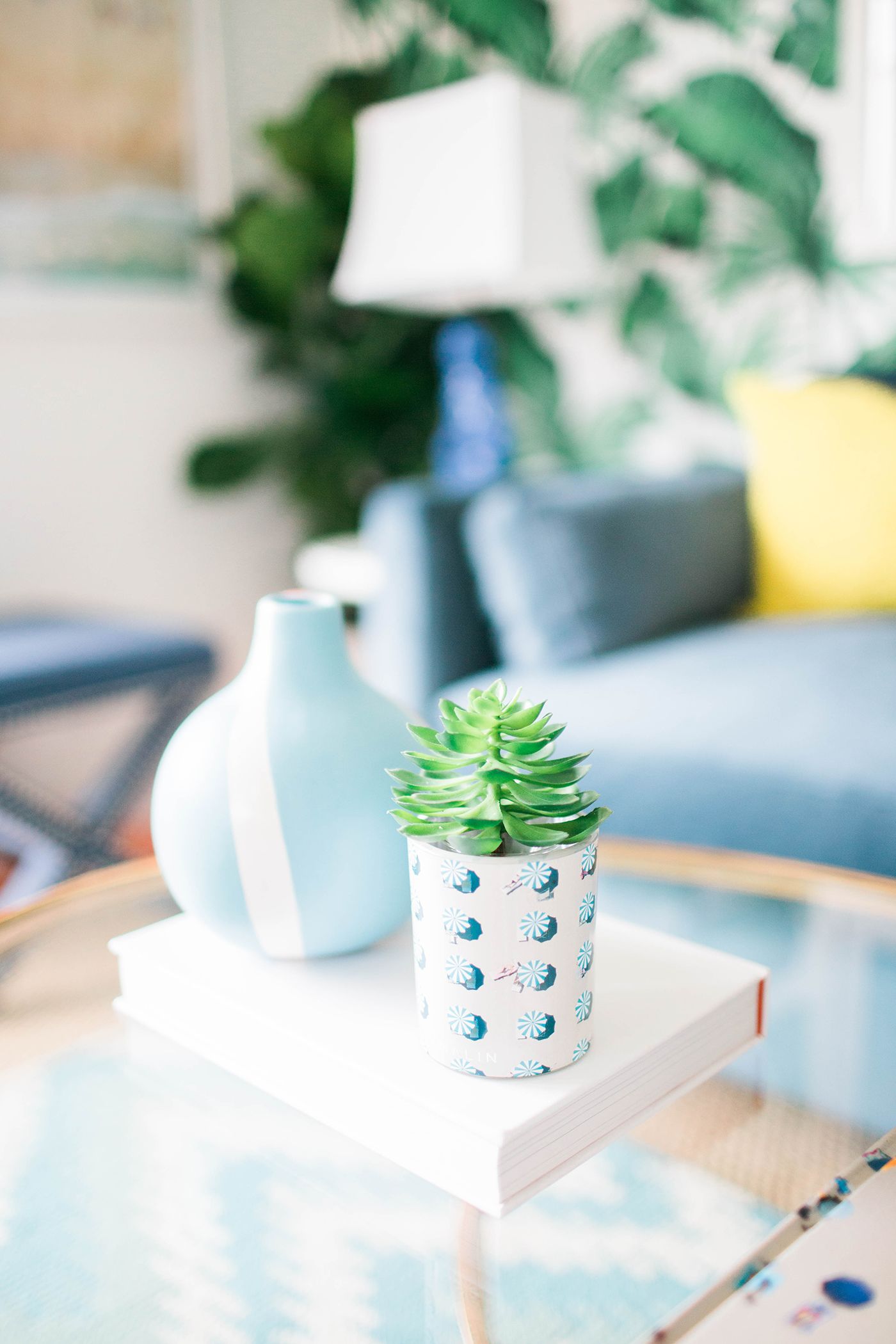 3. A Cute Succulent Vase
Decorating with succulents seems to be a trend that isn't going out anytime soon, and we love the way our candle vessels translate to a cute little vase for just that. Simply pop a few bright flower buds or a small succulent into your new "vase" to add a little color to any space in your home or office. The best part about this idea? You can swap in new flowers or plants as often as you like, for a look that reinvents itself over and over again. Make it a cute little topper for a stack of books on a coffee table, and no one will ever know it was once a candle.
4. A Vanity Organizer
Ladies, I'm sure you can all relate to having a makeup bag that is less-than-appealing sitting on your vanity… which is why we love the idea of clearing out your candle to hold your favorite makeup brushes, lipsticks, and eyeliner. After all, nothing feels more glamorous than having your prettiest makeup pieces on display, right? Not only will it look feminine and pretty on your vanity, but it will also keep your brushes cleaner and your fragile makeup products in tip-top shape.
How would you reuse your empty candle vessel in your space?
Share your ideas with us on social media by tagging us @GrayMalin. We can't wait to see what you come up with! And don't forget to shop all the new candles by clicking here.
Xx Team GM
Have you seen?
Start with Art - Mary Beth Wagner Interiors
Valentine's Day Drink Stirrers
Valentine's Day Drink Stirrers