The holidays are upon us, which means it's time to get gifting! Or, perhaps, it's time to treat yo'self? Regardless of the recipient, may we suggest a GM product that is sure to make everyone feel the love? When it comes to giving and/or receiving, it's so awesome to get something that's unique as well as versatile - enter the Gray Malin trays. With trays as the inaugural product, the Gray Malin Home Collection was launched around this time, last year. To celebrate its 1 year anniversary, please allow us to count the ways that the tray will help make Every day a Getaway... with the four original releases: Ski, Park, Llamas, and Beach.
A DREAMY WORKSPACE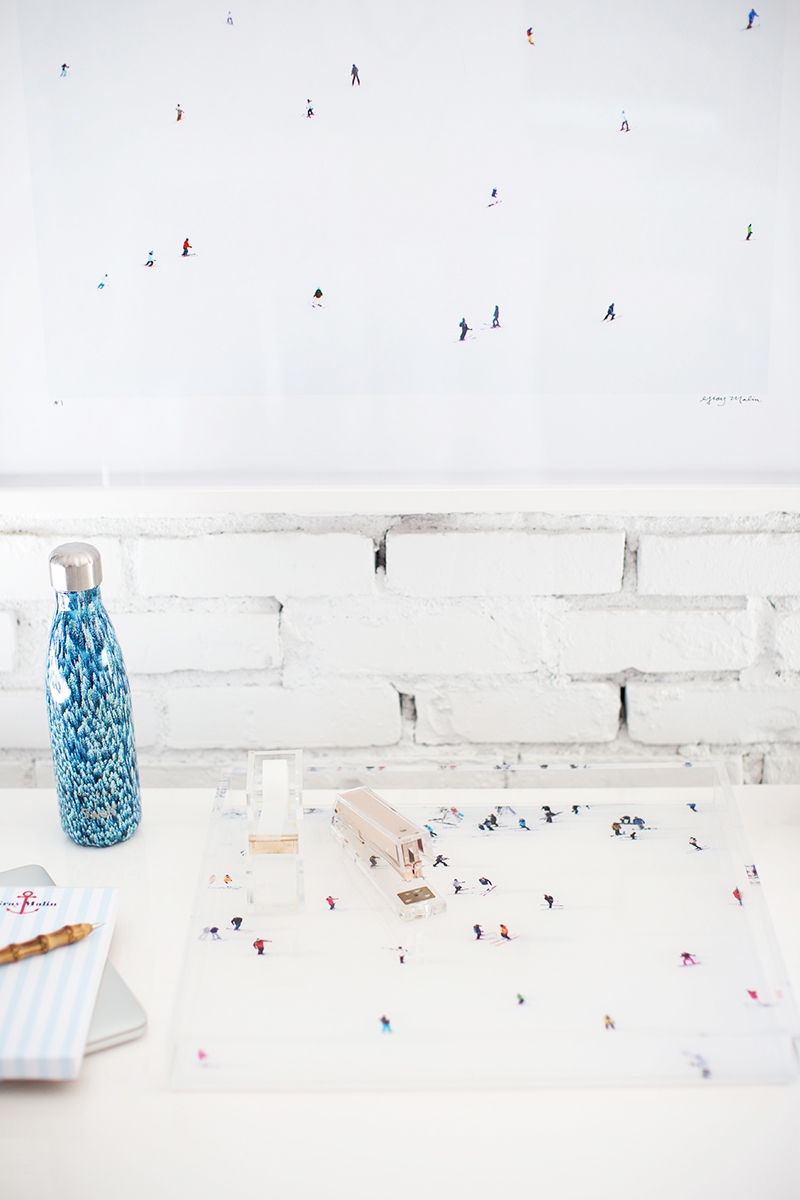 Nothing makes a workday more relaxing than a perfectly put-together desk setup, don't you think? There's just something about a desk space that is equal parts functional and chic that makes our hearts jump. We love the clean simplicity of this Top of Aspen Mountain print, and immediately knew this Ski Tray would be the prettiest backdrop for a few of our day-to-day work tools. One thing is for sure—whether you try this tray for your own workspace or suprise your boss with it, this quiet snowy backdrop and crystal clear acrylic combo is endlessly glam, and will bring just the right touch of luxury to the workday.
A WELCOMING ENTRY
...Because who wouldn't love to see a scene like this right when they walk through the door? One look at this tray, and we knew it was one we wanted to greet right when coming home. We've always loved the dreamlike whimsy of the sold-out Llamas Black and White Balloons print, so we couldn't wait to get our hands on this one and put it front-and-center in our entryway. The contrast of classic black and white against clear blue skies is something dreams are made of, and this Llamas Tray is sure proving to be the perfect pop of color in our space. Did we mention it's incredibly functional too? The list goes on and on.
A CHIC COFFEE TABLE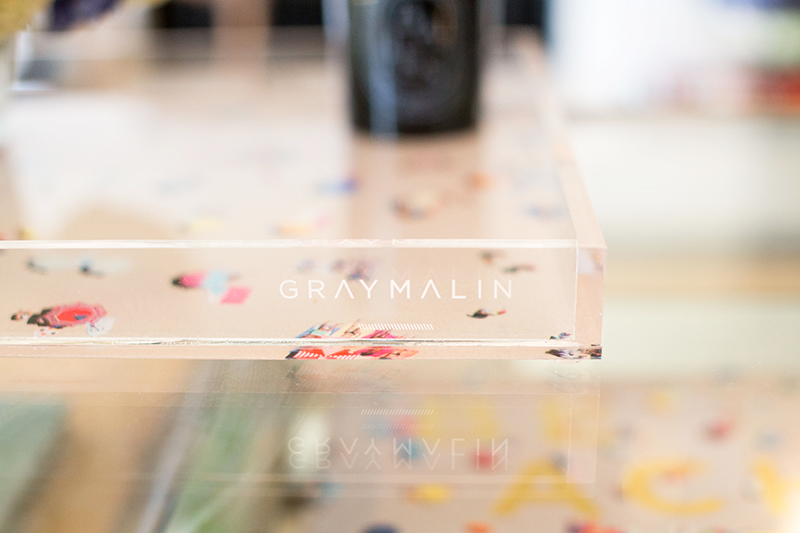 There's nothing quite like centering your décor around a sunny beach scene like our ever-so-popular Lisbon Umbrellas print. We can't help but get giddy when we look those umbrellas, especially as the weather slowly starts to cool and creep into fall. (We just can't let go of summer, but can you blame us?) We truly believe that design is all in the details, and this Beach Tray is the perfect way to brighten up any room and elevate your living space. Plus, it makes for an incredibly chic focal point on any coffee table—place a bouquet of flowers in the center with your morning coffee, and you're sure to start each and every morning in a good mood!
A HAPPIER HAPPY HOUR
You already know that we love when happy hour rolls around, and this Park Tray is giving us the perfect reason to gather some friends and serve up a house cocktail. The Central Park Lawn print makes for a rich backdrop to complement those evenings when you're aiming for a more elevated vibe (but not too stuffy!). We love the perfect balance of laidback elegance that this tray provides, and you can catch us using it on repeat to serve up some drinks with friends. Even better? Snag one for that night-in-for-two, pour a glass for you and your S/O and kick back for the chicest night at home!
We don't know about you, but the more ways we style these trays, the more ideas come to mind as how to use them! Which one would you choose? We know...it's hard! If the classics aren't quite your style, you're in luck. We've launched three new tray collections, since last year. Most recently, there are the decorative and serving trays of the Italian Coast. Then, of course, the Spring collection was completely splashing with some of our most beautiful water images or Summer, which shades you under a beach umbrella along a sandy shore. Overall, you really can't go wrong with any one of them, whether it be for yourself or a thoughtful gift...so cheers to you or whomever the lucky recipient may be!
Xx
Team GM
Photos: Jessi Burrone for GrayMalin.com
{"slides":[{"label":"Christen Joy's Colorful University Apartment Design","url":"/lifestyle/christen-joy-s-colorful-university-apartment-design","image":"https://res.cloudinary.com/gray-malin/image/upload/c_scale,w_1000,q_50,f_auto/gray-malin/blog_posts/hero_images/000/002/024/original/IMAGE_2.jpg?updated=1651554607"},{"label":"Tour Sarah Levy's Los Angeles Home","url":"/lifestyle/tour-sarah-levy-s-los-angeles-home","image":"https://res.cloudinary.com/gray-malin/image/upload/c_scale,w_1000,q_50,f_auto/gray-malin/blog_posts/hero_images/000/001/490/original/0-Sarah_Levy-11.jpg?updated=1574806365"},{"label":"Andrea Denes's Blissful Chicago Home","url":"/lifestyle/andrea-denes-s-blissful-chicago-home","image":"https://res.cloudinary.com/gray-malin/image/upload/c_scale,w_1000,q_50,f_auto/gray-malin/blog_posts/hero_images/000/001/487/original/00-header.jpg?updated=1574797181"},{"label":"The Sisters Suite by Serena and Lily and Palm Beach Lately at The Colony","url":"/lifestyle/the-sisters-suite-by-serena-and-lily-and-palm-beach-lately-at-the-colony","image":"https://res.cloudinary.com/gray-malin/image/upload/c_scale,w_1000,q_50,f_auto/gray-malin/blog_posts/hero_images/000/001/517/original/1-PB_lately-1.jpg?updated=1578610731"},{"label":"Michelle Berdan's Laid Back Home by the Beach","url":"/lifestyle/michelle-berdan","image":"https://res.cloudinary.com/gray-malin/image/upload/c_scale,w_1000,q_50,f_auto/gray-malin/blog_posts/hero_images/000/001/884/original/0-Michelle_Madsen-10_copy.jpg?updated=1617066488"},{"label":"Instant Refresh","url":"/lifestyle/instant-refresh","image":"https://res.cloudinary.com/gray-malin/image/upload/c_scale,w_1000,q_50,f_auto/gray-malin/blog_posts/hero_images/000/001/984/original/Rainbow_Ridge-1.jpg?updated=1643241774"},{"label":"Amy Tangerine's Vibrant Mid-Century Modern Los Angeles Home","url":"/lifestyle/amy-tan-s-vibrant-mid-century-modern-los-angeles-home","image":"https://res.cloudinary.com/gray-malin/image/upload/c_scale,w_1000,q_50,f_auto/gray-malin/blog_posts/hero_images/000/001/948/original/0.jpg?updated=1638900812"},{"label":"Gray's Holiday Home Tour 2021","url":"/lifestyle/gray-s-holiday-home-tour-2021","image":"https://res.cloudinary.com/gray-malin/image/upload/c_scale,w_1000,q_50,f_auto/gray-malin/blog_posts/hero_images/000/001/945/original/Holiday_Home_Tour19.jpg?updated=1637510540"}],"label":"Have You Seen?"}
{"id":null,"number":null,"item_total":"0.0","total":"0.0","ship_total":"0.0","state":"cart","adjustment_total":"0.0","user_id":null,"created_at":null,"updated_at":null,"completed_at":null,"payment_total":"0.0","shipment_state":null,"payment_state":null,"email":null,"special_instructions":null,"channel":"spree","included_tax_total":"0.0","additional_tax_total":"0.0","display_included_tax_total":"$0.00","display_additional_tax_total":"$0.00","tax_total":"0.0","currency":"USD","considered_risky":false,"canceler_id":null,"display_item_total":"$0.00","total_quantity":0,"display_total":"$0.00","display_ship_total":"$0.00","display_tax_total":"$0.00","display_adjustment_total":"$0.00","token":null,"checkout_steps":["address","delivery","complete"],"bill_address":null,"ship_address":null,"line_items":[],"payments":[],"shipments":[],"adjustments":[],"credit_cards":[],"promotions":[],"total_shipment_cost":"$0.00","permissions":{"can_update":false},"use_shipping_for_billing":true,"use_new_ship_address":true,"use_new_bill_address":false,"selected_ship_address":null,"selected_bill_address":null,"display_completed_at":null,"item_count":0,"subtotal_minus_promos":"$0.00","coupon_codes":[],"includes_framed_items":false,"contains_subscription":false}
This site uses cookies to allow better navigation. By closing this banner, scrolling this page or clicking any of its elements, you are giving consent to all cookies. To learn more and to change your preferences please see our Cookies Policy.