We're back at it today with some more design inspo, courtesy of resident expert, Dee Murphy. In case you missed it, over the past few months Dee has shared her design wisdom with us on all sorts of topics from how to style your print in a highly patterned space to what kind of art to display in the kitchen. We've learned a thing or two from this lady, that's for sure, and today we're excited to get her take on an always-hot topic—styling those bookshelves (to actually get them noticed). Not to mention, one of our favorite prints from the Parker Palm Springs makes an appearance! Take it away, Dee…
A good Sunday scroll through either Pinterest or Instagram will inevitably lead you to a good "shelfie."
For some… an empty bookcase strikes fear into their styling hearts ("So many options! So many tchotchkes! Too many books to buy!"). For others (like me)… it is the challenge of ALL styling challenges, and I will happily hop to your abode to take on your empty expanse of shelving!
Now don't get me wrong… I will style my own shelves over and over and over again, because I always seem to want to change things up, or I'm adding something new to the mix, but there are several surefire ways to decorate that will get your skills noticed, and I'm going to show you three!
1. Arrange your books according to the rainbow!
This one can be controversial—although I'm not sure why, because it always turns out pretty—and it's fairly foolproof. Line up your covers according to color and you've made your statement without the painstaking process of deciding where each and every book should reside. Done and done.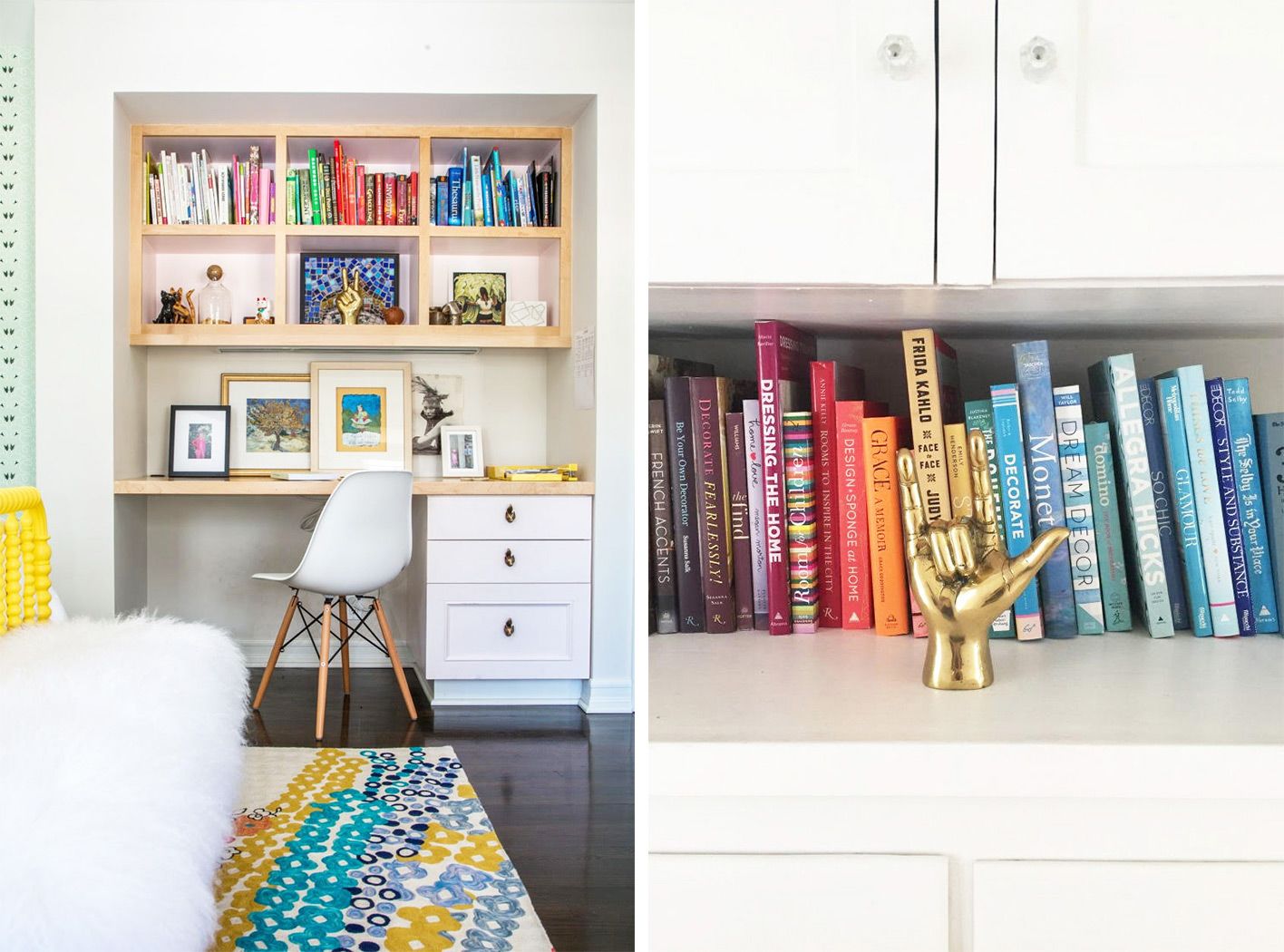 Photo (Left) by Bethany Nauert for Dee Murphy
2. Just keep it neutral…
This style is also controversial, because it usually requires the books to be turned around so the colors of the spines are hidden (literary purists gasp in horror)… but it sure does photograph well! Decorating this way also takes some of the pressure off, because when you stay in the confines of one color scheme, it's hard to make a mistake. Just make sure to vary the height and size of your objects and books so the spaces are evenly filled out!
Photo via Sarah Sherman Samuel
3. Best of both worlds!
This is my absolute favorite way to style, because it usual feels the most personal. You start with neutral pieces (black, white, natural, gold), and then slowly add in pops of color (but usually limited to four or less). It takes a bit more time, and quite a bit more thought, but the end result feels warm, organic, and collected.
Photo: Bethany Nauert // Design: Dee Murphy
Above you will see the pieces I mentioned (the natural elements being agate and wood), and then I added books with the colors orange, yellow and green. Make sure to add childhood mementos and vintage pieces so that your styling doesn't appear too "staged."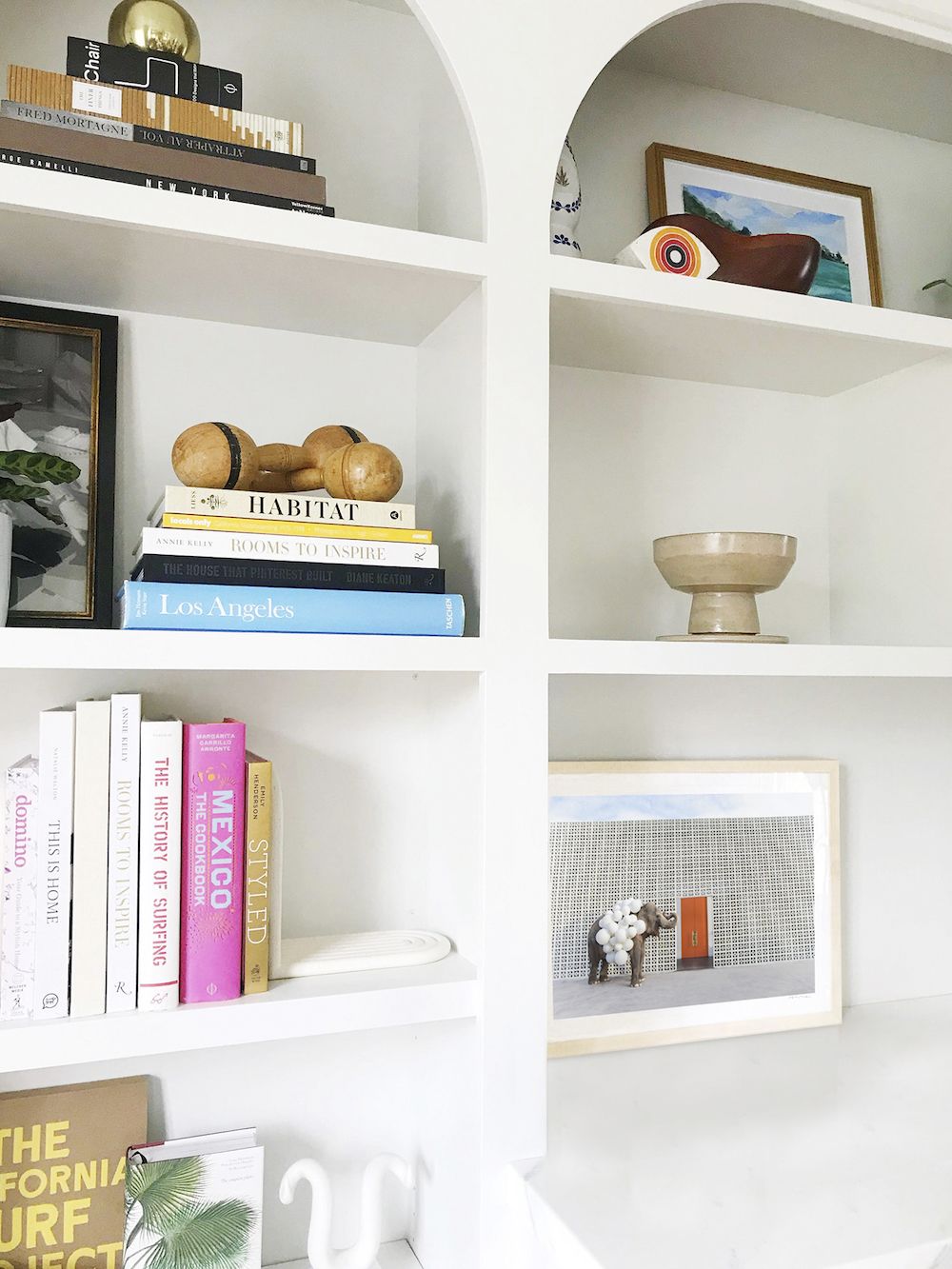 This built-in was just installed in my own home and this is the first iteration of styling it out (believe me, it will go through many more!), but again I started with black, white, natural and gold. My pops of color—which also continue through to the other side (which you can't see)—are blue, green, pink, and orange. The orange door in Gray's Artist in Residence print adds the perfect subtle punch of color, don't you think?
When you complete your shelves, take a step back and just make sure those color splashes are scattered and spaced, almost into a pattern (left, top, right, middle), and it will feel right to the eye when looking at it!
But you know what? Have fun with it! There are no design mistakes (well, maybe a few)… you DO you!
What are your go-to tricks for getting your bookshelves noticed?
You can't go wrong with these tips from Dee… and a GM print or two, of course. ;) Follow along with the rest of Dee's work on her website and on Instagram.
Now, get styling…
Xx Team GM

Photos: Dee Murphy, Bethany Nauert, Sarah Sherman Samuel