We're all for a home update, but we totally get that a full-fledged remodel isn't always in the cards. Even so, a room makeover can still be in your future with just a few little tweaks that will make a huge impact. Now that we're well into summer, we're feeling the need to make a few changes that reflect the season, without the commitment of excessive planning, a massive budget, and too much permanence. With that in mind, keep scrolling for 10 easy ways to update your space for summer, and get those interior design gears turning because you can literally make these updates ASAP…
1. Swap out hardware.
Swapping out old hardware for their newer, shinier counterparts is an easy and relatively affordable task that will make a monumental difference in your space. Nothing makes a kitchen or bathroom seem more bland than underwhelming hardware, right? Take the afternoon to make the swap, and your space will feel more elevated in a cinch.

Image via Daniela Benloulou Interiors
2. Install fresh light fixtures.
We've touched on lighting time and time again, and for good reason—it can truly transform a space and simple plug-in options mean you don't have to really commit to anything too soon. (Hello, wall sconces!) There are hundreds of stylish light fixtures on the market for as low as $50-$150, so there's really no reason not to make the swap.
3. Invest in one new piece of furniture.
Buying new furniture can seem like a hit to your wallet, but it doesn't have to be. Something as simple as a new side table, bench, or accent chair can make all the difference—without breaking the bank. We're big fans of rattan for summer, but if you're drawn to a moodier look, try a black rattan chair to really make a statement.

Image via Kate Lester Interiors
4. Add temporary wallpaper.
Believe it or not, a drastic change to your walls doesn't have to be quite as permanent as you may think. There are countless removable wallpaper options to choose from that are still drop-dead chic, and they will make any room feel like you overhauled the space completely. Did we mention we particularly love Gray's new wallpaper? 'Cause it's pretty dreamy.
5. Brighten things up with books.
Sometimes all it takes to bring the summer into your space is the addition of a few coffee table books that reflect the best parts of the season. We're talking dreamy escapes, poolside scenes, and beachy photographs to last you a lifetime. Not only do they double as décor on any bedside table, oversized ottoman, or coffee table, but they'll also have you and your guests flipping through the pages all summer long.
6. Update your textiles.
While some textiles are perfect year-round (like cotton and linen), others are better left for a season, then swapped out during the summer. Ditch heavyweight textiles in favor of lighter, brighter options. Unique and one-of-a-kind textiles like indigo dyed mudcloth, kantha quilts, and loose-weave fabrics add an instant touch of summer to any pillow, throw, or piece of furniture.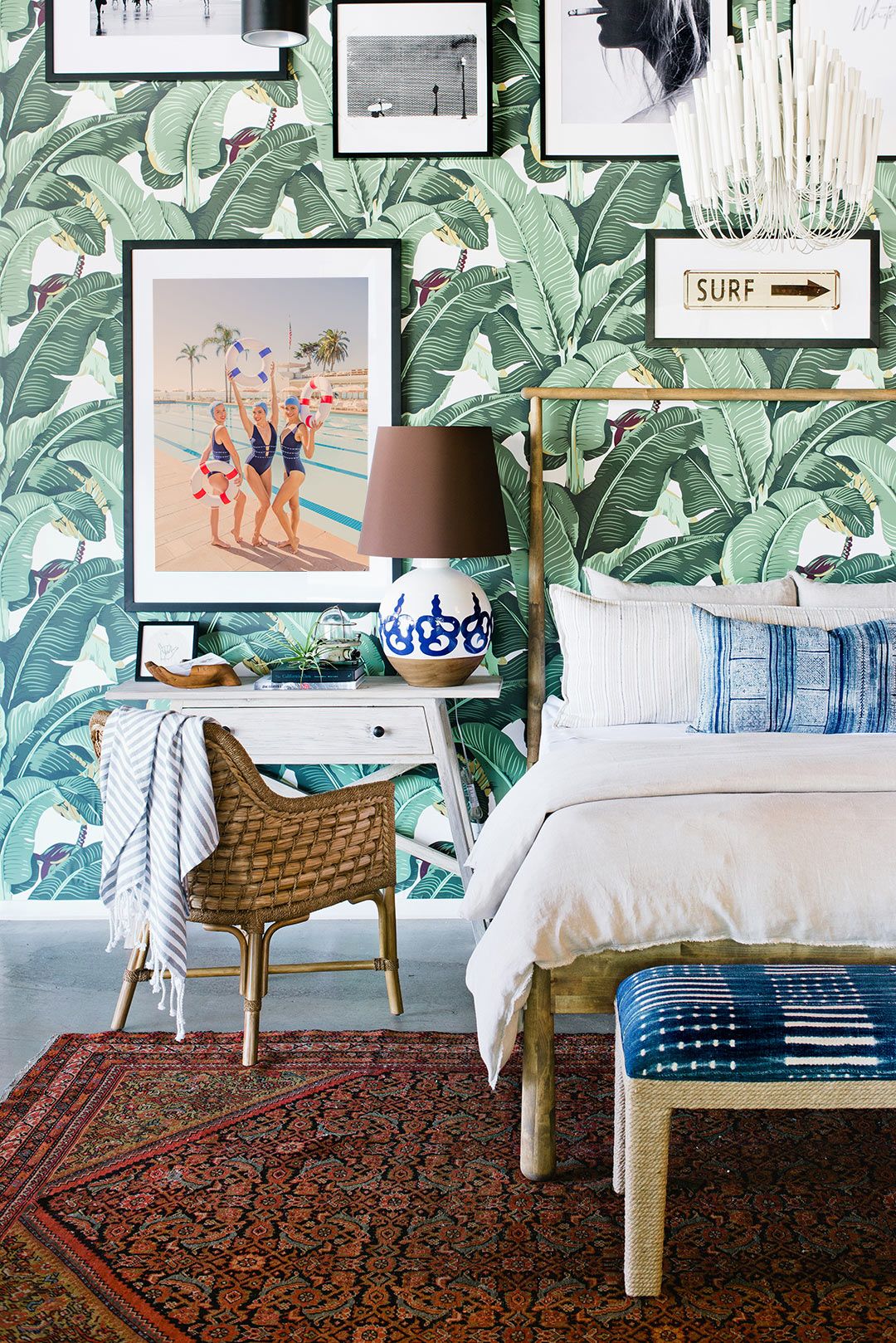 Image via Kate Lester Interiors
7. Bring the outdoors in.
One of the easiest ways to add new life to your space without overhauling your design is to sprinkle in a few fresh houseplants. Adding greenery in unexpected places will make your space feel fresh, organic, and can have the power to transform a room without touching a single piece of furniture or décor. Just add a natural woven basket and you're well on your way to a summer-ready space.
8. Rethink your window coverings.
Leave the blackout curtains behind—summer is all about letting light in and making your space feel breezy and soft. Think rattan shades and linen curtains that flutter in the summer breeze… Talk about an instant dream space!
9. Fill your walls with summer.
One surefire way to immediately update your space for summer is to quite literally fill your walls with scenes of the season. (And if you're reading this, you've come to the right place!) Whether your heart yearns for the Côte d'Azur or you're more of the poolside type, adding a sunny scene to your walls is sure to get you in the summer state of mind.
10. Add something vintage.
If you're sick and tired of the mass-manufactured décor you've been staring at all year long, an easy way to add a new level of personality is to throw something vintage into the mix. Whether that's a lamp, a chair, or even something as small as a vase or odd object, the character of that vintage piece will make your space feel like it has a story that people will want to ask you about time and time again.
Are you going to dive into a little home update with any of these tips?
We hope you do… Shop more summer-ready prints and products in the GM shop.
Cheers!
Xx Team GM
Photos: (Header) GrayMalin.com, 2. Daniela Benloulou, 3. Kate Lester, 4. GrayMalin.com, 5. Kate Lester, 6.-7. GrayMalin.com