Hi Everyone,
Yes, you heard it right, NEW spring trays are here and I couldn't be more in love with them. If you haven't had a chance to see them up-close yet, I highly suggest you get acquainted. Let's just say that by having these trays sprinkled around my home, I'm escaping to East Hampton, getting lost in the mesmerizing Hawaii Swirl, and adding the perfect touch of spring to my space with these Butterflies from Bolivia—all at the same time. To give you some inspo on how to style these brand new trays in your space, I'm giving you a little mini tour of how I'm using them at home and the 10 things I have on my tray right now. Let's get right into it, shall we?
In the Kitchen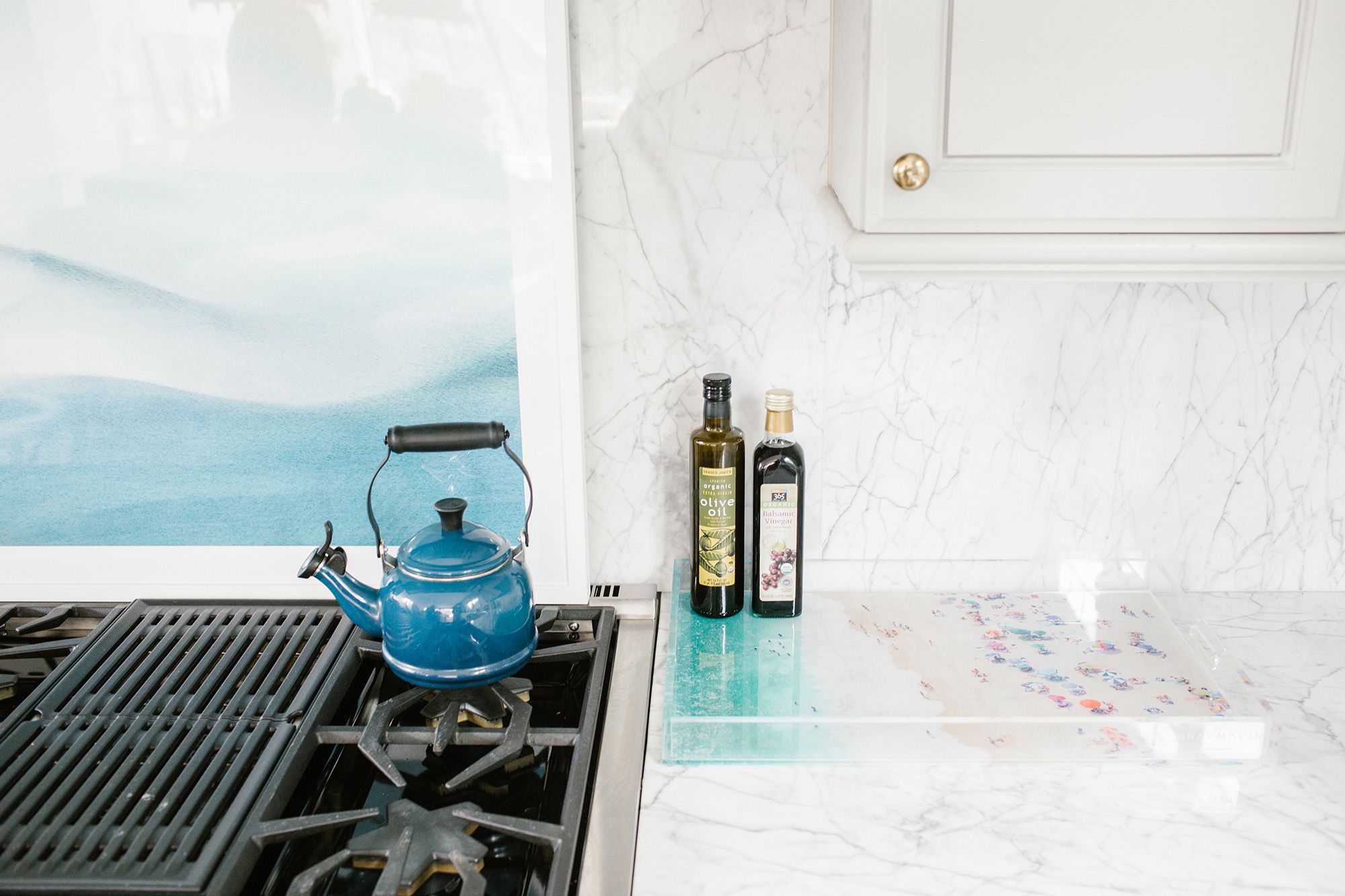 The best part about these trays is that they also come in the serving size with carved out handles included, which means they feel right at home in the kitchen. So put out your prettiest liqueur, simple salt and pepper, or your everyday cooking oils and you're good to go!
Shop my tray…


Country Club Plaid Tea Towel, $30 | Desert Sage Tea Towel, $30 | Williams Sonoma Classic Striped Towels, $19.95 (set of 4) | Williams Sonoma Bold & Peppery House EVOO, $29.95 | Alziari Olive Oil, $44.95 | Potamia Greek Extra-Virgin Olive Oil, $29.95 | Fini Balsamic Vinegar, $14.95-$26.95 | Regalis Truffle Aged Balsamic Vinegar, $49.95 | Olio Santo Balsamic Vinegar, $29.95
In the Office
Let's be real… There's a LOT of things in an office that need to be organized, and I love having one of my trays on hand at all times to do the job. It looks chic, adds a pop of personality to my space, and keeps every little thing in its place.
Shop my tray…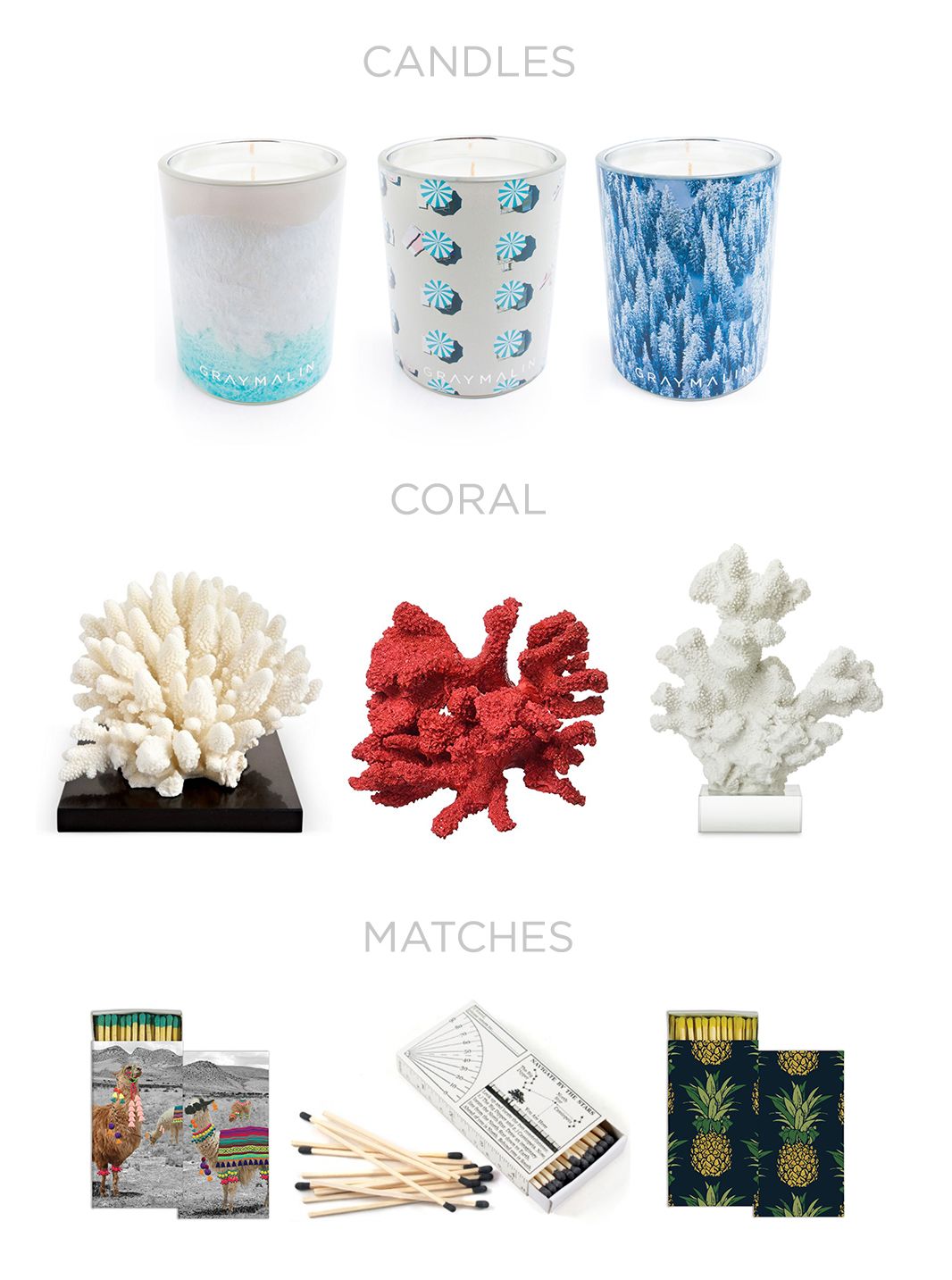 The Sea, Sand, and Snow Candles, $49 each | White Finger Coral on Marble, $239 | Abbott Collection Coral Branch, $25 | White Coral on Glass Stand, $149-$399 | Carlyle Avenue Llama Matches, $4.50 | Homart Long Decorative Matches, $15.43 | Carlyle Avenue Pineapple Matches, $4.50
In the Master Bath
I've been a longtime fan of Kate Somerville products, so I always have at least one or two sitting on the counter in our master bath. (By the way, if you haven't seen my skin transformation with her yet, click here to see the amazing before and after!) But whatever products you put on your tray, this Kailua Swirl looks like a dream on a vanity or bathroom counter.
Shop my tray…
Exfolikate Cleanser Daily Foaming Wash, $38 | Exfolikate Glow Moisturizer, $65 | DermalQuench Liquid Lift Resurfacing Treatment, $98 | La Mer The Eye Concentrate, $205 | Tata Harper Restorative Eye Crème, $95 | Kate Somerville +Retinol Firming Eye Cream, $85
In the Living Room
And of course, no coffee table in my house exists without one of my favorite trays atop it. The East Hampton tray looks like it was made for this very spot in my front room, don't you think? I topped it off with a classic travel book I've had for some time now, and this Jonathan Adler dish adds the perfect eclectic touch.
Shop my tray…
36 Hours: Los Angeles, $9.99 | 36 Hours: 125 Weekends in Europe, $10.25 | 36 Hours: USA and Canada, $38 | Smoking Tray, $38 | Gold Carnaby Zebra Dish, $32 | Versailles Trinket Tray, $38
Which of these spring trays is your favorite?
Head over here to shop them all…
Cheers!
xx
GM

Photos: Jessi Burrone for GrayMalin.com