If you're anything like us, then much of your free time (or time procrastinating) is probably spent scrolling through Pinterest, on a quest to save every beautiful interior photo you can find. We're right there with you, and today we're happily perpetuating your (and our) Pinterest obsession. We've already listed our top 10 interior design Instagram accounts to follow on the blog, and today we're taking switching platforms, to bring you even more interior design ideas. So why don't we get right to it? From interior designers, to home décor brands, to design publications, here are the 10 Pinterest accounts you NEED to follow for all the interior design inspiration your Pinterest boards can handle…
To start things off, we're introducing you to the clean, daring design of Alyssa Kapito. Alyssa's aesthetic is the perfect mix of classic, elegant, and modern, and her Pinterest account reflects jus that. If you're the type that never tires of neutrals and a high-end look, then you'll love what Alyssa's Pinterest has to offer. You can follow Alyssa Kapito right here.
We never cease to be enthralled by Studio McGee's marriage of modern and traditional, and this outdoor escape is just one of the gorgeous pieces of inspiration you can look forward to finding on their Pinterest. We love how their designs always have a bit of coastal flair, without reading too "beachy"… We leave that for the artwork! ;) But in all seriousness, for plenty of light and airy color palettes (and a few moody ones, too) follow Studio McGee on Pinterest right here.
There's never a shortage of inspiration when it comes to Amber Lewis's casual cool aesthetic, and her Pinterest account is no different. Think plenty of moody design touches, global inspired accents, and totally "livable" spaces. If that sounds like your thing, then you'll want to follow Amber Interiors STAT—which you can do right here.
OK, hello color! Oomph Home just so happens to be one of Gray's favorite home décor brands, and for good reason. Their selection is brimming with American-made furniture in every color you can imagine (and even offer bespoke pieces!), and their Pinterest is also full of endless treasures. We love how their style borders on nostalgic and modern, so if you love a life full of color, pattern, and thoughtful details, then give them a follow right here.
Homepolish is an interior design service that matches clients with the perfect professional for their space, which can only mean one thing—plenty of interior design inspiration, in all different kinds of styles. That said, while their Pinterest does offer a variety of inspo, it all has one common thread… up-to-date trends that never feel stale. So, if you don't know exactly what your décor style is quite yet but you're eager to find out, then get a head start by following Homepolish right here.
Sarah Sherman Samuel has designed everything from eclectic modern nurseries to full celebrity pads, and she has an unmatched eye for minimalistic style. So if you're all about clean, interesting lines, and "breath-of-fresh-air" interiors then Sarah Sherman Samuel is your girl. Or, in this case, her Pinterest is your #GOALS. Follow her right here.
Another favorite of Gray's, Serena & Lily carries some of the most beautiful traditional pieces, with just the right touch of California flair (many of which Gray has in his own home). We love browsing their website on the regular, but between purchases, we also love perusing their Pinterest account for even more styling inspiration. If you want to get in on the action, follow them right here.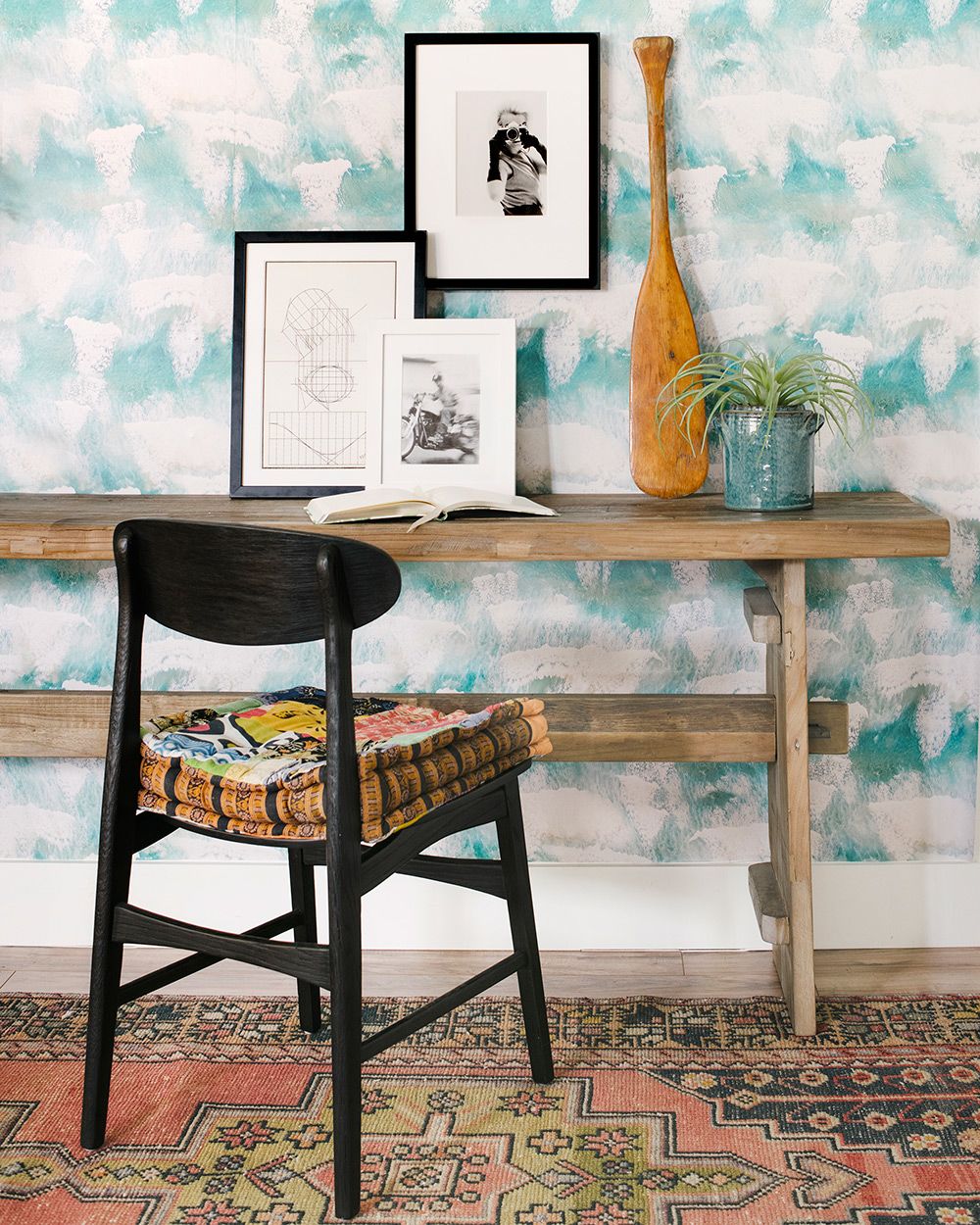 It seems like every design from our girl Kate Lester is better than the last, and we love getting inspiration from her design-savvy brain on Pinterest. (Take this shot of her design using our GM wallpaper for example…) Kate's carefully curated style is modern coastal dreams are made of, and her Pinterest account aligns with her aesthetic. Not to mention she loves a good flea market find, so all vintage lovers go follow her right here.
Design by Banner Day Interiors
Another treasure trove of inspiration, The Haven List is a thoughtful collection of gorgeous interiors that are all equally light and bright. If you consider the color white one of your favorite colors in design, and you're eager to be introduced to a variety of professional designers, then you'll love this account. But don't worry, there is plenty of oceanic blue, blush pink, and pops of deep black to keep everything balanced on their Pinterest. You can follow them right here.
Of course, one of our favorite sources of inspiration has to be all of the amazing designers who bring Gray's work to life in the real world. We're always highlighting home tours, interior design tips & tricks from professionals, and snippets of Gray's own home to spark your imagination. We may be biased, but we can promise you'll find plenty of interior design inspiration on our Pinterest. You can follow Gray right here.
Do you follow any of these Pinterest accounts yet?
If the answer is no… we highly recommend you get pinning!
Xx Team GM
Photos: (Header) Homepolish, 1. Alyssa Kapito Interiors, 2. Studio McGee, 3. Tessa Neustadt for Amber Interiors, 4. Oomph Home, 5. Tessa Neustadt via Homepolish, 6. Sarah Sherman Samuel, 7. Serena & Lily, 8. Lauren Pressey for Kate Lester Interiors, 9. Colin Price for Banner Day Interiors (via The Haven List), 10. Gray Malin