Whether you're a Gray Malin aficionado that has been following his work for years, or you're new to the GM family, it's likely that there are a few hidden gems in our shop that you've never laid eyes upon. With almost 30 print collections under our belt, it can be daunting to sift through each and every series for THE print that makes your heart flutter. But since we work so closely with each collection, we've done the hard work for you and picked out 10 fine art photography prints that you never knew you needed… until now. ;)
And BTW, now is the time to "add to cart" because we're celebrating the New Year by giving you all 20% OFF each and every print in the shop! But time is already ticking, so keep scrolling to see the 10 prints you NEED in your life, and let's get shopping…
1. Après Swim Horizontal
Sure, Gray's series at the Coral Casino has been a hit since it's release, but this particular print happens to be one of our favorites. This duo exudes all the old-time glamour you could hope for, while still feeling laidback and full of attitude. We couldn't love them more if we tried. If the vintage vibes of our Coral Casino series tickle your fancy, check out this post for two ways to incorporate the series seemlessly into your home.
2. Mirror III
While Gray's Far Far Away series is most widely known for these whimsical llamas, we have to say that his newest mirror images are incredibly striking and modern—and often fly under the radar. The clean lines and minimalist vibe of this print, paired with the dreamiest pastel backdrop, has completely won us over. Curious how Gray gets his amazing shots? Step behind the lens of the Far Far Away series in this post.
3. Hyde Park
Gray's Central Park print has been a long-time favorite (and has even made an appearance on our acrylic trays), but have you ever seen this rendition from the beautiful Hyde Park in London? This sprawling green park is undeniably charming in person, and this print is the prettiest reminder of just that.
4. The Free Spirit, Harbour Island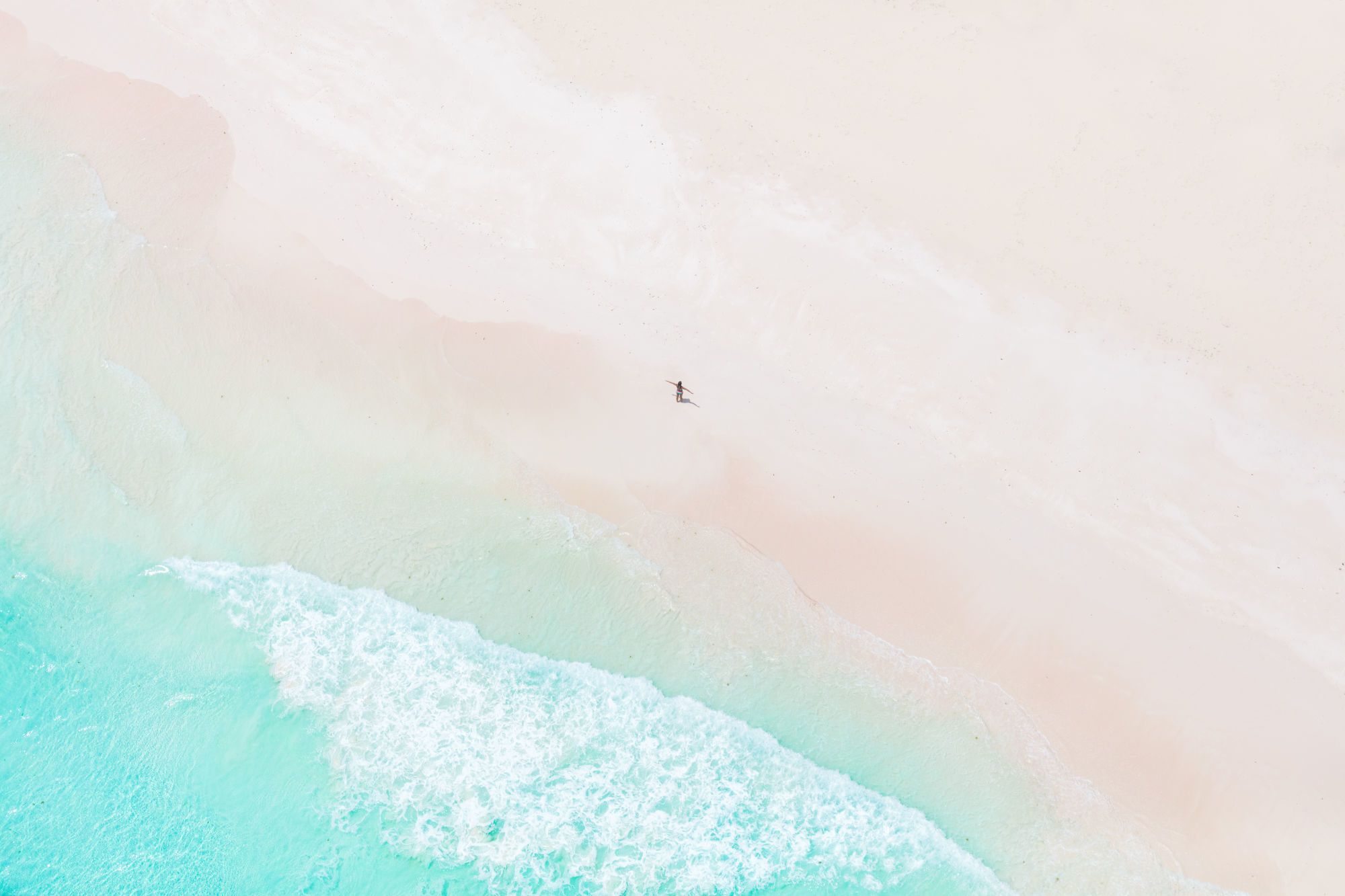 This one is quite literally for all you free spirits out there… We love an empty beach just as much as this girl. This aerial view is stunning from first glance, but finding that the subject of the photo has her arms spread out wide in a carefree stance is the sweetest surprise. Check out this interior design blog post for all the tropical design inspo you need.
5. Gooseberry Beach Vertical
Let us start by saying this: who knew Rhode Island had such stunning beaches? This print is all the proof you need… just look at that deep teal water, pristine sand, and curved shoreline! It's pretty perfect, in our opinion. Pick up a print from Gooseberry Beach and whip up one of these Rhode Island Red Cocktails to enjoy with it.
6. Ski School, Aspen
From the sand, to the snow! Gray's beach aerial photography has our hearts, but we definitely have a soft spot for his À la Montagne series. Those bright-colored puffer jackets against the crisp white snow are just as pleasing to the eye as our favorite neon umbrellas dotting the sand. We love how Lauren created such a cozy space in her home using one of our À la Montagne prints.
7. The Lounger, Capri da Luigi
Nothing quite sums up the feeling of lounging on the Mediterranean Sea like this photograph. Towering rocky cliffs, deep blue waters, and plenty of sun are a few of our fondest memories from this region, and we're taken back every time we look at this print. Get even more wanderlust from our Capri Travel Guide.
8. Maya Bay, Thailand

Thailand's beaches are swoon-worthy enough as it is, but there's something especially serene about this aerial scene. Not to mention, the symmetry of this beach is oddly satisfying, don't you think?
9. Howdy Balloons
Since Gray's roots lie in Dallas, TX, he returned to this spot to shoot this photo for his Up and Away collection. It's a refreshing counterpart to the beachy balloons in this collection, and we couldn't love it more. Tip: It looks especially chic hung in a desert-inspired space with eclectic touches. Reese Witherspoon hung one of these prints in her Dallas Draper James store and we love how much personality it brought to the space.
10. Concierge
Gray Malin at the Parker is full of fun animals from giraffes, to monkeys, and even elephants, but quite possibly one of the most important roles at the hotel goes to this adorable wallaby concierge. We love the simplicity of this print at first glance, but the carved marble details in the front desk make it even better.
Are any of these prints new to you?
These hidden gems are sure to be the talk of the town (or, your home) so make sure to pick up your favorites while they're 20% off.
Cheers to the New Year… and new prints!
Xx Team GM
Photos: Gray Malin